Need a complete SEO checklist for 2022?
Our SEO checklist covers all areas of SEO including SEO basics, technical SEO, on-page SEO checklist, keyword research, Off-Page SEO, and Local SEO.



Check out our step-by-step SEO checklist best practices and techniques for 2022!
Complete Step-by-Step SEO Checklist
Setup the Google Search Console
Google Search Console (GSC) is one of the most powerful SEO tools that help you monitor, maintain and optimize your website's organic search presence.
Its tools and reports are designed to
help measure the website's search traffic
monitor web performance and fix any issues
test and improve your site's mobile usability
monitor, test, and track your AMP pages
analyze site's impressions, clicks, and position SERP
submit sitemaps and individual URLs for crawling
get email alerts when Google identifies issues on your site
The URL Inspection tool provides detailed crawl, index, and serving information about your pages, directly from the Google index.
Every year, Google introduces new tools, analytics, and data to track in Google Search Console.
Setting up Google Search Console involves key steps such as-
Signing in to Search Console using your Google account
Verification for a Domain PROPERTY
Verification for a URL-prefix Property
Select the property type, and enter the URL of your property
Verify your ownership of the site
Submit a Sitemap
Connect Google Analytics to Search Console
Get Ready for GA4 Analytics
In October 2020, Google introduced Google Analytics 4, the next product in its analytics platform that enables marketers to measure traffic and engagement across their websites and apps. With Google discontinuing Universal Analytics from July 2023, GA4 will be the only option for tracking.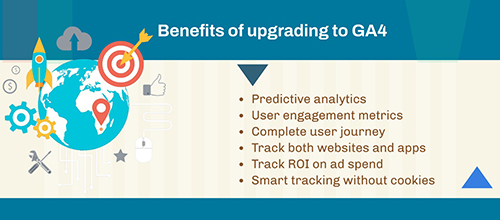 How to Upgrade to GA4?
Those already having a Universal Analytics property can consider these steps
In the 'Property' column, choose 'GA4 Setup Assistant' at the top of the column
Click 'Get Started' under the option to 'Create a New GA4 Property'
If your site uses the gtag.js, tag, use the option to Enable data collection using your existing tags.
Select 'Create Property' to continue
Choose 'See Your GA4 Property' button to view your new property
Select 'Tag Installation' under 'Collection'
Under the 'Web Stream Details' window, find the Measurement ID
In the Google Tag Manager, create a new tag for your GA4 property
Under 'Tag Configuration', choose 'Google Analytics: GA4 Configuration'
Paste the Measurement ID in the new GA4 tag configuration
Under 'Triggering', choose 'All Pages' as the trigger
Click 'Save' on the top right corner to save the tag
Choose 'Preview' on the top right corner of the window
Enter the URL of your website and click 'Connect' to preview your website.
Install Yoast SEO (for WordPress Users)
Plugins can improve the functionality of your website in various ways. Yoast is the most popular SEO plugin.
Featured in the WordPress plugin directory, Yoast makes it super easy to optimize your WordPress site for search engines.
While Yoast SEO Free contains everything marketers need to manage their SEO, the Yoast SEO Premium plugin and its extensions unlock even more tools and functionality.
Access the WordPress plugin directory
Log in to your WordPress website
On 'Plugins', search for 'Yoast SEO'
Click the 'Install Now' link and then the 'Activate' button

Keyword Research Checklist
Keyword research is still an important SEO strategy.
With keyword research, you can find, analyze and use the phrases that searchers use to look for information on the web.
Identify the Right Keywords
Choosing keywords that are too competitive or that offer no real value to your business, is a waste of your time. Use a good tool to discover all the keywords that your website is already ranking for and find suggested keywords that you need to work on to improve your page rankings.
Choose Appropriate Long-tail Keywords
Long-tail keywords can make a good amount of traffic from search engines. So, if you are not using them right, you'll be missing that traffic.
Consider including the keywords in your URL, Meta Description, and all content formats you post. Discover low-competition keywords based on keyword difficulty, search volume, estimated visits, and trends.
How a SEO Company Ensures Keyword Optimization, a Key Trend in 2022
Technical SEO Checklist
Focus on Your Page Experience
Page experience refers to the set of signals that measure user's experience of interacting with a web page on mobile and desktop devices. Page experience signals include Core Web Vitals, mobile-friendliness, HTTPS, and intrusive interstitial guidelines.
Google's Core Web Vitals comprise three factors – Largest Contentful Paint (LCP), First Input Delay (FID), and Cumulative Layout Shift (CLS). These metrics can assess the user experience on criteria such as load performance, responsiveness to user input, and layout stability. Consider measuring and monitoring Core Web Vitals using key tools such as – Chrome User Experience Report (CrUX), PageSpeed Insights (PSI), Search Console, Lighthouse, and Web Vitals extension.
Do a Mobile-friendly test to ensure that your website is mobile responsive.
Secure your site's connection with HTTPS.
Ensure that the content on the page is easily accessible to the user and understand how interstitials can make content less accessible.
To improve page experience, you can implement lazy-loading for non-critical images, optimize image formats for the browser and improve JavaScript performance.
Look for Crawl Errors
Crawl errors occur when a search engine fails to reach a page on your website. Crawl errors can be divided into two groups – Site errors and URL errors. Site errors such as DNS errors, server errors or robots failure can prevent the search engine bot from accessing your website. URL errors like 404 Not Found errors occur when a search engine bot tries to crawl a specific page of your website.
Make sure that every link on your website leads to an actual page. Also, check whether your sitemap and internal links are up to date. Check for crawl errors regularly and fix them.
On-page SEO Checklist
On-page optimization helps search engines to understand that your content provides relevant answers to people's search queries. Optimize your content using a handful of tested on-page SEO techniques.
Title tag optimization is an important element of on-page SEO. Include aneye-catching title for your content and add target keywords in the title tag.
Write a compelling Meta description and include your keyword in it to help with your CTR.Google may highlight the keywords the user searched in the Meta description.

Use Internal and External Links
While internal links are hyperlinks on one of your web pages to another target page on your site, external link is a hyperlink that directs the reader to a reputable page on a different website. Google Search Console can provide a link report for external links and internal links.
Often used as a call-to-action, internal links help a viewer stay engaged with your website longer.

Regularly post new content and link to old ones as well
Focus on fixing your site's orphaned pages to earn authority
Use a rank tracking tool to know the internal links to the pages

Adding trustworthy, informative external links to your pages will help improve the credibility of your website.

Use anchor text in the right way and add descriptive keywords
Open external links in a different tab
Avoid linking to competing websites
Fix any duplicate content issues
Image optimization
Images help engage users. Optimizing images refers to creating and delivering high-quality images in the right format, size, and resolution to increase user engagement.
Resize images to meet the right resolution and larger dimensions
Compress the images to improve site navigation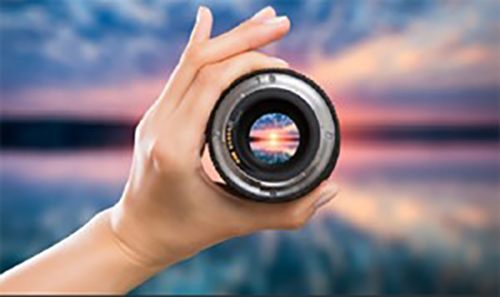 Use ALT tags to help readers and search engines understand the purpose of the image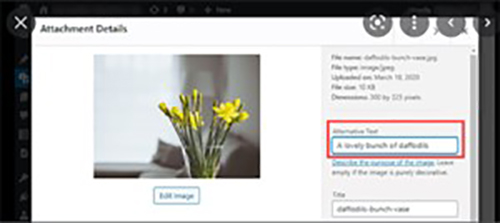 Choose the right WordPress plug-ins for image optimization
Optimizing your off-site presence lets search engine algorithms know that your website deserves a higher ranking in the search results than other websites.
Use tools such as – Google Search Console, Moz Link Explorer, or Ahrefs Backlink Checker.
Assess your backlink profile
Evaluate your competitor's backlink profiles
Fix any 404 errors or broken links
Stay active on social media and post content regularly
Optimize Google My Business (GMB) profiles
Provide informative content
Focus on a good local search strategy to reach your local customers.
Local customers are your assets.
Enhance your local search campaigns
Focus on strategies such as – geolocation and mapping-based tools (Google My Business listings and Google Maps)
Use Schema structured data markup to help search engines quickly identify your business
Check whether your Google My Business profile is complete
Optimize title tags and meta descriptions with localized keywords
Offer location-specific content
Use local citations and listings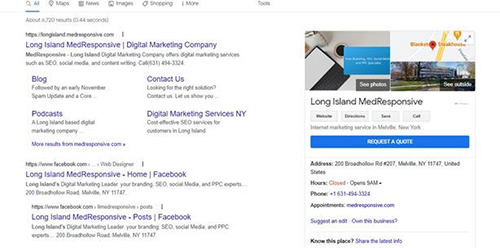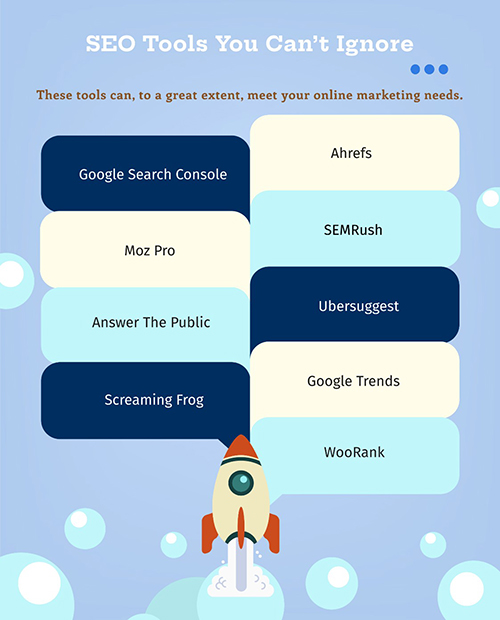 This is not the end. However, this is the ultimate seo checklist on how to improve your SEO in 2022, with good SEO practices.
Why not consider innovative support solutions from an experienced search engine optimization company to improve your online marketing efforts? At MedResponsive, our team of experts understands search engine optimization. We work to improve your visibility and search engine presence through improved rankings.
Talk to us at (800) 941-5527!