Get a Custom Solution Today!
Cutting-edge Healthcare Website Development Solutions
A strong online presence is essential for healthcare providers to connect with patients, streamline operations, and establish trust. An effective healthcare website developed with the support of a reliable provider of healthcare marketing solutions can help you streamline patient appointment scheduling, reducing administrative burdens and ensuring seamless access to care. By integrating robust security measures, these services help healthcare providers maintain HIPAA compliance, safeguarding sensitive patient information. A user-friendly medical website can also enhance online visibility, attracting more patients and fostering trust in the digital age.
At MedResponsive, we specialize in designing and developing dynamic websites customized to meet the unique needs of healthcare organizations. Our healthcare website development services can empower you to reach more patients, provide exceptional care, and stand out in the competitive healthcare landscape.
With a strategic approach and a deep understanding of the healthcare industry, our healthcare marketing services help you stand out from the competition.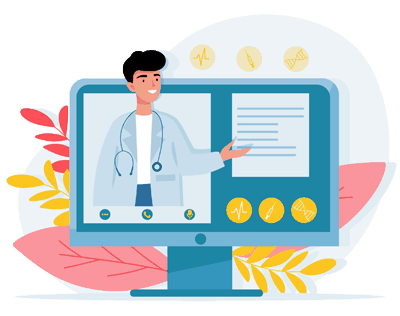 Your patients are online. Are you?
Reach out to discuss your medical website needs.
Medical website development is a specialized branch of web development focused on creating, designing, and maintaining websites for healthcare and medical-related organizations. These websites are designed to fit the unique needs and requirements of providers such as hospitals, clinics, private practices, pharmaceutical companies, healthcare startups, and more.
At MedResponsive, we understand that each healthcare brand is unique. Our dedicated team of talented and experienced web designers and developers will work closely with you to create a customized website that reflects your brand identity and meets your specific business goals.
Our Medical Web Development Services
Healthcare Mobile App Development
We specialize in designing and developing mobile applications that cater to the unique needs of the healthcare industry. From patient-centered apps that offer appointment booking, telemedicine consultations, and access to personal health records, to medical professionals' tools such as electronic health record (EHR) systems and medication management apps, our healthcare mobile app solutions empower both patients and providers.
Medical Chatbot Development
We develop chatbots that provide intelligent and accessible solutions for patient engagement and healthcare support. These chatbots are designed to provide immediate responses to patient queries, offer medical advice, and assist with appointment scheduling. We continually improve these medical chatbots through machine learning and natural language processing, allowing them to adapt and provide more accurate responses over time.
Telemedicine Software Development
We develop advanced telemedicine software that offers secure video conferencing, messaging, and data sharing capabilities, enabling patients to access providers from the comfort of their homes. It also supports healthcare providers in delivering timely services while reducing the burden on physical infrastructure. We create robust and user-friendly platforms that facilitate remote medical consultations and care delivery.
Medical Web Portals
We develop medical web portals that can offer a secure and centralized platform where patients can access their health records, schedule appointments, and engage in telemedicine consultations. Providers can efficiently manage patient data, access medical histories, and communicate with colleagues for collaborative care. With a strong focus on HIPAA compliance, our service ensures that sensitive patient information is safeguarded.
Remote Medical Monitoring Systems
We develop innovative healthcare monitoring systems that employ cutting-edge technology to continuously track and record vital signs, and other health metrics from patients in real-time, regardless of their physical location. Providers can remotely access and analyze this data, enabling timely interventions and adjustments to treatment plans. Patients also benefit from enhanced convenience, and reduced hospital visits.
Healthcare API Integration
We integrate your medical website with Electronic Health Records (EHRs), pharmacy management systems, laboratory databases, and more, so that providers gain access to a comprehensive patient overview, ensuring accurate diagnoses and treatment decisions. Telemedicine platforms, wearable devices, and remote monitoring systems can also be integrated to enable real-time patient data sharing and remote consultations.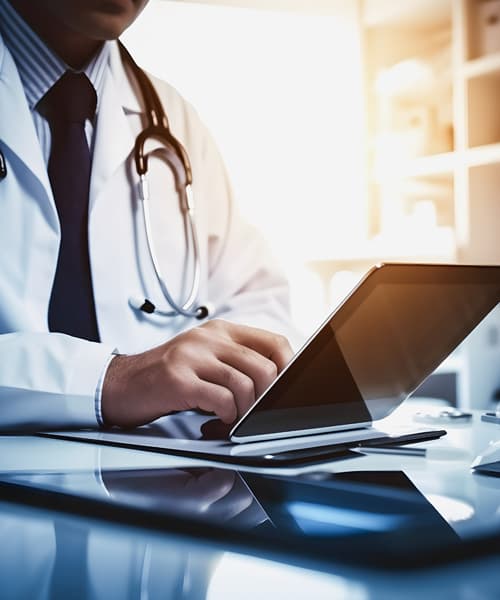 Why Choose MedResponsive?
Customized solutions
Expert web designers and developers
Proven track record
Timely delivery of projects
Hundreds of satisfied clients
Transparent project management
Our Medical Website Development Process
Developing a medical website involves several steps to ensure it meets the unique needs of the healthcare industry and serves both patients and providers effectively.
Here's a step-by-step process:

Planning and Goal Definition
Define the purpose, goals, and target audience for the website
Outline the desired features and functionality
Domain and Hosting Setup
Choose and register a domain name that reflects your brand
Select a hosting provider and set up web hosting
Design and Wireframing
Create wireframes or mockups to visualize the website's layout
Design the website's appearance, including colors, fonts, and images
Front-end Development
Write HTML, CSS, and JavaScript code to build the user interface
Ensure responsive design to suit different devices
Back-end Development
Set up the server infrastructure and database
Develop server-side functionality and database interactions
Content Creation and Integration
Generate and optimize text, images, and multimedia content
Integrate CMS for easy content updates
Testing and Quality Assurance
Conduct testing to identify and resolve bugs and usability issues
Ensure cross-browser compatibility and performance optimization
Deployment and Maintenance
Deploy the website to the live server
Implement security measures and backup protocols
Provide ongoing maintenance and updates as needed
Testimonials
"Our business is stronger because of MedResponsive's efforts and dedication, I would be happy to recommend them to anyone. Very happy with the SEO work."
Rich A
Testimonials
"The team did an amazing job at boosting my search engine rankings. Helped me bring lots of traffic to my website. Thank you for the great work."
Andy W
Testimonials
"I would like to say thank you to MedResponsive's core team, who have worked well to bring us significant gains in search engine traffic, conversions, and customer base. You're just the best, easy to work with for our SEO and social marketing needs. Perfect work and excellent support."
JJ Bender LLC
Testimonials
"After approaching several search engine optimization companies with practically no significant results, I'm finally getting value for my money. The efforts of your SEO analysts have really paid off for us. We have front page rankings for many of the products we sell, doubled leads, and an enviable bottom-line."
Online store, Bohemia, NY
Testimonials
"We had a beautiful website for sure. However, we were in a fix as to the kind of content that would help popularize our healthcare services online. We consulted MedResponsive. The SEO team there assured us of a great online presence that would boost our prestige. That is just what we got. We got fantastic SEO content not just for our website but also for articles, press releases, and the like, all of which boosted our business. We were able to achieve our business goals faster than we expected and for a great price."
Multi-specialty healthcare, NYC
Testimonials
"I just can't believe the business growth we've achieved ever since we partnered with MedResponsive. It was a pleasure working with them. They are hard-working, knowledgeable, and highly responsive. Their efforts have been effective and met our needs."
Medical Transcription, Tulsa
Healthcare Website Development FAQs
What makes medical website development different from other types of website development?
Healthcare website development places a strong emphasis on data security, compliance with healthcare regulations like HIPAA, and user-friendly designs tailored to patients and healthcare providers. It involves integrating features such as appointment scheduling, telemedicine, and patient portals to enhance the healthcare experience.
How long does it take to develop a healthcare website?
The timeline varies based on the complexity of the project. Typically, a healthcare website may take anywhere from a few weeks to several months to develop, including design, development, testing, and deployment phases.
Can you ensure the security of patient data on our healthcare website?
Absolutely. We prioritize data security and HIPAA compliance in all our healthcare website development projects. We implement robust security measures to protect sensitive patient information and regularly update the website to address security threats.
What is the cost of healthcare website development services?
The cost varies depending on the project's scope, features, and complexity. We provide customized quotes after understanding your specific requirements. Rest assured, our pricing is competitive, and we offer cost-effective solutions.
Can you integrate telemedicine features into our healthcare website?
Yes, we specialize in telemedicine integration. We can seamlessly incorporate telehealth features into your website, allowing you to offer virtual consultations and connect with patients remotely.
Do you offer ongoing support and maintenance for healthcare websites?
Yes, we provide ongoing support and maintenance services to ensure your healthcare website remains up-to-date, secure, and fully functional. Our team is available to address any issues or make necessary updates.
Have more questions or ready to discuss your healthcare website development needs?
Contact us today at (800) 941-5527, and our team will be happy to assist you!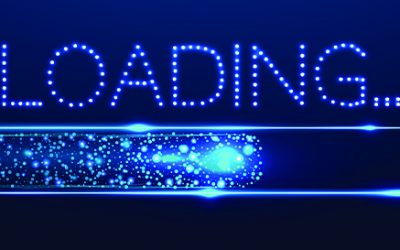 In digital marketing, if your aim is to beat the slower competition and attract visitors, web page speed or page load time is a major concern. A slow website kills conversions and impacts search rankings. Page speed impacts how long your visitors stay on your site,...