Get a Custom Solution Today!
Innovative Healthcare App Development Services
Healthcare app development services play a pivotal role in addressing the challenges of modern healthcare systems by providing innovative solutions to improve patient care, streamline operations, and enhance overall efficiency. One of the primary issues these services solve is the accessibility and connectivity gap in healthcare. 
Through the creation of customized mobile applications, patients are provided convenient access to medical information, appointment scheduling, and even virtual consultations.
Simultaneously, healthcare professionals benefit from optimized workflows, real-time data access, and tools that facilitate better communication and collaboration.
At MedResponsive, we specialize in developing custom healthcare applications that empower patients, connect doctors, and enable healthcare organizations to streamline their processes and improve patient outcomes. Our healthcare app development services are user-centric, intuitive, and scalable, providing a seamless experience to patients and healthcare providers. We use the latest technologies and industry best practices to develop applications that are HIPAA-compliant, secure, and reliable. 
Ready to innovate in healthcare? Let's build your app!
App development services in the medical sector include a comprehensive range of activities dedicated to creating and optimizing mobile applications. These services involve the conceptualization, design, and implementation of applications that address specific needs within the healthcare ecosystem. This includes developing features such as telemedicine functionalities for virtual consultations, appointment scheduling systems, secure access to electronic health records (EHRs), health tracking tools, medication management solutions, and more.
As a prominent mobile application development provider in the USA, MedResponsive boasts a proven history of creating web and mobile applications customized for a wide range of healthcare brands.
Customized Healthcare App Development to Suit Your Needs
EHR Applications
Our team specializes in custom EHR application development, providing secure, HIPAA-compliant, and user-friendly solutions that can be easily integrated with other healthcare applications. Our developers have a deep understanding of the industry, and adopt an agile and iterative approach to EHR application development, ensuring that the software is of the highest quality while meeting users' needs and requirements. By working with us on your development needs, you can be confident that you are getting a reliable and efficient solution that will help you streamline your workflow and improve patient care.
Appointment Scheduling Apps
Our expert team specializes in appointment scheduling app development, providing a reliable and user-friendly platform for practices of all sizes. With our patient appointment scheduling app, you can streamline your booking process, eliminate double-bookings, and reduce no-show rates. Our intuitive interface allows your clients to effortlessly schedule, reschedule, and cancel appointments anytime, anywhere. Our developers have extensive experience in integrating various functionalities such as calendar syncing, automated reminders, and real-time availability updates.
Laboratory Management Apps
Practices can optimize their laboratory's efficiency and improve workflow with our laboratory management app development services. With our laboratory management app, you can efficiently manage tasks such as sample tracking, inventory management, and data capture. Our customized solutions also allow for integration with laboratory information management systems (LIMS), electronic laboratory notebooks (ELN), and laboratory automation systems. Our developers integrate features such as barcode scanning, batch management, and automated reporting to simplify your laboratory's workflow.
e-Prescribing Apps
Designed with healthcare professionals in mind, our expert team specializes in developing intuitive and secure e-Prescribing solutions that simplify medication ordering and improve accuracy. With our e-Prescribing app, you can quickly and easily create, send, and manage electronic prescriptions. Our platform integrates seamlessly with pharmacies, allowing for real-time medication history checks, drug interaction alerts, and formulary information. Our skilled developers prioritize data security and privacy, ensuring compliance with industry regulations such as HIPAA.
Mental Health Apps
We specialize in creating innovative and user-friendly mental health applications that empower users to take control of their well-being. From mindfulness and meditation tools to mood tracking and stress management features, our custom-built apps cater to diverse user needs. We provide services from a team of experienced developers, designers, and mental health professionals who understand the unique challenges and requirements in the mental health industry. We follow industry best practices, ensuring HIPAA compliance, data security, and seamless integration with other healthcare systems.
Telemedicine Apps
We specialize in creating secure, user-friendly, and HIPAA-compliant telemedicine applications that revolutionize the way healthcare is delivered. With our telemedicine app, you can connect with patients remotely, providing virtual consultations, diagnoses, and treatments. Our developers integrate seamless video conferencing, secure messaging, and EHR integration, ensuring continuity of care and efficient communication. Your patients can easily schedule appointments, upload documents, and securely communicate with their healthcare professionals within the app.
Patient Engagement Platforms
Our developers specialize in developing innovative and intuitive patient engagement solutions that foster meaningful interactions between patients and healthcare providers. Our custom-built solutions offer a range of features including appointment scheduling, secure messaging, health record access, and educational resources, all in one convenient platform. We prioritize user-friendly interfaces and seamless integration with existing healthcare systems, ensuring a smooth and personalized patient experience. We also comply with stringent healthcare regulations such as HIPAA.
Fitness & Wellness Apps
We create feature-rich applications that empower individuals to live a healthier and more active lifestyle. Our fitness app allows to track your workouts, set goals, monitor your progress, and receive personalized recommendations based on your individual needs. Our apps also offer nutritional tracking, meditation and mindfulness exercises, and social community features to keep you motivated and connected. Our developers prioritize seamless integration with wearable devices and fitness trackers, allowing for real-time data synchronization.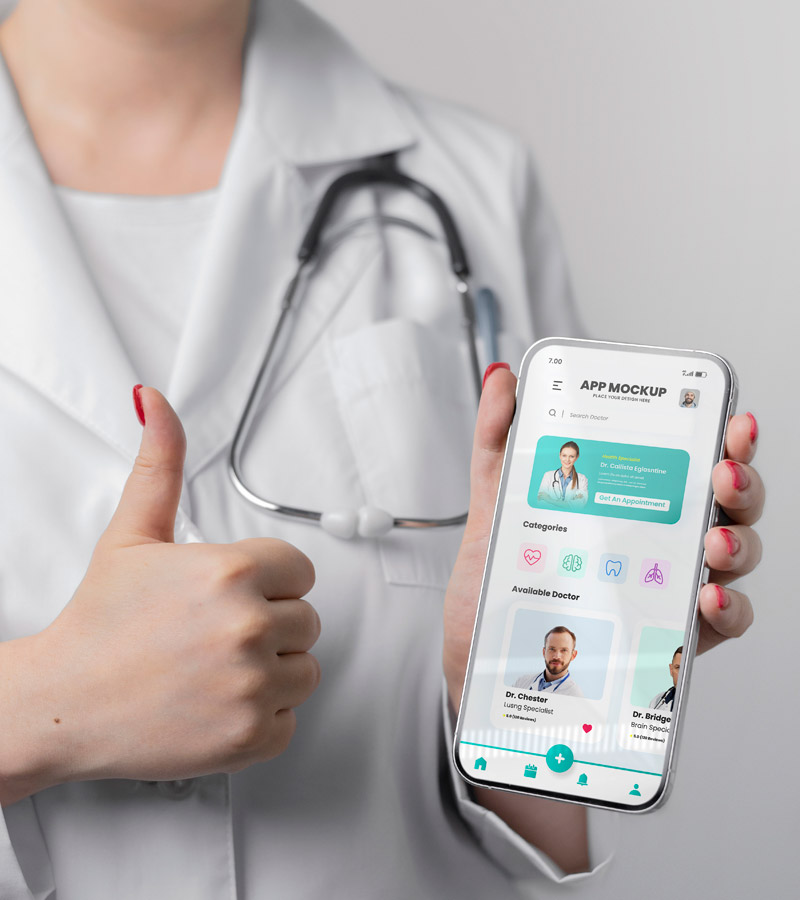 Why Choose Us?
Custom-built applications tailored to meet your unique needs and requirements
Experienced developers with expertise in healthcare software development
Robust testing and quality assurance to ensure the highest quality product
Integration with EHR/EMR systems, APIs, and other third-party tools as needed
On-time delivery and competitive pricing
Contact us today to learn more about our Healthcare App Development services and how we can help you improve patient care and healthcare marketing outcomes.
Our 8 Step Healthcare App Development Process

Conceptualization and Research
Identify the app's purpose, target audience, and unique value proposition.
Research the healthcare market and competition to understand user needs.
Regulatory Compliance and Data Security
Ensure compliance with healthcare regulations like HIPAA.
Develop a robust data security and privacy strategy.
Planning and Requirement Gathering
Create a detailed project plan, including timelines, budgets, and milestones.
Gather specific requirements for the app's design and functionality.
Design and Prototyping
Develop wireframes or prototypes to visualize the app's layout and flow.
Design the user interface (UI) and user experience (UX) for a healthcare context.
Development
Write code for the app's front-end and back-end, incorporating the design.
Implement features, functionality, and integrate healthcare data sources.
Testing and Quality Assurance
Conduct thorough testing for functionality, usability, and security.
Perform compatibility testing on various devices and operating systems.
Compliance Verification
Ensure that the app complies with healthcare regulations and standards.
Address any identified compliance issues or gaps.
Deployment and Post-launch Activities
Deploy the app to app stores or distribute it through secure channels.
Monitor the app's performance, gather user feedback, and provide ongoing updates and maintenance.
Testimonials
"We had a beautiful website for sure. However, we were in a fix as to the kind of content that would help popularize our healthcare services online. We consulted MedResponsive. The SEO team there assured us of a great online presence that would boost our prestige. That is just what we got. We got fantastic SEO content not just for our website but also for articles, press releases, and the like, all of which boosted our business. We were able to achieve our business goals faster than we expected and for a great price."
Multi-specialty healthcare, NYC
Testimonials
"I just can't believe the business growth we've achieved ever since we partnered with MedResponsive. It was a pleasure working with them. They are hard-working, knowledgeable, and highly responsive. Their efforts have been effective and met our needs."
Medical Transcription, Tulsa
Testimonials
"Our business is stronger because of MedResponsive's efforts and dedication, I would be happy to recommend them to anyone. Very happy with the SEO work."
Rich A
Testimonials
"The team did an amazing job at boosting my search engine rankings. Helped me bring lots of traffic to my website. Thank you for the great work."
Rich A
Testimonials
"I would like to say thank you to MedResponsive's core team, who have worked well to bring us significant gains in search engine traffic, conversions, and customer base. You're just the best, easy to work with for our SEO and social marketing needs. Perfect work and excellent support."
JJ Bender LLC
Testimonials
"After approaching several search engine optimization companies with practically no significant results, I'm finally getting value for my money. The efforts of your SEO analysts have really paid off for us. We have front page rankings for many of the products we sell, doubled leads, and an enviable bottom-line."
Online store, Bohemia, NY
Healthcare App Development FAQs
What healthcare app development services do you offer?
We specialize in end-to-end healthcare app development, covering a wide range of services such as telemedicine app creation, patient portal development, health tracking applications, and more. Our expertise extends to designing custom solutions that align with your specific healthcare needs.
How do you ensure the security of healthcare apps?
Security is our top priority. We follow industry-best practices and comply with healthcare regulations like HIPAA. Our development process incorporates robust encryption, secure data storage, and regular security audits to safeguard patient information.
Can you integrate healthcare apps with existing systems like Electronic Health Records (EHRs)?
Absolutely. We have experience in seamlessly integrating healthcare apps with various systems, including EHRs, to ensure smooth data exchange and interoperability. This enhances the overall efficiency of healthcare processes.
Do you offer post-launch support and maintenance for healthcare apps?
Yes, we provide ongoing support and maintenance services to ensure that your healthcare app continues to function optimally. This includes addressing any issues, implementing updates, and staying current with evolving healthcare standards.
Can you customize healthcare apps based on our specific requirements?
Absolutely. Our medical app development services are tailored to meet your unique needs. We work closely with clients to understand their vision and incorporate custom features and functionalities into the apps we develop.
Transform Healthcare Delivery! Start Your App Journey!
Contact us at (800) 941-5527!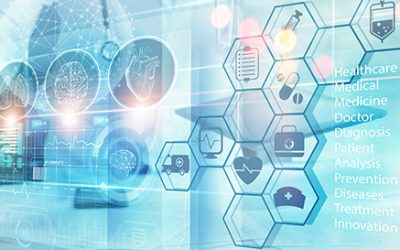 Electronic Health Records (EHRs) have emerged as a vital component in healthcare technologies, revolutionizing how patient data is stored, managed, and accessed. As technology continues to advance, EHRs will likely play an even more significant role in transforming...