Do you know that 46% of Google searches are for a local business or local service? Nearly half of all Google searches comprises people searching for local information or businesses in their area or within a specific service area. The search results are often modified to geo-specific searches. Using its algorithm, Google determines which local businesses are relevant to the user and worthy of ranking high in the results. So, to increase your chances of ranking, driving traffic, and attracting customers through search results, consider implementing local search engine optimization (SEO). Local SEO companies implement strategies to ensure websites are optimized for local search so that potential customers can find them easily.
If you are looking to improve your local ranking, make sure you choose a search engine optimization company that up to date on the latest local search tactics. This is all the more important as Google recently launched new features for local search, as well as new tools to assist journalists with producing locally-relevant stories.
Google's New Local Search Features
Due to the spread of the COVID-19 pandemic, different communities had different needs and were impacted in different ways. People started looking for local information and continue to do so. They are searching for local news on Google more than ever before using queries like "News near me".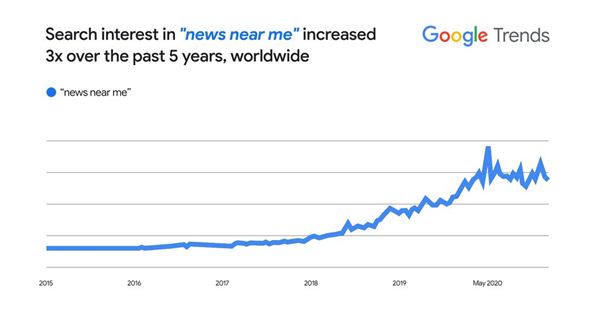 Image Source: https://blog.google/
The graph shows that "news near me" queries tripled over the past five years, reaching an all time high during the COVID-19 pandemic in May 2020.
As more searchers are using "news near me" than ever before, the tech giant recently announced a rollout of new features to help readers better connect with publishers through locally relevant stories. Google is also helping publishers more efficiently and creatively by rolling out new tools to produce quality journalism their readers want. This is similar to Journalist Studio, a collection of new tools that Google launched a year ago to help reporters in their daily jobs.
Let's take a look at the features of Google's new local search optimization tools:
New Product Features for Google News Carousel
Carousel for Local News Stories: Initially launched for COVID searches, this feature is now getting expanded. With the new changes, readers can now see a local news carousel when Google finds local news coverage relevant to their query. Available globally in all languages, the carousel helps readers easily find stories near them from local news publishers. It also helps local publishers by adding another way for their essential reporting to reach the community that needs it most.
Top Stories: To help both the brand and the content of news publishers reach more people, Google is improving their systems and top stories carousel. Typically reserved for stories from national publications, authoritative local news sources will now appear more often in the Top Stories carousel.
Topics beyond just broad areas: Along with the carousel for local news stories and top stories, Google had also improved the local news experience by refining the ability to understand topics beyond just broad areas to narrower subtopics – such as sports, specifically football and high school football. When paired with Google's location signals, this feature helps readers get more relevant material for the topics they are searching.
For instance, when a user in Long Island searches for football, Google will now show them results for local high school and college teams, rather than just showing the user results for, say, the professional team.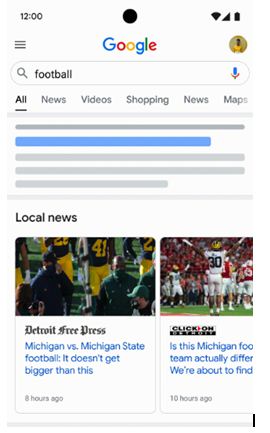 Image Source: https://blog.google/
People often look to social media for additional information about local issues. Local SEO companies help local business leverage social media to build their presence. To help people find local information on the topics they're searching for, Google now surfaces tweets by local, authoritative sources and authors, including tweets from news organizations.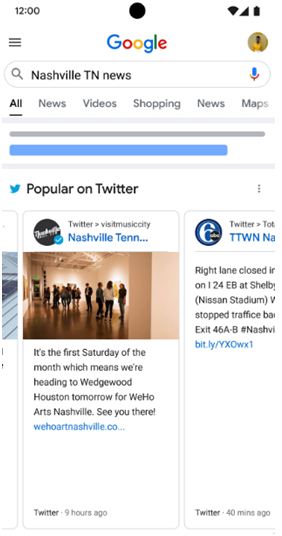 Image Source: https://blog.google/
New Data Tools for Journalists
Along with Google's new features for searchers, the tech giant is also launching new tools for journalists, aiming to help them cover stories by providing them with locally relevant data.
Census Mapper Project: With layers and layers of important data, the U.S. Census is one of the largest data sets journalists can access. But then the challenge is sorting through that data and visualizing it in a way that helps readers understand trends and the bigger picture. To help journalists dig through all that data to find stories and embed visualizations on their sites, Google launched a new tool, Census Mapper project. This embeddable map displays Census data at the national, state and county level, as well as census tracts.
Image Source: https://blog.google/
Common Knowledge Project: As part of Google's investment in data journalism, few improvements are made to the company's Common Knowledge Project. This new version data explorer and visual journalism project – which is built with journalists for journalists – allows US journalists to explore local data and integrates journalist feedback with new features including geographic comparisons, new charts and visuals.
Image Source: https://blog.google/
From helping find, collect and visualize data, to searching through the data for stories, Google will continue to invest in developing new tools to assist local news publishers with producing more engaging stories.
If you are a local news publisher or a reporter trying to grab attention, then this is your big chance to be seen and build the reputation you deserve. These latest local search updates can help many types of businesses reach more people. Companies providing organic search engine optimization services stay on top these updates and help their clients make the most of these new features and tools.