Get a custom solution today!
Are you looking to boost your medical website's performance and search engine rankings?
Look no further. MedResponsive's SEO Tool is here to revolutionize your SEO game.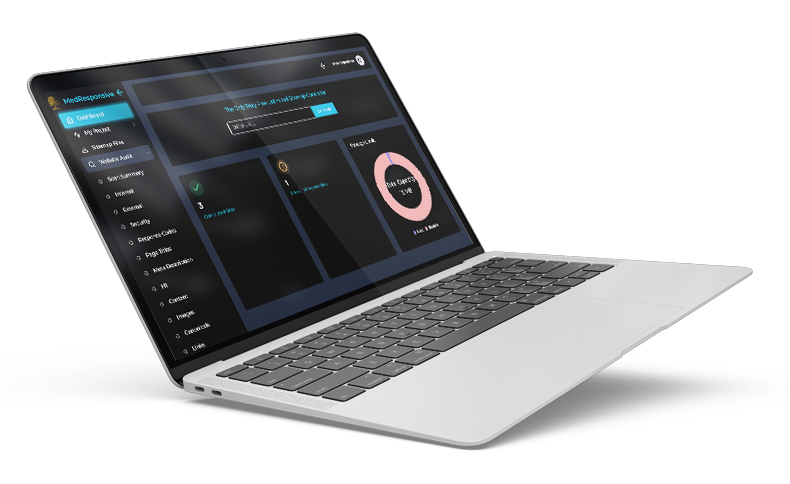 We're proud to announce the launch of our new SEO tool. This is a powerful extension of our current sitemap generator, designed to help websites achieve peak performance. It functions similarly to industry-standard tools like Screaming Frog, providing comprehensive site scanning, auditing, and analysis capabilities.
Along with generating a full sitemap, this completely free tool allows the users to create an account to store their scans and sitemaps.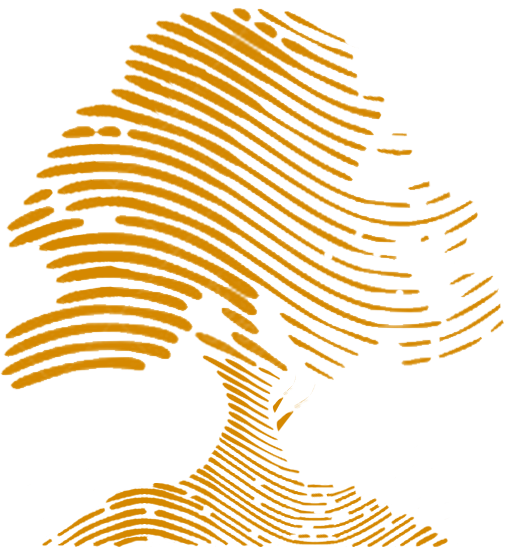 Key Features of Our SEO Tool
Detailed Audits
Get in-depth, comprehensive, and insightful reports on on-page SEO, meta tags, content quality, mobile-friendliness, and more.
Comprehensive Site Scanning
It scans your entire website, analyzing every page, link, and element to identify SEO issues.
Health Status Monitoring
Keep an eye on your site's overall health and receive real-time alerts for critical issues.
Custom Recommendations
Receive customized recommendations to improve your site's SEO and boost your search engine rankings.
The stored scans will be broken down into different sections –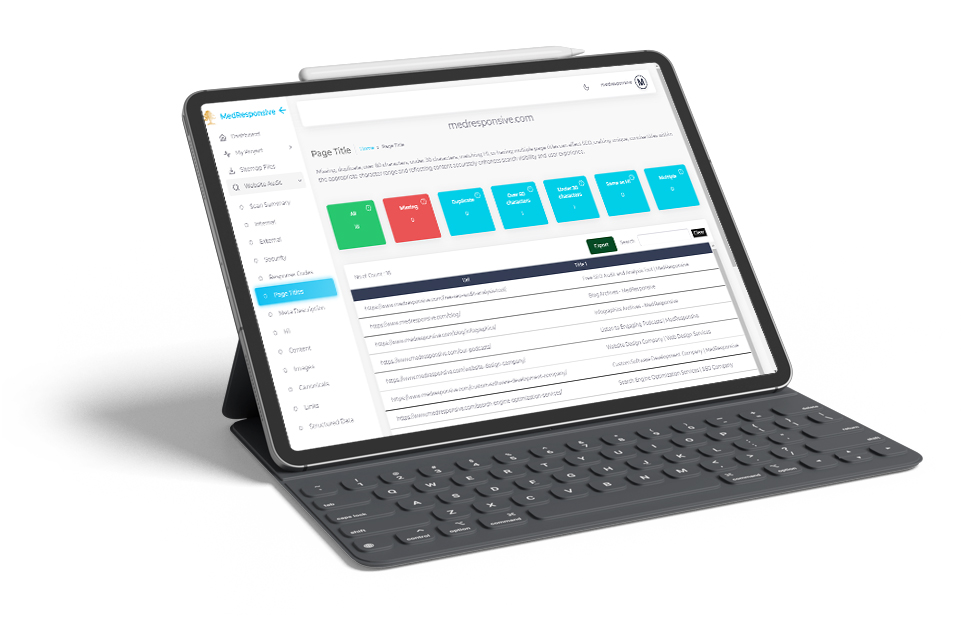 External
The External audit refers to elements sourced from other domains, such as HTML, CSS, JS, images, PDFs, and other resources. Effective management of these external resources efficiently ensures faster loading times, improved user experience, enhanced search engine visibility, ultimately strengthening your online presence and reach.
Page Titles
Missing, duplicate, over 60 characters, under 30 characters, matching H1, or having multiple page titles can affect SEO; creating unique, concise titles within the appropriate character range and reflecting content accurately enhances search visibility and user experience.
Content
Duplicate content poses SEO issues due to content repetition across pages, potentially affecting search rankings; low-quality content lacks value and relevance, diminishing user experience and search performance.
Links
Pages with no internal links limit SEO distribution, while total backlinks from credible sources enhance site authority, and addressing orphan pages by adding internal links improves their visibility and impact.
Scan Summary
Summary includes the total number of internal and external URLs, the URLs blocked by robots.txt, non-indexable URLs, and URL content types like HTML, JS, CSS, and images, which provide insights into website structure, accessibility, and technical aspects to optimize for improved search performance and user experience.
Security
HTTP and HTTPS play crucial roles in SEO. HTTP stands for Hypertext Transfer Protocol, which is the standard protocol used to transfer data between a user's browser and a website's server. For security reasons, HTTPS (Hypertext Transfer Protocol Secure) has become the preferred option. HTTPS uses encryption to secure the data exchanged between the user and the server, ensuring privacy and data integrity.
Meta Description
Missing, duplicate, over 155 characters, or under 70 characters meta descriptions can impact SEO; creating unique, concise and engaging descriptions under the recommended limit enhances search visibility and user engagement.
Images
Images larger than 100KB can slow down page loading, impacting user experience and SEO; missing alt text or alt text exceeding 100 characters can hinder accessibility and keyword optimization for search engines.
Structured Data
Structured data through Schema markup improves search results by adding details such as reviews, while missing or inaccurately implemented data can result in missed visibility opportunities and validation errors or warnings that affect content presentation in search results.
Internal
The Internal audit, a critical component of a comprehensive website analysis, evaluates key elements of your web presence, including HTML, CSS, JS, images, PDFs, and other resources that reside within your website. Optimizing these for accessibility, speed, and relevance contributes to better user experience and search engine rankings.
Response Codes
Response codes play a vital role in SEO. A "200 OK" signifies successful content delivery, ideal for SEO. "301 Moved Permanently" is crucial for proper URL redirection, while "404 Not Found" and "410 Gone" can harm SEO due to missing content. Server errors like "500 Internal Server Error" and "503 Service Unavailable" can disrupt crawling and impact user experience, affecting SEO negatively.
H1
Missing, duplicate, or excessively long H1 tags can hinder SEO performance. It's important to ensure that each page features a unique H1 tag with a concise description, ideally under 70 characters. This practice conveys the topic clearly to both users and search engines.
Canonicals
Canonical URL: The preferred webpage version to prevent duplicates.
Missing Page (404): Non-existent page; customize 404 page and fix links.
Multiple Versions: Avoid duplicate content by designating primary URL.
Self-Refreshing: Use sparingly to prevent SEO and UX issues.