Get a Custom Solution Today!
Drive Patient Engagement with Our Tailored Marketing Solutions
Healthcare marketing is a strategic approach aimed at promoting healthcare services, medical facilities, and healthcare organizations to a target audience, which can include patients, physicians, hospitals, or other healthcare professionals. At MedResponsive, our healthcare marketing services use various marketing channels to create awareness, build trust, and drive patient engagement. We optimize your healthcare websites to ensure they are easily discoverable by patients searching for medical services, treatments, or healthcare information online. Optimization strategies include keyword optimization, on-page SEO, local SEO, content creation, and link building among others.
Healthcare marketing fosters patient-provider relationships by improving communication and trust. Marketing also assists in revenue generation and financial sustainability for healthcare organizations by attracting a consistent flow of patients. In essence, healthcare internet marketing plays a vital role in bridging the gap between healthcare providers and patients while addressing the industry's multifaceted challenges.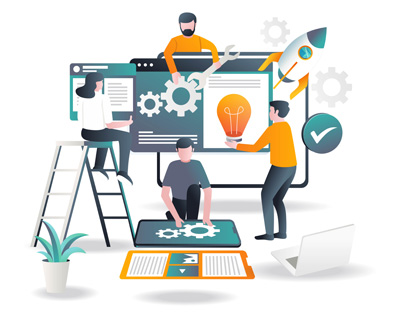 Start Attracting More Patients to Your Website!
Explore Our Proven Healthcare Marketing Solutions!
Boost Your Healthcare Brand with Our Expert Marketing Services
The primary goal of medical SEO is to connect healthcare providers with patients actively seeking medical solutions, enhance patient acquisition, improve online reputation, and ultimately contribute to the growth and success of healthcare practices in the digital age.
With extensive experience in the field of medical website marketing, MedResponsive can serve the needs of hospitals, physician practices and other healthcare businesses.
Our Customized Healthcare Marketing Services
Medical SEO
We enhance your website's search engine ranking through effective SEO techniques, including off-site, on-site, and technical optimization. With this, you can acquire patients organically rather than through paid ads, referrals or social media.
Reputation Management
Our reputation management services focus on monitoring, maintaining, and improving the online reputation of healthcare providers and organizations. We diligently monitor reviews, strategically improve ratings, and showcase your practice as a trusted healthcare provider.
Pay-per-Click (PPC) Advertising
Drive targeted traffic to your website with PPC advertising. We'll create and manage campaigns to maximize your ROI and patient acquisition. PPC campaigns involve creating and running ads on search engines and other platforms, and advertisers pay only when users click on their ads.
Web Design and Development
We craft stunning, user-friendly, and visually appealing websites that reflect your healthcare brand. Our prime objective is to deliver an exceptional online experience to patients, ensuring easy navigation and access to critical healthcare information.
Content Marketing
Our content marketing team specializes in creating effective marketing content such as blog posts, articles, videos, infographics, and more, all tailored to address patients' health concerns, educate them on medical topics, and showcase the expertise of healthcare providers.
Email Marketing
We help you stay connected with your patients through personalized email campaigns. We create targeted email content to keep them informed about your services, promotions, appointment reminders, educational content, newsletters, and healthcare tips.
Social Media Marketing
We build your network on various social media channels- Facebook, Twitter, Pinterest, YouTube and more. Our expert team is dedicated to crafting dynamic social media strategies that connect you with your audience effectively.
Local Search Optimization
Our local SEO strategies include optimizing website content, meta tags, and keywords to target local search terms, creating and managing a Google My Business profile, obtaining patient reviews, and ensuring NAP (Name, Address, Phone Number) consistency across online directories.
Telemedicine Marketing
Our telemedicine marketing strategies include creating dedicated web pages for telemedicine services, developing user-friendly telehealth platforms, developing compelling content, and launching targeted marketing campaigns across various digital channels.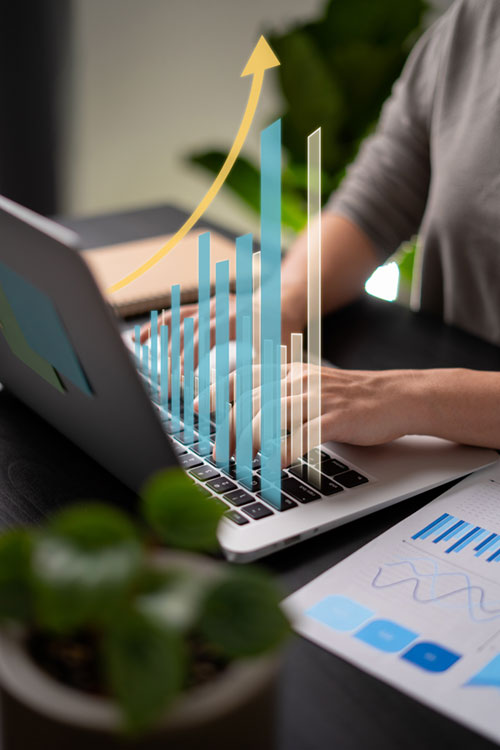 Why Choose MedResponsive?
Expertise: We specialize in healthcare marketing, understanding the unique challenges and opportunities within the industry.
Customized strategies: We tailor our strategies to meet your healthcare organization's specific goals and target audience, ensuring maximum impact.
Data-driven approach: Our data analytics provide insights into patient behavior and campaign performance, enabling informed decisions.
HIPAA compliance: Patient data security is our top priority, and all our activities adhere to HIPAA regulations.
Proven track record: We have a history of success, helping healthcare providers achieve their marketing goals.
Comprehensive services: From SEO and content marketing to social media and reputation management, we provide a full spectrum of services to address your needs.
Patient-centric focus: Our strategies prioritize patient engagement, education, and satisfaction, strengthening patient-provider relationships.
Online reputation management: We help maintain a positive online image, addressing negative feedback professionally and promoting positive reviews.
Cost-effective Solutions: We offer cost-effective marketing solutions that deliver a strong return on investment.
Our Healthcare Marketing Process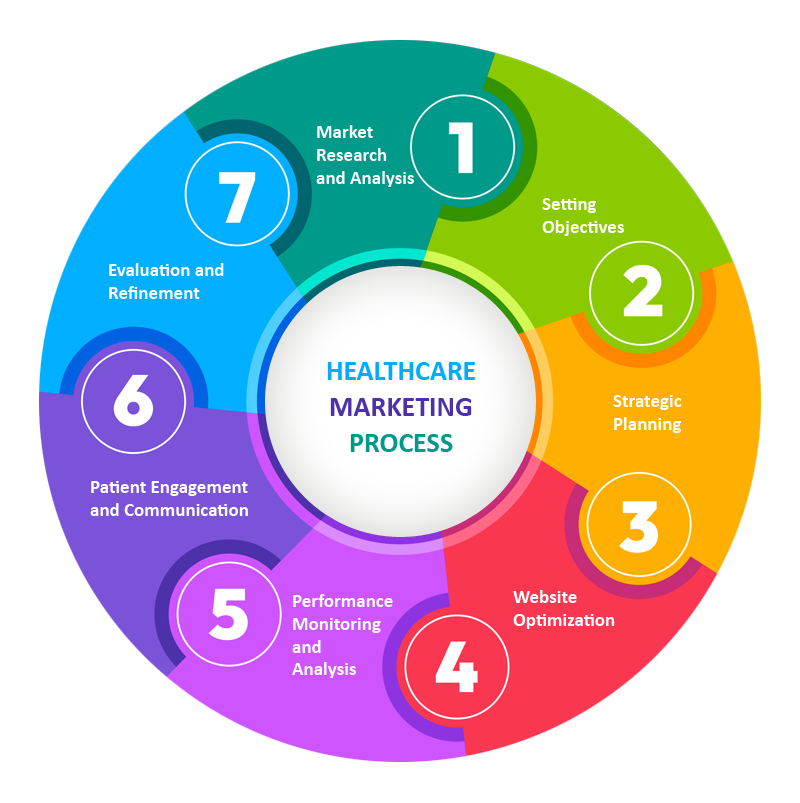 Market Research and Analysis
Identify target patient demographics and market segments
Analyze competition and market trends
Understand patient needs and preferences
Setting Objectives
Define clear, measurable marketing goals
Determine key performance indicators (KPIs) to track success
Strategic Planning
Develop a comprehensive healthcare marketing strategy
Outline marketing channels and tactics (e.g. digital, social media, content marketing)
Allocate budget and resources
Website Optimization
Ensure the healthcare website is user-friendly and mobile-responsive
Optimize website content for search engines (SEO)
Create engaging and informative healthcare content
Performance Monitoring and Analysis
Continuously track and analyze campaign performance
Measure KPIs to assess the effectiveness of marketing efforts
Make data-driven adjustments to optimize campaigns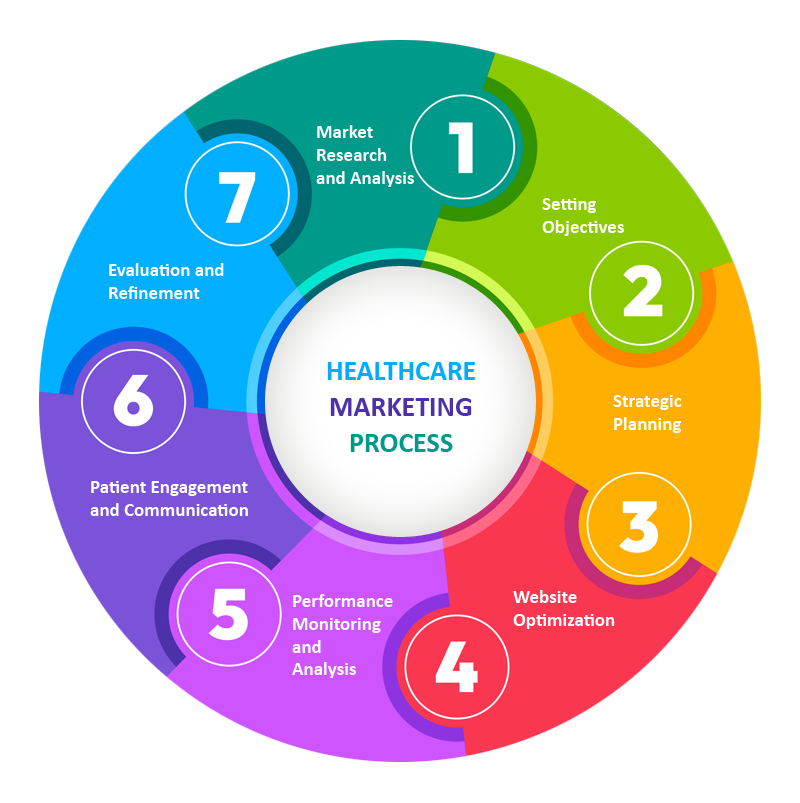 Patient Engagement and Communication
Foster ongoing communication with patients through various channels
Provide timely responses to patient inquiries and concerns
Educate patients about healthcare services and preventive care
Evaluation and Refinement
Periodically review and evaluate the healthcare marketing strategy
Adjust tactics and strategies based on performance and changing patient needs
Testimonials
"We had a beautiful website for sure. However, we were in a fix as to the kind of content that would help popularize our healthcare services online. We consulted MedResponsive. The SEO team there assured us of a great online presence that would boost our prestige. That is just what we got. We got fantastic SEO content not just for our website but also for articles, press releases, and the like, all of which boosted our business. We were able to achieve our business goals faster than we expected and for a great price."
Multi-specialty healthcare, NYC
Testimonials
"I just can't believe the business growth we've achieved ever since we partnered with MedResponsive. It was a pleasure working with them. They are hard-working, knowledgeable, and highly responsive. Their efforts have been effective and met our needs."
Medical Transcription, Tulsa
Testimonials
"Our business is stronger because of MedResponsive's efforts and dedication, I would be happy to recommend them to anyone. Very happy with the SEO work."
Rich A
Testimonials
"The team did an amazing job at boosting my search engine rankings. Helped me bring lots of traffic to my website. Thank you for the great work."
Rich A
Testimonials
"I would like to say thank you to MedResponsive's core team, who have worked well to bring us significant gains in search engine traffic, conversions, and customer base. You're just the best, easy to work with for our SEO and social marketing needs. Perfect work and excellent support."
JJ Bender LLC
Testimonials
"After approaching several search engine optimization companies with practically no significant results, I'm finally getting value for my money. The efforts of your SEO analysts have really paid off for us. We have front page rankings for many of the products we sell, doubled leads, and an enviable bottom-line."
Online store, Bohemia, NY
Healthcare Marketing FAQs
How can healthcare online marketing benefit my practice or organization?
Marketing your healthcare business enhances your online presence, attracts new patients, builds trust, educates patients, and fosters lasting patient relationships, ultimately driving practice growth.
Is healthcare marketing cost-effective?
Absolutely. Our strategies are designed to deliver a strong return on investment (ROI) by targeting the right patients and optimizing your marketing budget effectively.
How do you protect patient data in your marketing efforts?
We prioritize patient data security and adhere to HIPAA regulations in all our online activities, ensuring the utmost protection of sensitive information.
What types of healthcare organizations can benefit from your services?
We cater to a wide range of healthcare providers, including hospitals, clinics, private practices, specialists, and healthcare organizations of all sizes.
How soon can I expect to see results from your healthcare marketing efforts?
Results vary, but many clients see increased online visibility and patient engagement within a few months. We focus on long-term success, and your investment pays off over time.
Choose our healthcare marketing services to unlock the full potential of your healthcare organization and thrive in the digital age. Contact us at (800) 941-5527 to get started on your journey to healthcare marketing success.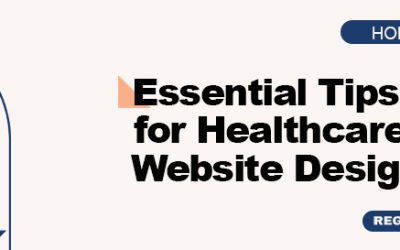 Patients are relying on healthcare websites for many things right from symptoms checking, remote consultation, to locating nearby healthcare providers, scheduling appointments and paying bills. Therefore, it is important for healthcare organizations to design and...