Boosting local SEO enhances the online visibility of a website among local customers and clients. For the regional prominence of a business, the local client base or potential customers in a particular geographic area has to be identified, along with their needs. By optimizing online presence, businesses can stand out in local search results.
The local search queries are usually in the form of "hair salons near me", "restaurants near me" etc. It implies that the optimization efforts are for local brick-and-mortar businesses and focuses on geo-specific keywords. SEO marketing requires expertise to build brand authority. If your website is not ranked on Google SERPs as expected, then evaluate your local SEO strategy and avoid the mistakes given below:
Choosing Broader Terms As Keywords
The selection of the right keywords is the first step in optimizing your website. Usage of appropriate keywords drives organic traffic to the website. If you want to target a local audience, the use of un-localized and unspecific keywords could affect the ranking of your website.  For instance, if the targeted keyword is "best restaurant", it won't gain traction. Such keywords are over-saturated and are difficult to stand out in the Google SERPs. Therefore, select keywords that maintain geo-specific recognition like "best restaurant in Houston". Local SEO companies implement proven SEO strategies to boost their client websites' online visibility.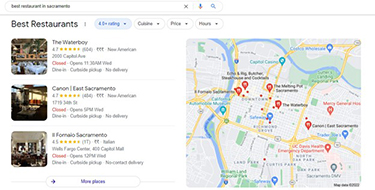 Lacking Google Business Profile
To serve customers of a particular location, it is important to provide details about the business such as the name of the business, location, services, phone numbers and open hours. These are answers to the searched terms.
Creating a Google business profile enhances the Search and Map results that help the customers make informed decisions. If you don't have a profile on Google business, your website would not rank high in local search results which could considerably affect local online visibility. Claiming of Google business profile is free and you can post photos, and the latest updates to show what makes your business unique.
Duplication of Content on Landing Pages
Content from the original page is copied and pasted on landing pages, which is then subsequently adjusted to target keywords. This harms SEO performance as Google finds this confusing and might lead to flagging of the website. It can ultimately lead to removing your website completely from the search results. The exact content on multiple pages doesn't drive traffic to your website; rather, visitors leave the website.
Search engines get confused with the same content on different landing pages.
Poor Quality of the Content
Google's algorithm to rank websites is ever changing. Initially, keywords mattered more in indexing websites higher on SERPs. However, Google's crawlers now focus on the quality of the content. If the content lacks the ability to connect with the audience by providing relevant information about the products or services, it lacks user experience. This deviates from the marketing goal of giving value to your customers. Content writing services are essential to ensure quality content with the right keywords.
Backlinks contribute to the authority of your domain. This drives organic traffic to your website. Backlinks comes in two categories:
They are hyperlinks that point to another page on the same website. If this is done correctly, readers can explore the content on various pages of your website. This helps Google understand more about your website.
✔ External backlinks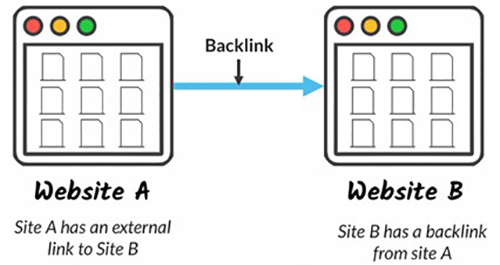 Websites with quality content can more easily build quality backlinks. Google takes into consideration the number of backlinks from authoritative websites.
However, local businesses often don't give importance to backlinks and end up giving none. This ultimately hampers the SEO performance.
Poor Keyword Optimization
Keyword optimization is essential to drive the right traffic to your website. It requires in-depth research, analysis and selection of keywords that align with the tone of the audience. For local SEO, geo-specific keywords have to be targeted by giving thrust to local search queries. If the content is stuffed with keywords, it will devalue the intention of the website. This negatively affects the leads to the website. Regular keyword research and constant monitoring of content position are essential to meet the marketing goals. Organic SEO companies have the expertise and skill to optimize your website with result-oriented SEO strategies.
Giving Inaccurate NAPW Data
Complete and accurate information about the business has to be provided for favorable search results. Inconsistencies in the name of the business, address, phone number and other important details across the various listings would negatively affect the SEO performance of your website.
The number of mobile phone users has increased tremendously and mobiles are being used for e-commerce more than ever before. Ignoring mobile searches will hamper the purposes of digital marketing.
Absence from Social Media Platforms
A strong social media presence is vital to reaching out to the target audience. It is one of the common mistakes committed by local businesses. You can build quality backlinks by posting engaging content on social media platforms. This can increase the authenticity of your brand and enhance online visibility. Social media is an excellent platform where you can share customer feedback and reviews. For example, these days, small and medium businesses actively promote their business through their Instagram handles by creating reels.
Local SEO is essential for increasing brand exposure and local search awareness. It helps to get organic traffic by reaching out to local customers by expanding local consumers and clients. Organic SEO services ensure that your website stands out amid the voluminous content available online and thereby beat the stiff competition.