Get a Custom Solution Today!
Tools
MedResponsive provides a free SEO tool and a Sitemap Generator tool that are designed to assist businesses and marketers in optimizing their online presence and improving search engine visibility. With our user-friendly SEO tools, you'll gain a competitive edge in the digital landscape. Enhance your online brand, connect with your target audience, and watch your business flourish. Experience the transformative power of SEO excellence with MedResponsive!
Our completely free tools provide access to valuable insights and data-driven strategies without the hefty price tag.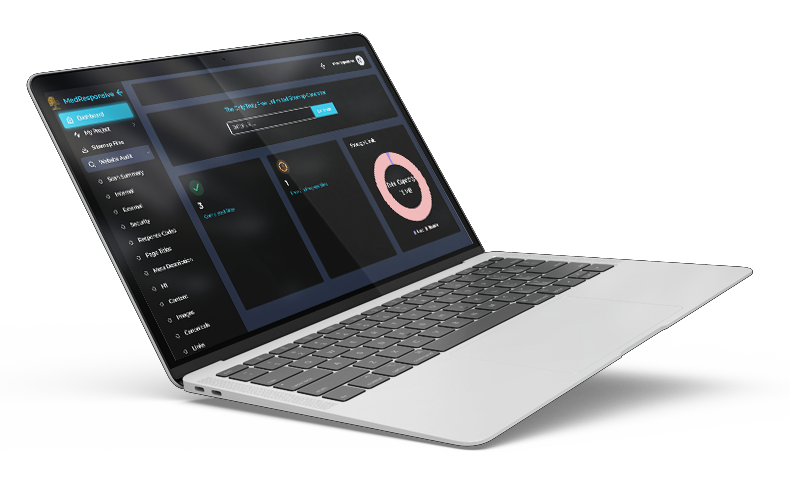 SEO Tool
This complimentary SEO tool is a game-changer for professionals aiming to enhance their online presence and engage with a broader audience. With this entirely free tool, users can effortlessly create an account to save their scans and sitemaps while also generating comprehensive sitemaps.
The stored scans will be broken down into different sections such as – Scan Summary, Internal audit, External audit, HTTP and HTTPS, Response codes, Page Titles, Meta Description, H1, Content, Images, Canonicals, Links, and Structured Data.
This tool offers a user-friendly interface, ensuring accessibility for business professionals, even without advanced SEO knowledge.
Sitemap Generator
MedResponsive's new Unlimited, Free XML Sitemap Generator tool is designed to optimize your website's visibility and streamline the indexing process, ensuring that search engines can effectively crawl and index your web pages.
Our tool streamlines the task of generating and managing XML sitemaps.
With this tool, Sitemap generation is easy in just 4 steps –
Input your website URL and any desired configurations.
Click "Generate" for an instant XML sitemap.
Download and upload it to your website's root directory.
Submit to search engines (Google, Bing, etc.) for site recognition.