Universal Analytics or Google Analytics 360 has proven to be extremely useful for meeting your digital marketing efforts since its launch in 2005. Google announced the introduction of Google Analytics 4 on October 14th 2020. Also known as GA4, Google Analytics 4 is the latest version of Google Analytics, and there are some marked differences between the current and new versions. While the Universal Analytics property IDs start with UA and end with a number (UA-XXXXXXXXX-1), GA 4 property IDs have only numbers (XXXXXXXXX). Being a provider of reliable digital marketing services in New York, we've upgraded to Google Analytics 4, the next generation of Google Analytics.

GA 4 services enable you to measure traffic and engagement across your websites and apps. It provides implementation instructions and reference data geared towards a developer audience.
Replacing Google Universal Analytics with GA4
Google Analytics 4 will be replacing Universal Analytics. Google recommends making the switch to Google Analytics 4 as soon as possible, as all standard Universal Analytics or GA 360 properties will stop processing new hits on July 1, 2023. But users will be able to access their previously processed data in their Universal Analytics property for at least six months. Consider exporting your historical reports during this time to avoid missing any data.
Google will be providing a future date in the coming months regarding when existing Universal Analytics properties will no longer be available. After this date, users will not be able to access the Universal Analytics reports in the Analytics interface or access their Universal Analytics data via the API.
Will all users be affected?
To check whether your Google Analytics property is impacted, first check the date on which the account was created. Google says that "If you created your property before October 14, 2020, you're likely using a Universal Analytics property. If you created your property after October 14, 2020, you're likely using a Google Analytics 4 property already, and no action is required."
GA4 automatically enriches data by bringing Google machine-learning expertise to bear on your dataset to predict the future behavior of your users.
Benefits of Upgrading to GA4
By upgrading to GA4, you'll enjoy these benefits.
Predictive analytics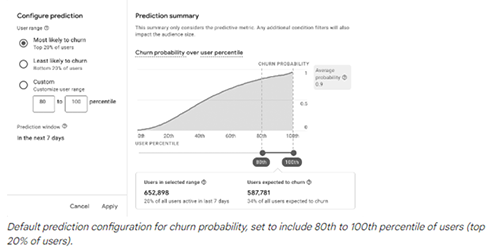 GA4 provides key predictive metrics in the audience builder and in Explorations. Google Analytics automatically enriches your data by bringing Google machine-learning expertise to bear on your dataset to predict the future behavior of your users. Predictive metrics allow businesses to learn more about their customers.
Key predictive metrics in Google Analytics 4 properties are –
Purchase Probability – Purchase probability refers to the probability or likelihood that the users who were active in the last 28 days will log a specific conversion event or will purchase within the next 7 days.
Churn Probability – Churn Probability predicts that a user who was active on your app or site within the last 7 days will not be active within the next 7 days.
Revenue prediction – It predicts the revenue expected from all purchase conversions within the next 28 days from a user who was active in the last 28 days.
These metrics help create predictive audiences. Consider maximizing the use of event recommendations in your analytics property.
User engagement metrics
GA4 provides more positive data on user engagement. The Engagement topic allows measuring user engagement by the events and conversion events that users trigger and the web pages and app screens that users visit. You can easily track the pages and screens that have the most user engagement, and understand the user behavior through events.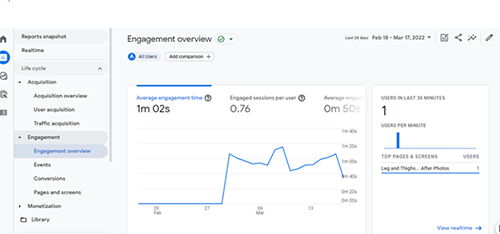 Google explains that the Engagement overview report summarizes data across the detail reports (such as Events and Conversions) to provide a more holistic view of user engagement on your websites and mobile apps. Events provide insight into what's happening on the site or app, such as user actions, system events, and errors.  Conversions are user activities that contribute to the success of your business.  Such activities can be measured using conversion events.
Complete user journey
GA4's Life Cycle collection includes reports in categories such as Acquisition, Engagement, Monetization, and Retention that align with the customer journey.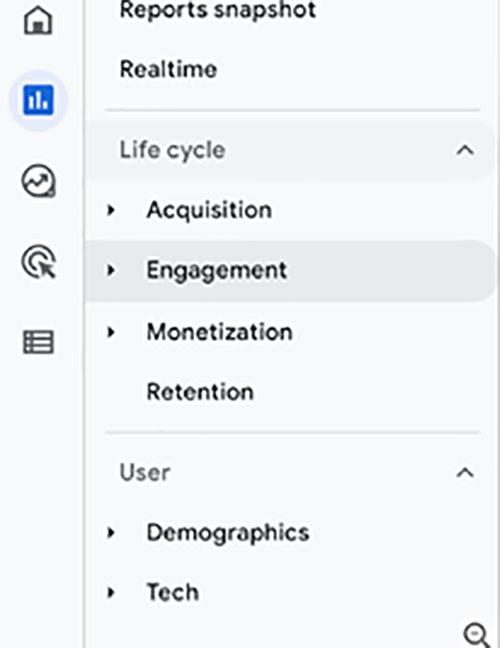 We can customize the reports and report navigation to fit your business objectives. The Life cycle collection includes the following topics –
Acquisition: how you acquire traffic to your site or app
Engagement: user engagement by events, pages, and screens
Monetization: revenue by items, promotions, and coupons
Retention: retention by new and returning users, cohorts, and lifetime value
GA 4 provides the following engagement metrics such as – Engagement Rate, Engaged Sessions, Engaged Sessions Per User, and Average Engagement Time. 
Track both websites and apps
Instead of just tracking website performance like Universal Analytics (UA), GA4 allows tracking a website, an app or even both a website and an app together. It provides both Web and App reporting within a single interface. Combining data from both a website and an app in the same GA property can save time for users, as they can see the complete user journey as the user moves from one platform to another. You don't have to maintain a separate Google Analytics for Firebase property to track mobile app data.
Track ROI on ad spend
GA4's cost-data import lets users analyze return-on-investment (ROI) and compare campaign performance for all online ads and marketing investments. Users can also import data generated by non-Google campaigns, such as email marketing campaigns and social media marketing. GA4 automatically joins website and app journeys together when carried out by the same user, allowing making better marketing decisions and avoid wasting money on ads.
Smart tracking without cookies
GA4 properties are designed to work with or without cookies. Using AI and machine learning, GA4 implements more intelligent tracking that is not reliant on cookies. Google Analytics 4 relies on first-party cookies which keeps them compliant with new privacy laws like GDPR and the California Consumer Privacy Act.
By customizing collections and the topics, administrators can customize the reports that everyone sees.  GA4 has simplified the reporting interface, making it easy for marketers to spot key trends and any irregularities in data. GA4 is the analytics upgrade we all needed. A professional digital marketing services company will be up-to-date with the changes in such marketing tools. Upgrading to GA4 provides marketers with more flexibility to predict user behavior.
Don't miss out on the opportunity to optimize your website and drive better business outcomes.
Call us today @ (800) 941-5527!