Link building plays a considerable role in enhancing a website's visibility on search engines. Link building strategies of yesteryears have undergone considerable change and people no longer rely on a single old link to build a website's authority. Over the years, Google bots have evolved to prioritize websites with quality back links in contrast to other sites with a large number of links from spammy, untrustworthy sites. If you are looking out for an effective way to build your links and boost search engine optimization (SEO) results, try building a link through an "infographic" as a strategy to establish brand authority within your niche. With surging popularity in social media, infographics are being used as an effective strategy for digital marketing services. In simple terms, infographics are visual representations of data or complex information in an easily comprehensible manner. With this specific story-telling tool, any information can be easily presented in a logical manner using visualizations. Digital marketing services focus on infographics that are simple, concise, and clear with information being conveyed in a well-organized, visually simple manner which is easy for readers to comprehend.
Don't miss out on this opportunity to boost your online presence and attract more visitors to your website.
Call us today at (800) 941-5527!
Why Link Building is Important in SEO
In simple terms, back links are created every time one website links to a another. The process is also referred as "incoming links" wherein external websites use your website links as one of their prime sources. This is important as it serves as a unique way to show that your links are performing well. Back links are also essential to show search engines that you are serving your audience hyperlinks to enrich the value of the content. For instance, Google's complex search results algorithms prioritize websites that display high-quality materials that are reliable to cite. In fact, the greater number of back links your website has, the higher will be its chances to get listed in leading search engines. Also, make sure that the links have a 'href' attribute that contains a clickable function.
Benefits of Using Infographics to Build Links
Effortless delivery of information is one of the important aspects of infographics which most audiences highly care about. According to Search Engine Journal, an infographic is 30 times more likely to be read than a text article. It is estimated that readers pay close attention to information-carrying images. An infographic can provide data, numbers, statistics and similar information in an attractive and structured way. The visual format adds to the positive impact the content creates on the target audience. In addition, these can make information more appealing as even complex data can be communicated in an easy and simple manner. When you create a stunning and visually appealing infographic that completely covers valuable statistics and information, people will be eager to share it on their sites. Moreover, it is much more effective than the usual text-based content in building links. When your infographic is shared among audience groups, it contributes to improved SEO rankings and eventually creates a good flow of backlinks to your site.
How to Use Infographics to Maximize Link Building
There are numerous link building strategies out there. However, learning how to build links using infographics is easier than what it seems when you have / use the right tools and strategies to pull it off. In fact, studies report that infographics are the top-performing visual content type that can help increase the website traffic by up to 12 percent. If you create an infographic that primarily focuses on a trending topic and includes useful and convincing statistics and data visualizations, it can help attract the attention of people who are curious about that specific topic and persuade them to share it with others. Creating impressive infographics is a challenging task and therefore maximizing its value truly depends on how you spread it to other reliable sources.
Here are some top strategies to use to build links –
Creating the infographic Content – Beginners can design valuable and informative infographic content by using free and affordable tools and platforms. The more valuable the infographic content is, the higher will be the chances that people are going to link back. Some important tips on creating valuable infographic content include –
Create content that include data statistics as this type of content is more likely to attract the maximum number of back links. In addition, data analytics also help marketers to back up their supportive arguments included in the content.
Conduct your own research or study and then try to present the findings via an infographic. If you don't have the time or resources to conduct individual research, it is always possible to make a compilation of data statistics from various sources and present them as a single one.
Create a comprehensive guide about a specific topic as it also helps attract maximum backlinks. This is important when writers don't have enough space to explain about something; they can easily refer to the specific content for a deeper take on the topic.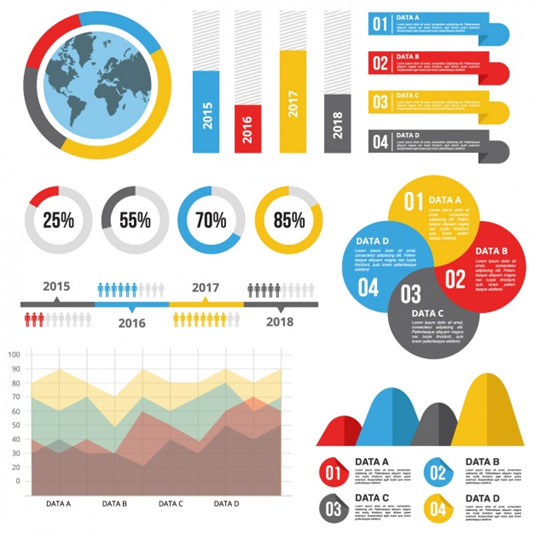 Source link – https://www.freepik.com/free-vector/infographic-template-with-useful-statistics_961416.htm
Guestographics – This is considered one of the best techniques to get backlinks with infographics. Creating guestographics involves four important steps –
Search for Rich Volume Keywords – Never ever target a keyword that has almost null search count. Even though the ultimate goal to build backlinks with infographics is to improve SEO, it is also important to consider other factors like referral traffic. Focusing on rich search volume keywords in the guestographic backlink generation strategy can also help in boosting website referral traffic.
Check out the Top-Ranking Blogs – Once high-volume keywords are identified the next step will be to identify the top blogs ranking on it. This can be done effectively by identifying blogs with good DA (domain authority) and less spam score. Getting backlinks from websites with good DA and less spam score will not only help create backlinks but also generate authority backlinks to improve SEO.
Create an Informative Infographic with the Blog Content – This is an important point of focus in backlink generation. Design an infographic with all the information that the blog content includes.
Provide Additional Context that Your Blog Lacks – You can add additional information related to the specific area of content that the blog lacks.
Following this unique approach makes it quite feasible to design a more informative and engaging guestographic than that blog.
Infographic Publication and Submission – Once an infographic is created, the next step is to publish the same on your website and other directory sites (like Pinterest or Infographic Journal) so that other bloggers and creators have a place to link back to. Page speed is an important ranking factor while posting an infographic on the website. Therefore, make sure to optimize the page speed with these free tools. Furthermore, publishing infographic on directories will attract free backlinks with relatively minimum effort (even though some websites will charge a certain amount of money to publish the infographic). In addition, add social media shareable buttons with your infographics on the website as this will allow visitors to share the same via social media. Determine which specific social media platforms have the best audience for your specific infographic and focus on those. Once a promotion plan for organic social media sharing is designed, create an ad on top social media platforms. You can create ads on Facebook, Twitter, Instagram Story ads; these will be better for sharing infographics. Apart from a social media marketing link, you can add embeddable code of infographics as this makes adding the infographic on the blog easier for other bloggers, which in turn helps to earn extra backlinks.
Do research on potential guest blogging websites – There are numerous websites that offer the option of guest posting. Simply, search on Google – "Your niche + Write for us" or "Your niche + Become a contributor". For instance, if you want to search for a blog website that offers guest blogs related to SEO, you can simply Google "SEO write for us."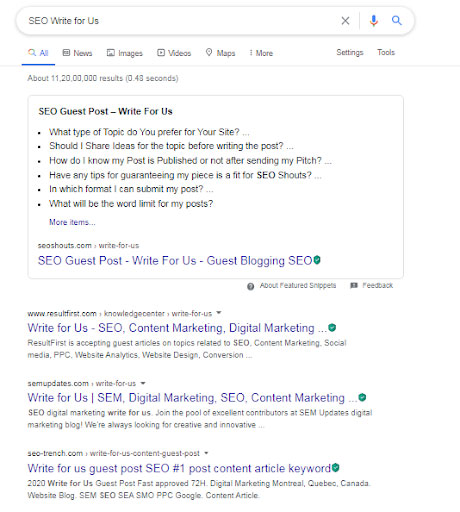 Make sure to check whether the website has a good DA (Domain Authority) and low spam score. Also, that it gives a do-follow link. Read all their major blogs first and identify a specific topic that they haven't covered. Include targeted keywords, blog title, and a relevant design idea that clearly matches the website's niche. For instance, if you have found that one of their blogs does not include informative content and that by adding an infographic, they can make their points clearer. Make sure to ping them about it and also include other ideas or valid reasons on how the blog can be made even more interesting with an infographic.
Email addresses collection – After identifying the top websites, to analyze which perfectly fits to publish your infographic and which doesn't, the next step is to collect the email addresses of people working on those websites. Those people can either be a writer, content manager, editor or any other person who is directly responsible for the content of that website. By using tools like "Find That Lead," it is possible to find email addresses based only on domain name and social media link. It also allows users to verify an address to see whether it is valid or not.
Email outreach campaign – With all the verified email addresses, the next step is to do an email outreach campaign to promote your infographic. It is estimated that 66 percent of consumers unsubscribe from emails as they are not relevant (to their specific needs) and about 34 percent of people mark email marketing messages as spam. The success of good email marketing is when the emails are engaging. With infographics, you can design engaging e-mails. There are two different ways of email campaign. The first one is using automated email tools and the second one is by manually sending the emails one by one. Each of the methods has its own merits and demerits. Even though, sending emails manually takes considerable time, it is possible to personalize the email. On the other hand, using automated email tools will help you send tons of emails in a short time, but the content of the email will be the same and generic. Whatever be the choice of email outreach campaign, here are some important tips-
Create an eye-catching and creative subject line
Keep the subject line short
Include an "emoji" in the subject line if possible (as it helps your content to stand out from other emails in the recipients' inbox)
Try to include statistics that validate your statements
Never complicate the infographic design
Limit the content to 100 to 200 words
Add a clear CTA button at the end of the infographic (so that the audience knows what to do next)
Optimize the content for mobile (as 46% of people open their email from mobile devices)
Back links from quality sources are a deciding factor that help enhance search engine optimization. In fact, these are one of the deciding factors that determine whether you can rank first on the SERP or not. Well-designed, informative infographics can help you get a boatload of credible backlinks, helping you rank high in search engines. The above-mentioned strategies are worth trying out since they are likely to deliver great results and significantly boost the backlink profile. Creating valuable infographics alone is not enough, it is equally important to promote them. Digital marketing and SEO services from an expert provider would ensure that the infographics included in your website can present and promote the information effectively.