Get a custom solution today!
AI Development Services
Looking for innovative and cutting-edge AI solutions for your business? Benefit from our AI development services!
AI or artificial intelligence is a broad term, and encompasses data mining, natural language processing, machine learning and much more. AI helps businesses to:
improve their decision making
achieve new levels of efficiency
improve customer experience
automate business operations
At MedResponsive, we provide cutting-edge AI software using advanced technologies. Our team of expert AI developers is dedicated to providing customized solutions to meet your business needs. Whether you're looking for natural language processing, computer vision, or predictive analytics, we have the expertise to deliver exceptional results.
Ranging from general apps for client management to AI chatbot development service or complex artificial intelligence software development, we can address any specific opportunity or pain point of your business.
Considering outsourcing artificial intelligence development?
Contact us today at (800) 941-5527 to learn how our artificial intelligence development company can help take your business to the next level.
AI Development Services for Diverse Industries
We provide artificial intelligence development services to businesses in various industries, from healthcare to education.
Education
Learning Management Systems
Staff Scheduling
Language Learning
Lesson Planning
Parent-Teacher Communication
Insurance
Claim management
Fraud detection
Risk assessment
Forecasting
Pricing and underwriting
Healthcare
Imaging solutions
Patient tracking
Clinical decision support
Predictive analytics
Remote health monitoring
eCommerce
Product recommendations
Enhanced customer service
Customer segmentation
Pricing optimization
Sales and demand forecasting
Construction
Project planning
Automatic hazard detection
Risk mitigation
Cost management
Labor efficiency monitoring
Hospitality
Hotel revenue management
Operations management
Hotel staff assistance
Lodging services
Energy management
We are committed to delivering high-quality AI solutions that are tailored to your unique business requirements. Our team works closely with you to understand your goals, challenges and objectives in order to develop a solution that meets your specific needs.
Step by Step AI Development Process
Identifying business goals
We first need to understand your business objectives and list all the requirements needed to meet those goals.
Data collection and preparation
Data is key to any AI solution. We need to gather relevant data to train the AI model.
Conduct data audit
This helps to remove duplicates, handle missing values, and encode categorical variables.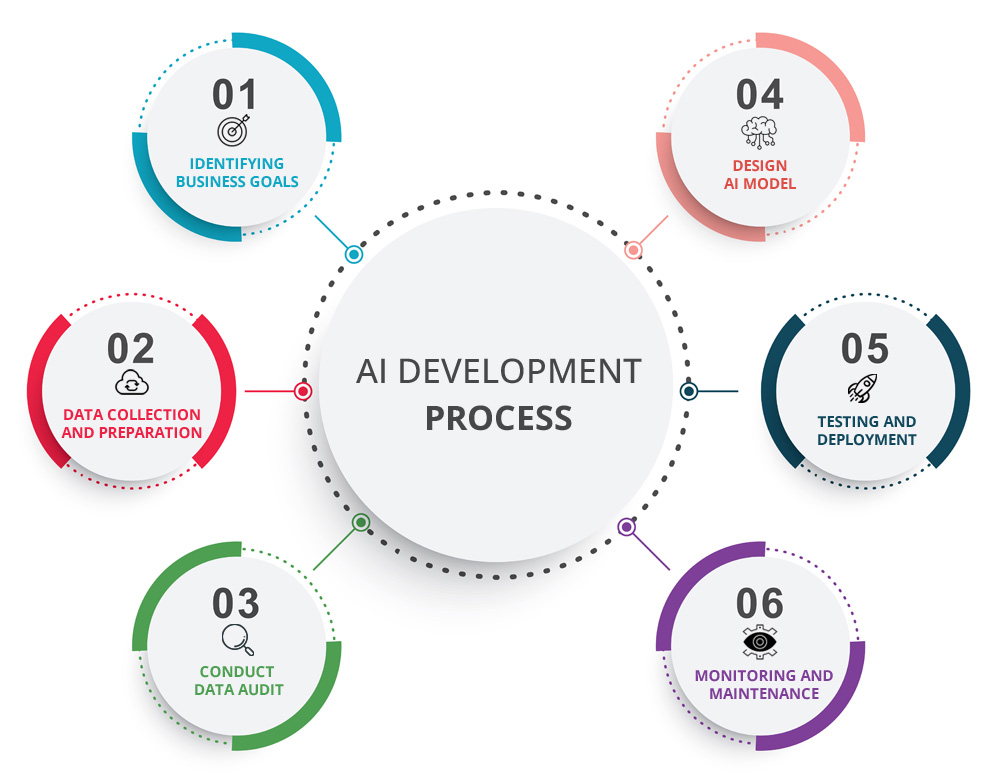 Design AI model
We design the appropriate AI model, depending on the type of solution and support you are looking for.
Testing and deployment
After the model has been evaluated and tested, you can deploy it into production.
Monitoring and maintenance
After deployment, we monitor the model's performance and make necessary updates and improvements.
Whether your concern is faster data processing, data analysis, natural language processing solutions or multi-platform integration, we can design the right AI/ML software for you. We have the expertise to deliver the right results. We use AWS to host projects that contain static sample data. This approach enables us to quickly provide you with a solution, allowing your developers to begin product integration.
Why Choose MedResponsive?
Solutions within the budget
Cutting edge IT solutions
On-time delivery of products
Round-the-clock customer support
Reinvent your Business Strategies with our Industry Leading Artificial Intelligence Outsourcing
Moreover, we provide cutting-edge solutions powered by artificial intelligence (AI) to revolutionize your SEO strategies and content marketing efforts. Our team of experts leverages AI technology to provide AI SEO Services and AI content marketing solutions that drive organic traffic, boost search engine rankings, and optimize your online presence.