Are you looking for ways to rank your website on Google? Then don't ignore link building as it plays a crucial role in driving quality referral traffic, enhancing domain authority, and organic ranking. Though it may be a time-intensive process, a solid link building strategy is one of the best ways to achieve SEO success. Hence, every marketer and webmaster should consider using an actionable link-building strategy as their growth strategy. Professional digital marketing agencies that provide the service of an experienced SEO team, can assist you with link-building services.
What Is Link Building?
We all are aware of the fact that, right now, due to the 2020 coronavirus pandemic and people spending more time at home and online, web traffic has become very important for brands and businesses. To improve web traffic, you need to improve your Google search rankings and one of the best ways to improve Google search rankings is through white label SEO link building.
Link building is the process of building one-way hyperlinks, known as "backlinks" to a website. By placing your website or content link on other websites you could build an online presence, improve search engine visibility, create an image of brand trust, drive traffic and generate future leads.
Why Is Link Building an Important SEO Strategy?
A report from Ahrefs says that the vast majority of online content gets few social shares and backlinks; in fact, 94% of all blog posts have zero external links and more than 90% of pages receive no organic search traffic from Google. However, this has to be avoided. With more than 66% of these pages – having no referring domains- marketers and webmasters need to initiate tactics and strategies that work to improve web traffic and search rankings. Link building is one such important factor to consider.
One of the many tactics used in search engine optimization (SEO), links continue to be #1 ranking factor -alongside great content – for Google and other search engines.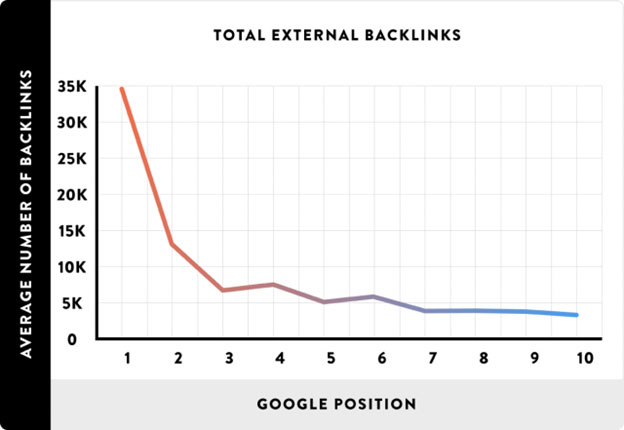 Source:https://mk0apibacklinkov1r5n.kinstacdn.com/app/uploads/2018/04/1_4_total-external-backlinks-640×441.png
Ranking without links is hard now because it's a fact that Google cares about links more than anything as it looks at the quantity of high-quality inbound links to a webpage when they crawl. If your website has higher quality backlinks, then it will earn higher rankings too, as links act as a signal to Google saying that your website is a quality resource worthy of citation.
Some other reasons why you need to place a strong focus on link building are:
Google will find new pages on your website faster.
Boost the value and domain authority of your website.
As a webmaster:

You'll enjoy increased credibility and trustworthiness as a business.
You could benefit from targeted referral traffic.
According to Agency Jet, it's estimated that by 2021, 73% of E-commerce sales will be from mobile, which indicates that it's the perfect time to further establish brand trust and online presence through link building.
However, Google's Penguin update had changed the way we use backlinks in SEO forever. That is, before, April 2012, a webmaster/marketer could rather easily buy their ranking position by adding more and more links and could manage ranking on the first search engine results page. After incorporating The Google Penguin Spam Filter to Google's Core Algorithm, Google now focuses on link quality (not just link quantity).
Paid links on a site are considered "nofollow" and do not count in the Google Page Rank system. Similarly, building backlinks for the sake of getting links or doing malicious practices will cost you a lot, because Google will hit you more –they can even permanently block your website, and you may lose everything on your website. So, to avoid such situations, what we can do is adopt some effective SEO link-building strategies and skyrocket domain authority, ranking, organic traffic, and earn thousands of backlinks. To achieve organic link building you need to build a long-term relationship and create a funnel of referral traffic. For that you can reach out to other websites, participate in podcasts, and write blogs in your niche. Apart from this, there are more strategies that you could look for.
7 SEO Link Building Strategies
Do Outreach: An efficient link building strategy revolves around network outreach, which means reaching out to people in your niche and introducing them to your content. As we all know, a large part of SEO is creating a reputable and far-reaching online presence, with the help of network outreach, we can open up untapped opportunities for link building.Try to recognize connections that may have websites or blog pages that can host a hyperlink, because, outreach almost always works best with linkable assets. That is, people that are already connected to a brand or business are more likely to help support their efforts. Their stamp of approval can help drive referral traffic to your website too. You can also reach out to:a. People who've referred your target keyword in their articles.
b. People who've linked to related articles on the topic.

To make it easy, you can use sites such as Ahrefs Keyword Explorer to conduct keyword research for the link you are looking to place. Type any keyword into this site and look at the top 10 ranking pages, as it will help to identify new potential websites and blogs that could potentially host a backlink.

Source: https://www.robbierichards.com/wp-content/uploads/2017/07/image25.png

NOTE: However, you don't necessarily need any lengthy content for reaching out to people; instead, you just need to have something worthy of a link-such as your product, service, business, brand, or even personality.

You can also consider responding to journalist inquiries. Being a source for journalists and using this network to build additional backlinks, you can get featured on news sites, blogs, publications, and podcasts. It is additionally a great strategy to build an authoritative link. Use sites such as Help a Reporter Out (HARO) and Muck Rack to connect journalists with industry experts to share their expertise, stories, and case studies.

Broken Link Building: A tried and tested SEO link building strategy, building broken links helps to improve organic reach and increase search ranking. This technique involves replacing broken links on external websites. That is, basically, you have to find relevant pages in your niche industry that could potentially link out to you and that have broken outbound links. To find a broken outbound link, you have to follow the three-step process:Find a competitor's website using sites such as Ahrefs site explorer and filter for broken backlinks.
Source: https://cdn.ahrefs.com/images/features/broken-link-checker/blc-0_1x.png

b. Create relevant content for that particular broken link or find an existing content from your website that could replace that specific backlink.
c. Reach out to specific webmasters to inform them about the broken link and ask if they are willing to replace the link with your relevant, up-to-date piece of content.

While finding pages for broken links, select pages that have high traffic volumes and are relevant.

Unlinked Brand Mentions: Another among the best SEO link building strategies for 2021, "unlinked brand mentions are online mentions or citations of your brand, product or service —or anything directly related to your brand—that do not link back to your site.
For instance, check out the below image:
Source: https://ahrefs.com/blog/wp-content/uploads/2018/07/ahrefs-unlinked.pngYou can see that despite citing the website name Ahrefs, there's no link back to their website.

If you witness your brand or business name mentioned anywhere without a link, don't miss your chance. Reach out and convince the author to convert the mention/citation into a clickable link, as it is an opportunity to generate leads and build your site's authority. Especially if you're a medium-sized or larger brand, through this strategy you can build a lot of links and expand your digital footprint.

Email Signatures: According to a report from Seventh Sense, 46.9% of marketers in 2020 said that they plan to send more emails, which makes email a popular option. With this email, you can generate traffic. Thinking HOW?Through email signature, as it provides a positive psychological impact in people. Also, if you send a lot of emails every day, email signature provides an opportunity to promote and share a backlink every time a communication is sent to another person or business. With a well-constructed email signature you can expect traffic improvement and trust building among people. However, include social media links along with email signatures as it provides multiple touchpoints from one place. According to a BACKLINKO report, "linking to social profiles in email signatures may result in better response rates. Twitter was correlated with an 8.2% increase, LinkedIn an 11.5% increase, and Instagram a 23.4% increase".
Research or Industry Studies: Content with original research or industry studies is highly linkable. Useful at the national and local level, this link building strategy helps to craft a piece of content that people will want to download and link to. Especially if you can create industry studies around specific locations, that can help drive SEO links to local pages.
Use Q&A Sites: As a link building strategy make use of Q&A sites such as Quora. With more than 300 million active users in 2020, this Q&A website is useful for many SEO areas. However, before building links in such sites, first perform keyword research for relevant posts that have a large traffic. Identify relevant questions on the Quora website that contain these keywords and add accurate and thoroughly researched answers with a backlink. As Quora has a high domain authority score, attaching a backlink to learn more information helps to improve traffic, increase credibility and your SEO score.
Refresh Your Content: Refresh your older posts if you want to improve traffic to your website. No matter how good your content is, every content piece has an expiration date. Though the content might have witnessed a spike of growth once you published, but at some point – may be two years or more – the growth will level out and traffic will stop pouring in, as searchers are always seeking relevant and latest news. In such situations, consider performing content refreshment and add relevant links or latest links that would catch the attention of searchers. Google also announced an improvement to their ranking algorithm in 2011, which says that the algorithm is designed to better understand how to differentiate the level of freshness a user needs for each query. You can even reach out to websites and offer to refresh their older posts for free so that the website can witness rankings again and you may just earn a good link.
These are just a few SEO link building strategies that would help your Google search rank in 2021. Other strategies, such as creating a Wikipedia page, utilizing influencers, claiming business listings or getting links from scraped content, can also improve your rank. Be smart and strategic about blogging, content marketing, social media marketing, SEO and any other marketing technique that you're using to make link building possible. Get to know what makes a link powerful and focus on improving that. Test each strategy and see what works best for you. Or, reach out to experienced digital marketing agencies in USA to learn how they work on white label SEO link building to create effective and lasting SEO improvements for your business or brand.