New Year is getting closer and it's time to review our top blog posts for 2022. One of the leading providers of digital marketing services in New York, MedResponsive always keeps up with the latest SEO insights and practices, and our team always refers to reliable sources for information.
Top 10 SEO Blog Posts
We have compiled this list of top 10 SEO blog posts you can follow.


Keyword research is probably one of the most important aspects of SEO. Effective keyword research tools can be used to find the most effective and suitable keywords for your website content. Some of the popular tools discussed in this blog are Semrush, Ahrefs, Rank Tracker, Answer the Public, KW Finder, Google Keyword Planner, Serpstat, Ubersuggest, Keyword Surfer, Long tail Pro, and SpyFu.


LinkedIn rolled out Career Breaks because the survey showed that most professionals took career breaks to refine their skills or develop new competencies. "Career Breaks" provides candidates with an opportunity to start a discussion on the matter and address concerns that may be on an employer's mind. This blog discusses the news that LinkedIn members can now add a Career Break to their Profile, which will better capture their life experiences.

This blog discusses the latest update that Google Voice now lets users create rules that dictate how the service responds to incoming calls from specific contacts and also includes having Google Voice automatically ignore certain contacts for you. Read more about this update here.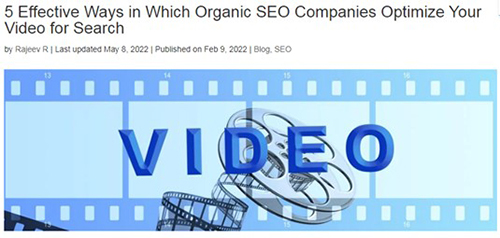 Video has emerged as one of the most effective communication channels for businesses. Due to the rising use of smartphones, tablets and other devices, video use is expected to increase in the coming years. Organic SEO companies optimize your videos for search in many ways. They choose the correct video hosting platform, include a video transcript, use engaging images for thumbnails, focus on title and description, and make the video the focus of your page.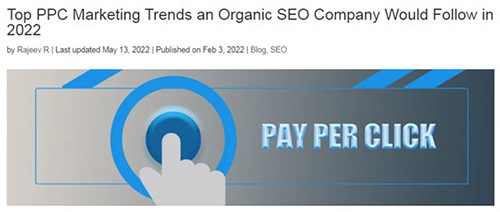 Though PPC marketing has been around for a long time, new trends keep emerging. This blog discusses some new trends for PPC marketing for 2022 and the years ahead such as – Unconventional Ad Formats, Automated PPC Ads, Google's Move to Responsive Search Ads, The TikTok Bandwagon, Video, Video and More Video, and Editable Bumper Ads with Bumper Machine.


E-commerce SEO is the process of optimizing the website according to the guidelines and requirements of the major search engines. A professional search engine optimization company can help business firms implement successful E-commerce SEO strategies. Some best practices are – make use of relevant keywords, use voice search assistance properly, share data with Google, and optimize product page. This blog also discusses SEO tools that help e-commerce websites improve their performance on the online platform.


Image optimization can improve the loading speed to a great extent. Optimizing images can also enhance user experience, improve search engine ranking, and enhance the accessibility of the site. Some important tips for optimizing images are – resizing the image, using the right file format, using appropriate file name, compressing images, using mobile-friendly images, using ALT tags, focusing on copyright concerns.


For marketing your business, TikTok offers unique features to drive engagement with new audiences, build brand awareness, and grow your business. This infographic highlights some TikTok features such as – excellent user engagement, brand effects for content, display products in Catalog Ads, Spark Ads, Auction Insights, and more.


Single keyword ad groups (SKAGs) are ad groups that have just a single keyword. SKAGs can make your Google Ads campaigns easier to understand and manage. This blog discusses the ways in which users can split their ad groups in a PPC campaign. A professional search engine optimization company in New York, MedResponsive can develop competitive PPC strategies for clients that would help increase their ROI.


Instagram, the Photo sharing app has recently introduced a new monetization feature: Instagram Subscriptions. Launched for Instagram creators, this new monetization option helps creators earn money every month from their most loyal followers. This new feature helps Instagram creators to develop deeper connections with their most engaged followers and make monthly recurring income.
There could be some more relevant SEO updates this New Year. Visit our blog section for more SEO insights and news.
A reliable provider of digital marketing services in New York, MedResponsive has a diverse team of specialists who specialize in everything from digital marketing, content writing, conversion rate optimization, site usability, eCommerce, apps and databases. Our SEO solutions are tailored to meet your specific business needs. Need professional SEO support? Talk to us at (800) 941-5527.