Photo sharing app Instagram recently introduced a new monetization feature: Instagram Subscriptions. Adam Mosseri, Head of Instagram had notified users in a video message that the platform is looking forward to focusing primarily on the creator clout and building features that will help them grow. Instagram Subscriptions is one of these features. Launched for Instagram creators, this new monetization option helps creators earn money every month from their most loyal followers. As an SEO company offering social media marketing services, we keep track of such social media trends to help businesses build their brand and connect with their audience.
Instagram Subscriptions
Facebook launched Subscriptions in 2020. The feature has helped creators build sustainable businesses powered by the support of their communities. Based on strong feedback, this feature is now available to creators on Instagram.
According to Meta, creators inspire people around the world with their talents and push culture forward every day. The company has developed a suite of tools to help Instagram creators make a living through their platform — get support from their audience, partner with brands, and earn money from advertising or bonuses directly from Instagram and Facebook. As the company rolled out Instagram Subscriptions with the aim to help creators monetize their content.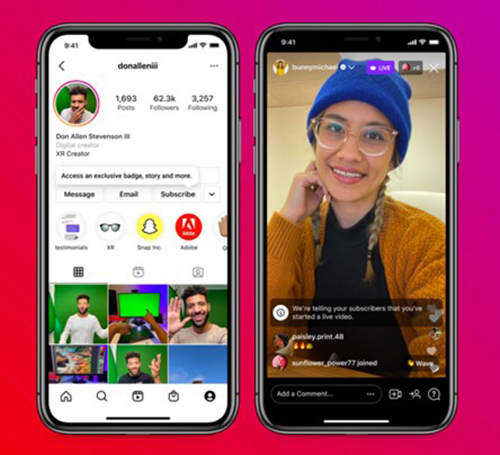 This new feature helps Instagram creators to develop deeper connections with their most engaged followers and make monthly recurring income. It helps grow their recurring monthly income by giving subscribers access to exclusive content and benefits, all within the same platform where they interact with them already.
Instagram has begun testing the Subscriptions feature, which is initially limited to a handful of U.S. creators. During this initial test, the selected creators will be able to set a monthly price of their choice, unlock a "Subscribe" button on their profile, and offer the following benefits to their subscribers:
Lives:  To engage more deeply, creators can broadcast exclusive Lives to their subscribers.
Stories: To share exclusive content and to use interactive story stickers with their most engaged followers only, creators can create Stories just for their subscribers.
Badges: With a subscriber badge next to comments and messages, creators can easily identify their subscribers.
NOTE: If you want to see Subscriptions in action, follow and subscribe to these creators: Alan Chikin Chow, Sedona Prince, Aliza like Ibiza, Kelsey Cook, Elliott Norris, Jordan Chiles, Jack Jerry, bunnymichael, Don Allen Stevenson III, Lonnie IIV.
"Having subscriptions on Instagram makes building a more intimate relationship with my followers and fans possible. I am so excited to nurture those connections and make a lasting impact that will help keep my work sustainable," said one selected user.
Instagram plans to expand access to Subscriptions to more creators over the next few months.
Earlier this year, as part of Instagram's continued commitment to supporting creators, the company announced that Meta would not collect any fees from creators on Facebook Subscriptions purchases until 2023 at the earliest and that this will also apply to Instagram Subscriptions.
"Now over time, we hope to expand these features because it is important that the subscriptions are integrated throughout the entire Instagram experience. We also believe that creators should own their relationship with their subscribers. So, we are working on ways that creators can take the subscriber list and bring them off of Instagram to other apps and websites built by other companies," says Mosseri.
An experienced provider of digital marketing services in New York, MedResponsive up to date with the current social media updates and news. Our social media marketing services can help you leverage the power of leading platforms to showcase your brand and connect with your target customers.