The significant evolution in digital marketing has made it essential for business to stay up-to-date with the latest trends to increase brand awareness. Search engine optimization (SEO), which has been around for more than two decades, is an incredible tool for marketers to attract the attention of potential customers. Optimizing web pages involves incorporating appropriate SEO strategies for sustaining a website's position in organic search results. With growing online competition, it is important to implement SEO strategies that align with current best practices. Outsourcing digital marketing services in New York is the best option to stay on top of the changes.
Search engine optimization (SEO) should not be considered as a separate entity but a part of the greater marketing strategy. SEO experts are always looking to improve their tactics to boost search ranking. As changes occur in the SEO industry very often, staying updated on the best SEO practices makes it easier to beat competition.
Strategies to Boost SEO in 2023
Discussed below is a list of SEO practices that are expected to move the needle in 2023 –
Optimize Website for Google Discover – Despite being a relatively new service, Google Discover has grown in popularity, with over 800 million users to date. Google Discover is a feed that appears on Google's home page for mobile phone users. This feed improvises user search activities to better understand their interests and preferences with the most appropriate search queries.

Regarded as one of the essential SEO practices, optimizing website for Google Discover can substantially increase traffic on a website and help connect with millions of potential business prospects.
Featured Snippets – Relatively a new trend, featured snippets often appear at the top of search query results pages. Google snippets answer the user intent in a more enhanced way. Featured snippets benefit organic searches as they gain more attention and clicks from the people. The new feature can help attract numerous visitors to a website. Here are some tips on how to optimize a website for featured snippets –

Perform appropriate keyword research and focus on question-type search queries.
Use inverted pyramid style to land snippets.
Follow optimal word count (that is 40-50 words for featured snippets)
Passage Indexing – A new way to index content, passage indexing is the process of passing text through an algorithm that converts it into structured data, which can be used by search engines to better understand what's being said on web pages. This means that passage-indexed content will have better search results and more accurate answers as the algorithm learns from each user's interactions with it.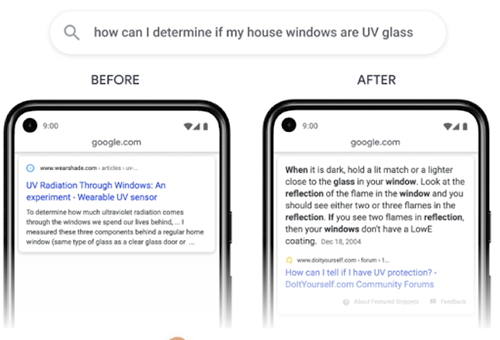 Image Source:
Focus on the Core Web Vitals-The core web vitals feature in Google Search Console help maintain or view a websites performance from a user's perspective. The feature provides analytics on errors, performance, and accessibility. The data gets collected from Google's web crawling and the Chrome User Experience Report. However, it is important to realize that these numbers are not necessarily an indication of rankings; rather they are just a way to see how people interact with a website site and the key areas where there may be room for improvement. Utilization of this new tool can help gain valuable insight into whether their SEO efforts are helping improve overall user experience and website rankings as well. There are three core web vitals –

Largest contentful paint (LCP) – LCP measures a website page speed and denote the time taken by the content of the website to load. Google considers page speed as one of the essentials of user experience. In fact, it is the heavy and illustrative images and themes used on a website that decrease the loading speed of a page. So, incorporate lighter elements in a website design. Image compression software can be used to compress images before using them on a website.
First input delay (FID) – FID is the time taken by the input receiving elements of a website, like a scroll or a lead form, to become available to the visitor. The inconvenience visitor's face due to the time the input receiving elements of a website takes to load may disrupt user experience. Focusing on the responsive themes with lighter theme elements can help address this issue.
Cumulative layout shift (CLS) – CLS refers to the instability of website elements, which can impact the user experience. For instance, certain websites use it to trick visitors into clicking the spam links and drive them through sales or lead generation funnels.
BERT Algorithm – Google's BERT algorithm impacts nearly 10 percent of search queries. Google uses this algorithm to perceive the context of the total number of words in a phrase versus analyzing each individual word manually. This AI-driven system focuses on topics rather than individual words. To produce relevant content, SEO has to combine both keyword matching and keyword intent matching. Implementing these changes will bring content to the top list when someone searches for it.
Top Quality and Contextual Content – Content is king. Most SEOs tend to focus on content as per the search intent of the users. Satisfying the search thirst of the users is the ultimate goal of search engines. Optimizing keywords, contents, images, and backlinks according to user intent will automatically rank a website up in the search engine. The content included in a website should be informational, commercial; and user-friendly to quickly grab the attention of the target audience. Having said that, the best content planning tactic to use is to follow a topic cluster model and content merging.
Image Search – A highly effective SEO strategy, images help increase consumer engagement and achieve business goals. Image SEO is an essential SEO practice, especially for e-commerce businesses. If you ignore image optimization, you would miss out on a crucial opportunity to drive more traffic. SEO practitioners are expected to optimize images by using high-quality, relevant images with custom file names and alt tags to accomplish this. Optimized images also increase the chances of featuring in the featured snippets and Google discover feeds. Before optimizing or choosing the right image it is important to consider these key aspects –

Choose the proper file format for an image. For example, use JPEG format for its small size but prefer PNG for images that contain texts.
Load images according to the relevance of the content.
Use Alt texts for images.
Use smaller size images to reduce the loading time of a website.
Effective and Quality Backlinks – Link building is one of the top factors used by Google and other search engines for ranking the content. Link building acts as a testimonial by which Google judges the quality of the content and ranks it. Building quality links to your website from other sites with established reputable authority and trustworthiness in their niche markets can make a huge difference to SEO. Here are some useful tips for building effective backlinks –

Build connections with other businesses within the niche and reach out to different webmasters for backlinks to a website
Make some attractive infographics and provide a link for the source of that content.
Guest post relevant content on other blogs
Do a competitive analysis and check whether your competitors have backlinks to find new backlink opportunities
Create hyperlinks from reputable directory websites as an additional traffic source.
Mobile First Indexing – In 2017, Google announced Mobile First Indexing for all new websites. This means all new sites are crawled by the Google Smartphone crawler than the Desktop crawler. This made every webmaster mandatory to make their mobile compatible. Since mobile data is generally weaker than broadband or Wi-Fi, optimizing the Core Web Vitals becomes absolutely paramount. As mobile indexing is appearing over every website, it is important for websites to focus on this strategy if they want to connect with more customers in the future, they should get their website mobile-ready as soon as possible.
User Search Intent – Search intent is a top factor for ranking well in search engines. Search intent conveys how people search for content and what they're looking for. The best way to understand user intent is by using Google Analytics. Using this tool help determine which keywords people have been using to search a website, then use those keywords as a starting point when creating content on a website. Other tools like BuzzSumo or SEMRush can also be used to see which topics people are talking about online to know what type of articles will work best with potential readership and thereby improve search rankings.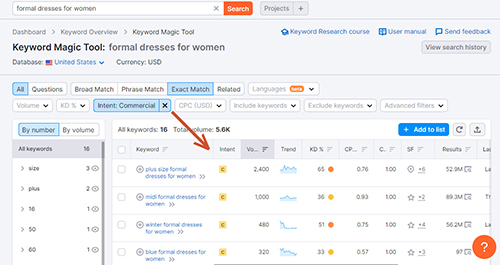 Image Source:
Customer Analytics – If you don't know how many people are visiting your website, which pages they visit, and where they came from, then it is not possible to improve your SEO strategy. This is the point where customer analytics becomes significant. It is important to know how much traffic is coming from organic search, paid search, and social media. It helps decide how much money to spend on digital marketing campaigns.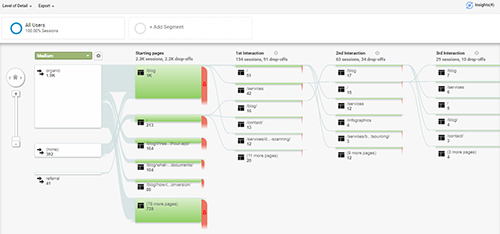 Image Source:
Regular SEO Audits – A fundamental SEO principle, SEO audits help find errors related to a website. Even small mistakes on web pages can affect the user experience. Therefore, conducting periodic audits can help businesses avoid technical and other errors on their website.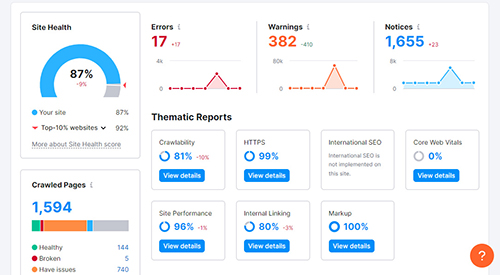 Image Source:
The technological evolution in the digital marketing space has created a dynamic necessity for websites to do something unique that helps them stand out from the competition. Proper knowledge of essential digital marketing practices is important for the growth of a business in 2023. One of the best ways to become familiar with the latest digital marketing trends is to do a competitive analysis. This will help you learn about keywords, potential business prospects, and traffic sources to focus on. Use the data obtained to improvise your digital marketing strategy and outrank competitors. Relying on the services of an organic SEO company with long-term experience in the field can help you implement best SEO practices to gain high search engine rankings in 2023 and beyond.