New to SEO? Learning SEO is quite time-consuming. Whether you're a digital marketer or a business owner using various online marketing tactics to attract your targeted audience, it is important for you to be familiar with SEO terms. To be successful, you need to be familiar with the vast SEO terminology associated with digital marketing. An experienced SEO outsourcing company will have a team thoroughly knowledgeable in seo terminology and keyword glossary.
SEO Terms for Beginners
We've compiled a list of 25 search engine optimization terms for future reference.
You now have a go-to glossary of terms that details SEO for beginners. With these 20 terms in hand, you're ready to start tackling all things search engine optimization (SEO). Remember, ranking on page one of Google doesn't happen overnight. It'll take time and some SEO best practice finesse to improve your rankings, and ultimately boost website traffic and leads.
Confused with the SEO terms and buzzwords you encounter on a daily basis? Get to know these search engine optimization terms
Featured Snippets:
Featured snippets are special boxes of text that appear at the top of a Google search results page. It can quickly answer a searcher's query.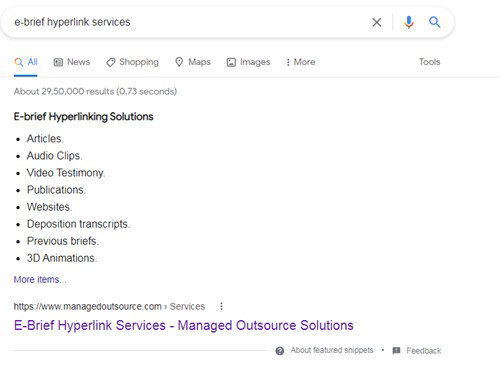 Optimizing for featured snippets can help boost brand reputation and drive organic traffic.
GMB (Google My Business) Listing:
Google My Business or GMB is Google's free business listing option. With GMB listing, organizations can manage their online presence on Google.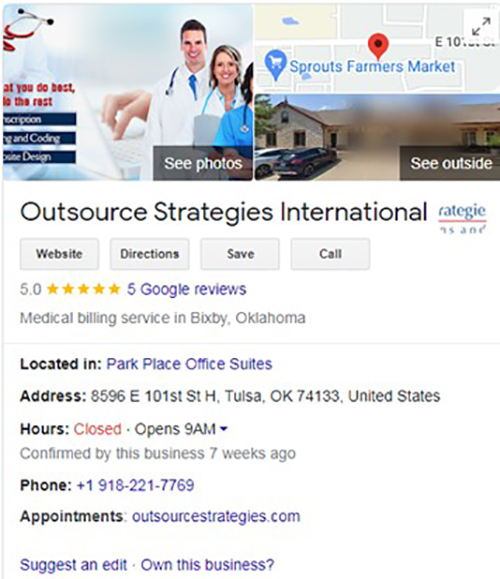 You can include all details and photos of your business, including location, services, and products. Information included in GMB profiles may appear in Google Search, Google Maps and Google Shopping.
SERP (search engine results page):
Search engine results pages are web pages that users see after entering a query in search engines such as Google, Yahoo, or any others. Search queries typically fall into 3 categories: navigational, informational, or transactional.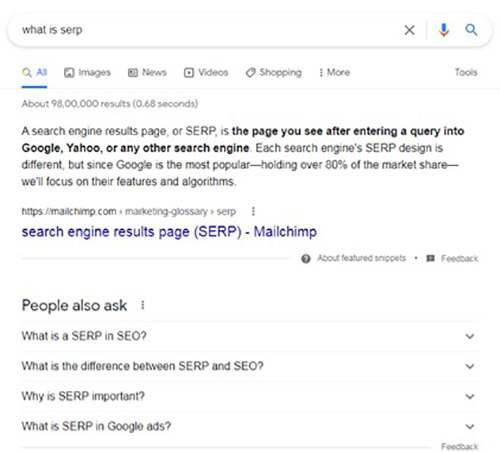 Not only organic search results, search engine results pages also include paid search and pay-per-click (PPC) ads.
Web Traffic:
Website traffic refers to the number of web users visiting a website. Web traffic can be measured in visits or sessions, purchase percentage, channels, or bounce rate.
Similarly, being aware of your web traffic can give you a good indication of how you're performing in the online world.
Marketers can choose from many web traffic monitoring tools including Google Analytics, Crazy Egg, Kissmetrics, ClickTaleor any other to easily locate website traffic over any given period.
Pay-per-click (PPC):
PPC or pay-per-click marketing is an effective online advertising strategy, in which advertisers have to pay a fee each time the users click on their ads. Search engine advertising is one of the most popular forms of PPC and PPC ads will be displayed on the first results page when someone searches for a related term.
Black Hat SEO:
Black hat SEO refers to the marketing practices that are against search engine guidelines, used to score higher rankings in search results. Some of the common black hat techniques include keyword stuffing, cloaking, and using private link networks.
Broken Link:
Broken links are links that are not working, or are dead. Some of the broken link error codes are – 404 Page Not Found, 400 Bad Request, Bad host, Bad URL
Core Web Vitals:
Core Web Vitals are a set of user-focused metrics that are designed to measure a page's "health" in terms of user experience. The report shows how web pages perform by status, metric type, and URL group. The report is based on three metrics: LCP, FID, and CLS.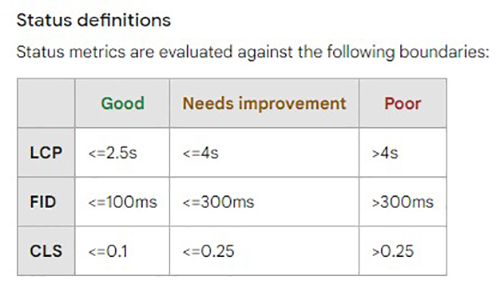 Indexing:
Indexing is the process, wherein search engines organize and store content found during the crawling process.
Organic Search:
Organic Search refers to the unpaid, natural search results that appear on a search engine results page after a query. These results are analyzed and ranked by algorithms.
Search Intent:
Search intent or user intent refers to the primary reason for which users make a search query. Search intent can be informational, commercial, transactional, or navigational.
White Hat SEO:
White hat SEO refers to the SEO practices or strategies that adhere to Google's Webmaster and Quality Guidelines.
Long-Tail Keywords:
Long-tail keywords are longer and more specific keyword phrases that visitors are more likely to use to find products or services.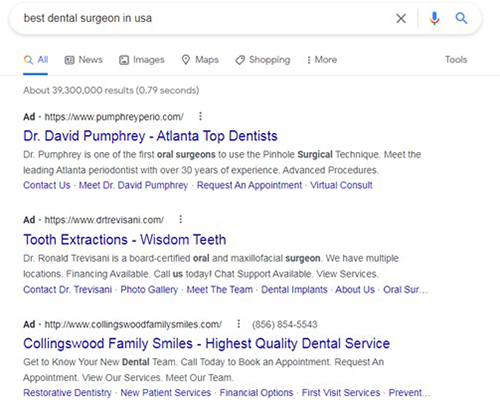 These keywords have relatively low search volume and competition levels. Tools to identify long-tail keywords include Google Autosuggest and Ahrefs' Keywords Explorer among others.
Header Tags:
Referred to as the heading of any page, header tags can improve the readability and SEO of a webpage. These tags can range from H1 to H6. These heading tags help to better understand the structure of the text on a page. It also makes the page more readable.
Keyword Stuffing:
Keyword stuffing refers to the overuse of important keywords in content and links.
This can create a negative user experience, and can harm a site's ranking. For better ranking, focus on creating interactive, information-rich content with appropriate keywords.
Mobile-first Indexing:
In 2018, Google has announced that it will be using the mobile version of the webpage primarily for ranking and indexing purposes and this is referred to as mobile-first indexing.
Structured Data:
Structured data refers to a standardized format for a web page to provide information in an organized way. Google uses structured data to understand the content of the page and to gather information about the web in general.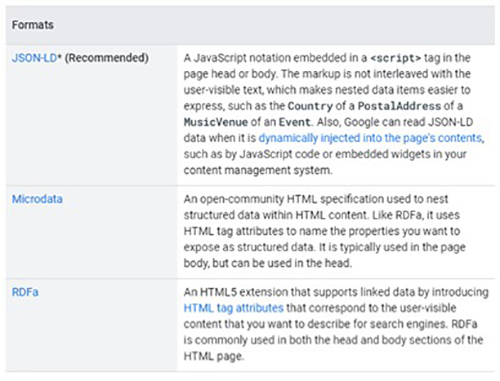 Google recommends using JSON-LD for structured data whenever possible.
Bounce Rate:
Bounce rate is the percentage of total visitors that leave a webpage without taking any action.A high bounce rate can impact your web rankings. Bounce rate can be examined from different perspectives such as the Audience Overview report, the Channels report, the All Traffic report or the All Pages report from GA4 Analytics.
Click-through Rate:
Click-through rate is a metric that calculates the percentage of impressions that resulted in a click on your site's URL.
Image Alt-Tags:
For websites that uses images, it is crucial to optimize images with alt text, as it increases the opportunity to improve accessibility and user experience. Image alt-tags can better describe the image and include the focus keyword as well for SEO purposes.
Title Tag:
It is an HTML code tag that enables you to give a title to a web page. The title tag is found in the browser title bar, and the search engine results pages. Since the title tags play an important role in SEO, you need to add and optimize them.
Meta Description
A meta description is a brief summary of a web page and it appears as part of the search snippet in a search engine results page (SERP). It provides users an idea of the content that exists within the page and how it can be related to their search query. The right meta description can be up to 155 characters.
Keyword Density
Keyword density refers to how often a keyword appears in your content or text. Including a keyword a few times can help with rankings, but adding it more often can lead to keyword stuffing.
Anchor Text
Anchor text is the visible, clickable text in a link that provides relevant contextual information about the content to both search engines and users.
Duplicate Content:
Duplicate content refers to the same content that appears in multiple pages of a single domain in more than one place. It can negatively impact your rankings.
How MedResponsive, the Digital Marketing Expert Can Help?
An experienced provider of reliable digital marketing services in New York, MedResponsive follows SEO best practices to improve page rankings, and ultimately boost your website traffic and leads. Our dedicated team includes SEO specialists, medical website designers, responsive web design developers, professional copywriters and marketing experts, and they all have good knowledge regarding all the relevant SEO terms and definitions that can support our client's SEO goals.