Building broken links is an important aspect of SEO. It can be time-consuming, but it certainly is advantageous and can help your pages rank better and bring in the traffic.
Links that are not working, or are dead, are removed or replaced with links that actually work. While it takes time and effort, it helps you eke out that much more traffic. Why miss out on that? Dead links also hamper the user experience. Imagine that you are scrolling through a page, and find a link that seemingly leads to more information. But when you click the link, it heads nowhere. So, with broken link building, you replace those links that lead to 404 pages with active links to websites.
The Way Broken Link Building Works
Now you can find broken links in your site if you do a thorough audit, or others can find it for you. When other webmasters go through your website and find links that lead nowhere, they could send you an email pointing out the page and the position of the dead link.
Why are they bothered? Because they will send you an alternate destination – one of their web pages or blog posts that contain valuable link-worthy information related to the subject of your content. When you repair your dead link with the link they've suggested, they get traffic, and you get your bad link sorted out. This is a strategy you can use yourself on other websites and gain traffic that way. It may not always be noticed, but the more websites you spot dead links on, the greater is your outreach and the probability of positive responses. It's worth a try. You wouldn't want to miss out on that link juice.
Getting the Email Correspondence Right
It is also important to get your email correspondence with the webmasters right. You need to have a prospect list ready. You need to get the contact details, for which you can check the about us page, contact page or bio page, if it's a blog. You have tools such as Hunter.io to find email addresses.
After you have got your outreach list ready, it is important to frame the email correctly. That's the key to getting positive responses from the recipient. The idea is to convince the webmaster to replace the broken link and instead add your link:
Start with a small introduction and then mention the broken link.
Then, you can gradually present your page or blog post for the webmaster to link to instead of the broken link.
Let your email message never send an outright message to get the link replaced. Instead, let it be presented in a way that instils the desire in the webmaster to change it.
Rather than having a fixed template for all emails, it would be better to customize your message according to the particular context of the site's content.
You also need to explain how the content of the link you ask to replace lends value.
Ahrefs Site Explorer
You have tools such as Site Explorer by Ahrefs that offer over 2 trillion backlinks, among which are broken links. But you first need to identify websites operating in your niche. Only that works.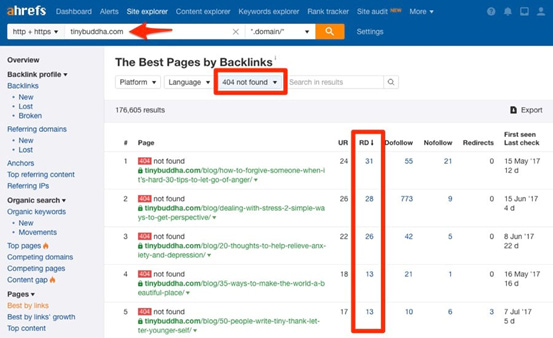 (Img source: A Simple (But Complete) Guide to Broken Link Building (ahrefs.com))
You can then use the Broken Link Checker by Ahrefs to detect the broken links in these sites.
Check My Links & Domain Hunter+
There are also other tools you can use, such as the Google Chrome extensions called Check My Links and Domain Hunter+. Both these tools work the same way. Click the icon when you're on a page, and these tools find out the broken links in it. Domain Hunter+, however, does something Check My Links doesn't. It finds out if the domain of the broken link can be registered, and also shows the number of links pointing to that domain.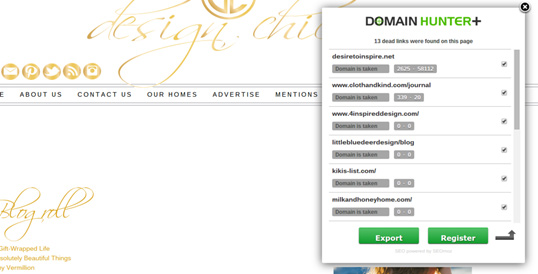 (Img source: A Step by Step Guide to Modern Broken Link Building (quicksprout.com))
However, Quicksprout reports complaints as to the accuracy of Domain Hunter Plus' broken link detection. Sometimes, working links are reportedly shown as broken ones.
An experienced search engine optimization company uses a range of tools to identify broken links and does the job for you, all the way to the optimized email message.