LinkedIn, the top social media platform to connect with business professionals, recently added 3 new updates to its Pages. Last month, the company has launched post templates for individual users and has now made them available for company pages as well. Other new Linkedin updates to its pages include link stickers or clickable links, pinned comments and page commitments. Digital marketing service companies provide social media marketing services to help businesses with make the most of such updates.
With LinkedIn updates to Pages, businesses can create more engaging content and increase audience engagement.
Check out These LinkedIn Updates?
Read the latest news and LinkedIn updates here.
Post Templates and Clickable Links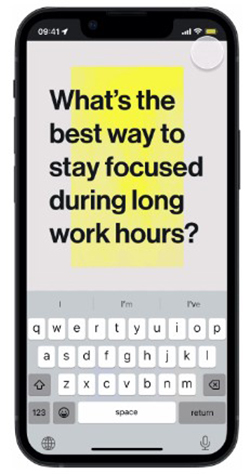 Image Source
LinkedIn Updates often focus on improving search results. Now LinkedIn users can add templates to make their posts stand out in the Feed and grab their audience's attention. Just tap on the new 'Use a Template' option and you'll get a wide range of text formatting and background options to customize your post.
Here's how to use a template for your post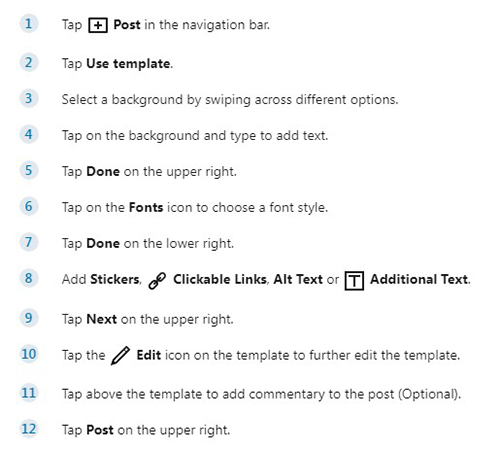 Image Source
Templates option allow users to select from highly visual and pre-created, creative templates and then customize its colors, font, text, and more to make your posts unique.
Clickable Links or Link Stickers
Clickable Links is designed to encourage your followers to take action directly from your content and drive website traffic. You can now add external links to image or video posts.
In August 2022, LinkedIn made new link stickers available for Company Pages, which could help drive more direct response to user's updates. The link sticker varies in size and can be placed on top of videos.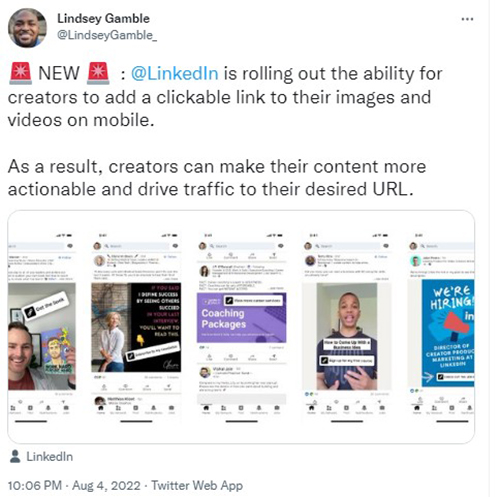 Image Source
According to LinkedIn, "These new link stickers allow you to turn ordinary copy links into a visual call-to-action button anywhere within the rich media portion of your post. When creating a post in the LinkedIn mobile app, select or upload a template, image or video. After, you'll be able to select a link icon, from which you can input the link text and URL. You'll be able to drag and drop the sticker to position it how you like within your creative."
To add a clickable link to your post:


Image Source
With these LinkedIn updates, users do not have to rely on third-party tools to create engaging, actionable LinkedIn content easier than ever with clickable links and customizable templates, available directly in the LinkedIn app, with no required.
Pinned Comments
Just like Instagram, TikTok, YouTube, and others that support a pinned comment feature, LinkedIn is also providing option for businesses to highlight their favorite comments on posts by pinning them to the top of the comment section.
Pinned comments support mainly to
guide the related conversation
to highlight the best responses
drive more conversation and
increase more engagement with your updates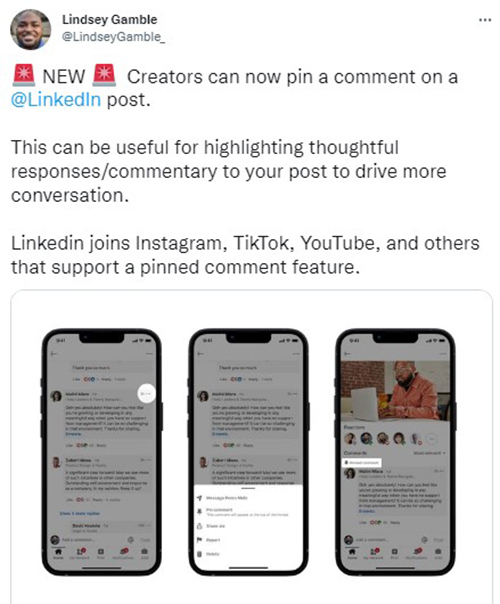 Image Source
LinkedIn says that,
"With the help of pinned comments, you can guide the conversation you want to see on any of your brand's posts. Pinning any comment on a post will permanently place that comment at the top of the thread, so everyone who sees the post will see that comment first."
The pinned comment can be changed at any time. Though, LinkedIn has long allowed business users to pin an update on their LinkedIn Company Page, now the company allows users to pin specific replies as well, which opens up new considerations for maximizing LinkedIn engagement, and interacting with your network in the app. Now, all users can easily pin a comment and can unpin a comment via the three dots menu on a pinned response.
Page Commitments
This new section allows organizations to showcase their most important values for job seekers and potential partners as job seekers are always interested in knowing where employers stand on concerns such as DEI, work-life balance, sustainability, etc, companies can now highlight their commitments on the LinkedIn company page, which will define their talent brand and values.
Unlike the Life tab, LinkedIn will feature commitments in the About section of the Page. Companies can include up to five commitments in the featured commitments section:
Diversity, equity, and inclusion
Career growth and learning,
Work-life balance
Social impact
Environmental sustainability
This section also allows you to host content that demonstrates commitment to these values, such as videos, reports, certifications, and blog posts.
Need support with to leverage LinkedIn updates and other social media strategies for your business? MedResponsive can handle all aspects of developing your brand's social presence. Contact us at (800) 941-5527!