LinkedIn Sales Solutions recently rolled out a series of updates to its sales navigator platform to help users find leads faster and boost efficiency. As an SEO company offering social media marketing services, we keep track of these social media trends to help businesses build their brand and connect with their audience.
Ever since virtual selling became a trend, social media platforms such as LinkedIn, Instagram, Facebook have become comfortable with it and are finding success in this new world. However, with the increase in B2B buyer job transitions during the Great Reshuffle (from July to September 2021), LinkedIn faced many challenges. The Great Reshuffle affected all aspects of selling. LinkedIn's The State of Sales Report 2021 for the U.S. and Canada shows 85% of salespeople have delayed or lost a deal because of buyer turnover.
LinkedIn's Sales Navigator – a crucial part of many organizations' sales funnel – is helping more than one million sellers around the world uncover new opportunities and grow their businesses, depending on the intelligence that LinkedIn's data uniquely provides.
LinkedIn's latest slew of updates is aimed at making Sales Navigator more effective. These updates include improvements to the Search experience, CRM integrations, and new homepage optimizations. Let's take a closer look at these new features:
New Search Experience: To find leads faster, the company has introduced a new Search experience, which comes with a better visualization. It will show a full picture of how a user can use LinkedIn's data to help them pinpoint the right leads and accounts faster.
How does this work?
When a seller clicks into the Search toolbar, the LinkedIn Sales Navigator will automatically direct them to a new intuitive and collapsible larger view that shows all available filters. It also includes additional options such as "Company Headquarters" and "TeamLink connections of". When refining the search and changing the filters, users can view their results update in real-time, shortening the time to find their ideal leads at new or existing accounts.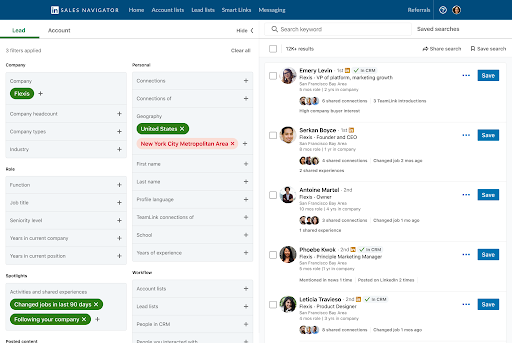 CRM Integration Updates: This enhancement from LinkedIn Sales Navigator is for Advanced Plus users. The company is deepening the connection between a user's CRM and Sales Navigator to provide a useful tool, the "At-Risk Opportunities" list. Though Sales Navigator can already link to users CRM system (via Microsoft Dynamics 365 and Salesforce) to manage contacts, LinkedIn has added At-Risk Opportunities" list to this integration to provide a report of people who have left open opportunities, directly within Sales Navigator. Given high rates of job transitions among buyers right now, this new feature enhancement helps users get the information easily and prioritize their efforts during critical times, improve their pipeline quality and easily track opportunities.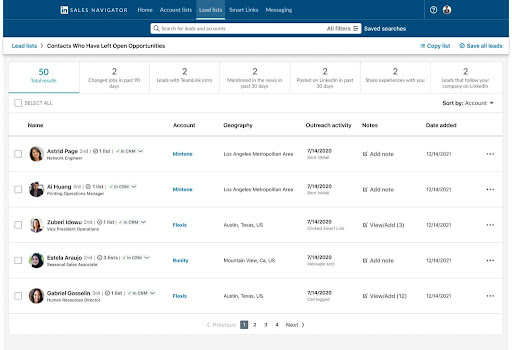 Another update to CRM integration is enhanced CRM cards which are added to Account Pages and Contact pages, minimizing the need to toggle between platforms. Users can view critical information from their CRM within Sales Navigator, while can also have a quick and easy option to click directly through to their CRM.
There are many more ways Sales Navigator and CRM work together to create more focus. For instance, it can identify promising opportunities when past customers move to new companies, see which Sales Navigator Leads and Accounts are matched to CRM entities and include or exclude matched Leads in Sales Navigator searches, stay on top of opportunities and know when contacts leave an open deal, demonstrate the value of Sales Navigator by understanding its impact on revenue and KPIs, and so on.
New Homepage Optimizations: Launched last quarter, the new Sales Navigator Homepage was a welcome addition to sales teams. It shows customized insights for key accounts. Along with a new look and feel, this new feature includes a revamped Alerts Feed, Priority Accounts section and a newly created "Bookmarked Alerts" tab.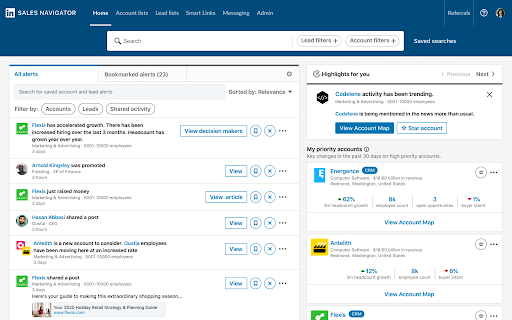 The new homepage will also now have a Priority Accounts section, which allows users to upload accounts that are most important to their business.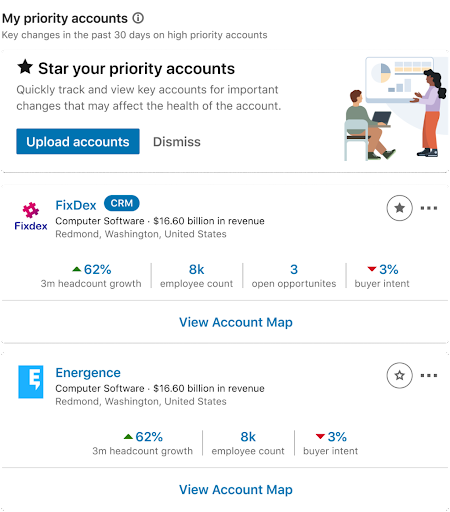 How does this feature work?
To add priority accounts to this section of the Sales Navigator homepage, users can "star" accounts from their saved account list, enabling them to show up as "Priority Accounts" on their homepage. Once added, users can track certain updates such as:
Headcount growth
Employee count
Open opportunities
Buyer Interest
Ability to directly access the customer's Account Map.
This feature helps sellers ensure key accounts are receiving the appropriate level of attention and not getting lost in the shuffle.
It is a challenging time to be in sales as there is a lot of twists and pivots. The new LinkedIn Sales Navigator updates provide more efficiency to your sales teams. Users can qualify leads quickly with the most important information. Moreover, to help users continue uncovering new opportunities, LinkedIn is also launching an enhanced Recommended Leads list that now surfaces 100 recommended leads. Social media digital marketing companies stay on top of these updates and help their clients make the most of these new features and tools.
As a professional organic SEO company, MedResponsive can help you leverage social media with platform-specific strategies and take your digital marketing campaign to the next level. Call us at (800) 941-5527 and schedule a FREE consultation with our Senior Solutions Manager.