Quality content helps businesses reach, engage and convert customers by addressing their unique business challenges and needs. For any business, creating an effective content marketing strategy is critical to gain visibility, build trust, and drive website traffic. Most firms now invest in professional content writing services to generate appropriate and valuable content and optimize it to improve their sites' search ranking. A perfect strategy allows the business to create effective content that the audiences will respond to, and which can help them achieve their marketing goals.
Creating a successful content strategy helps in driving sales and boosting the growth of a company. By improving brand awareness, you can generate leads, build credibility and trustworthiness with the target audience, and boost SEO rankings. Informative content with the right target keywords, high-quality back links etc. improves visibility on search engines.
Strategies to Create Unique Content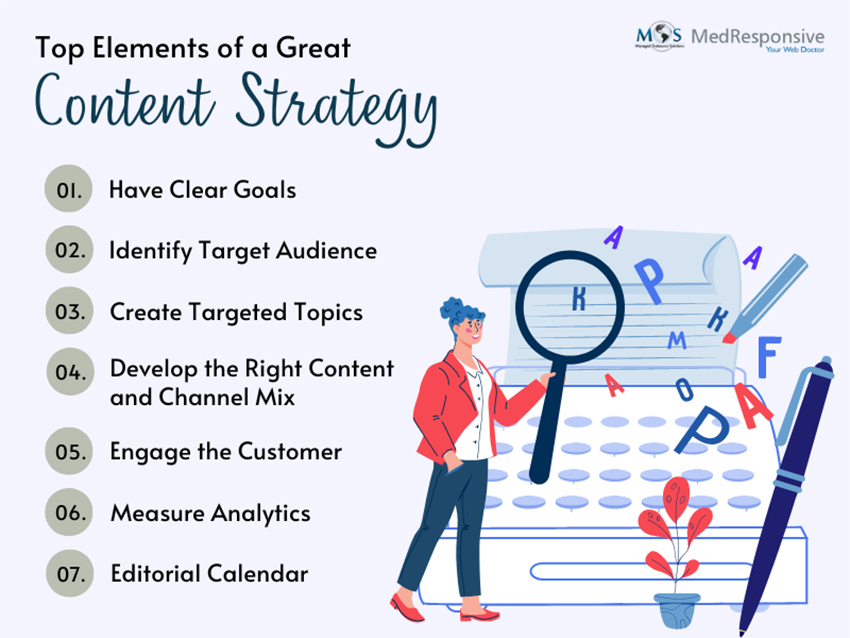 Have Clear Goals
generating brand awareness
increasing web traffic
converting new customers
Identify Target Audience
mine digital data
send out surveys
interview customers
Create Targeted Topics
determine which topic will fit your business goals
Develop the Right Content and Channel Mix
choose the right keywords
post your content on the right channels
Engage the Customer
create strategies based on their particular interests
Measure Analytics
evaluate and see what's working and what's not
Editorial Calendar
find the best time to publish each piece of content
Above all these, make sure to build SEO-friendly pages. Including relevant keywords in the content is one of the most important measures to keep your web pages SEO-friendly. But, never over optimize, as it can prompt search engines to penalize the content and place it lower in search rankings.
Need content support from an experienced search engine optimization company? MedResponsive can help. We provide top-quality SEO content writing services for diverse industry clients. Talk to us at (800) 941-5527.