The days when companies could rank on Google by churning out generic, keyword-rich content that wasn't always user-friendly are gone. With a forward-thinking approach to search marketing, you can now stay one step ahead of the curve. Your content should be one of the first things you evaluate as you keep up with the ever-changing digital landscape of today. It is essential for your SEO content strategy to remain relevant. Content writing services can help businesses improve their presence on search engines and increase website traffic and conversions.
Relationship Between SEO and Content
Every business has its own key success indicators. Some people want to attract more organic traffic, while others seek to boost the number of online conversions. For reaching this goal, there are two strategies: SEO and content marketing.
The best-tested method for maintaining consistency in ranking is to provide excellent content that benefits the searcher and gives a top-notch user experience. It will be helpful to keep SERPs in mind when you start to develop your excellent content for two reasons:
You will be more likely to come up in searches. This increases the likelihood that more people will visit your page.
You may find out what your target market is searching for using Google. You can get a clear understanding of their demands by paying close attention to this. In order to potentially attract more customers, you can produce content that addresses their concerns.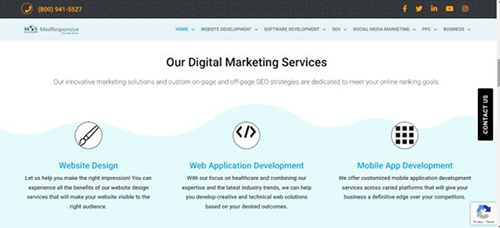 Image Source:
To achieve these two objectives, having an excellent SEO content strategy is essential.
Best Content SEO Strategy
Know your business, competitors and target audience: An SEO-driven content marketing plan aims to increase the quality of traffic to your company. You must understand your market and the place that your brand occupies for this to be accomplished. Spend the initial weeks of a fresh SEO content strategy developing a strategy that addresses:

Your website's entire content strategy
Your company's value proposition and brand overview
Your industry landscape and rivalry analysis
Finding any problems that affect overall SEO performance can be done by taking a close look at your present content strategy. Next, it's critical to fully comprehend the brand and value proposition of your website. You should be able to specify with clarity:
What makes your company unique
What you're attempting to achieve
Why a customer should pick your company over rivals
Who is your intended audience?
A content strategy shouldn't be established in a vacuum. You need to know what your competitors are doing. Consider the following strategies:
What the competition is succeeding in
what keywords rivals are ranked for
Which subjects drive the greatest attention to a site's rivals'
How long it takes a rival to rank for a specific keyword
This might help in your decision-making for content planning. Less money needs to be spent on trial and error when you are aware of what your competitors are doing that works. Consider:
How big the market is overall
How much potential for development exists
Where you can find the most valuable, pertinent content ideas
You may locate the best prospects for your brand by using this roadmap.
Identify Your Topic: You can start generating content topic ideas now that you are aware of your target audience and what they want to learn from you. Your objective and area of expertise should remain at the core of everything you write, even though your goal is to provide material that readers will want to read. What data can you specifically offer the target audience that distinguishes you as a voice of authority and this should be your topic area.It will direct your keyword research and SEO content production as well as audience interest research.This is ultimately going to assist you in producing content that converts. Once you've determined your expertise (or core content), you can start incorporating information about your audience to create a range of content themes. These are topics that fall under your expertise and that readers will be interested in.
Select Keywords and Topics That Address the Needs of Your Audience: In order to produce content that resonates with readers, you must first identify your target audience and the material that will be most useful to them and only then are you prepared to begin looking up words and phrases that might guide your readers to topics that are important to them.
Here's how you can do it:
Step 1: Start your search using a wide term that is related to your main material: If you run a flower shop, for instance, you may start with the root keyword "flower bouquet."
Step 2: Reduce the scope by taking into account these elements:
Best sellers.
Keyword forms.
Product attributes.
Google queries that people might use to find your company and your items
Step 3. Put everything together: You should be able to put together a list of potential study topics at this point. Don't forget to include long-tail keywords that enable you to delve a little further into your topic area. They aid in laser-focused content targeting because they are more particular than other keywords. Irrespective of any list you come up with, always remember that it's just the beginning. Put yourself in your audience's position and conduct a few of your own Google searches if you're still lacking inspiration.
Step 4: Use keyword research tools: You can put your basic list of terms and phrases through your preferred research tool now that you have it. This will make it easier to identify the search terms that will produce the greatest results. Your keyword objectives might be more narrowly focused the more words and phrases you have to research. Entering those words into your research tool will take extra time, but it will be time well spent.
Optimize at every point: You can now use the keywords that will increase your ROI and use them into your writing to produce effective content. Utilize every SEO possibility when you create your content by:

Including focus keywords in your meta description, H1s, and H2s. These are easier for Google to detect and will be used to rank your page.
Putting the requirements of your audience first when producing content with relevant and helpful keywords.
Developing brand identity and client loyalty through regular publication. People will anticipate your updates and look for chances to learn from your company.
Your prospects of achieving higher search ranks, greater visibility, and more visitors increase significantly when you constantly optimize your content.


Keep the data updated: Even after your article has been published, optimization continues. Since producing helpful content is such a crucial component of SEO content strategy, it's crucial to keep in mind that your articles should be updated frequently. References to research findings and societal trends that are always changing becomes rapidly out of date.It is possible that the articles you linked to in earlier articles are no longer available. A reader will stop visiting a website if it has out-of-date material or broken links. Maintain a positive reputation with your audience. Show them that your website is up to date, relevant, and a trustworthy source of the most helpful information.
Publishing Content: It is ideal to host your content on your own platform so that you can keep total control over how it is disseminated. Publishing content on social media and content websites is like renting space from a landlord. That landlord has the right to revoke your lease at any time and without prior notice. This is a scary concept when conversions and sales are at stake.When Huffington Post ended its guest contributor blogging program in 2018 this is exactly what happened to many guest writers. Any ranks those blogs had attained vanished unexpectedly. Hosting your publications on your own platform is the only way to ensure their future. That is not to say you shouldn't think about working as an affiliate for other websites or writing as a guest contributor for reputable websites. However, publishing your own articles on your own website should be the top focus for your content strategy.
Monitor Your Progress: A thoughtful content strategy requires a major time and resource commitment. You must continuously assess the effectiveness of your content strategy to decide if your efforts were justified. Monitor the following to see if your plan is effective:

A reliable web analytics program or spreadsheet can help you determine whether if you are getting organic search results.
Pages that are indexed show that search engines think your material is important and relevant.
The more successful your strategy is, the more conversions you will get.
SERPs: better ranks demonstrate effective use of content.
Monitoring metrics reveals chances for improvement, which can be just as valuable as measuring your performance.
No SEO strategy is complete without an SEO content plan. When you understand how to produce and optimize content for SEO, you can increase traffic to your website. Focusing on producing the highest-quality, SEO-optimized website and content is essential to promote your business.
SEO companies offering content writing services can help you achieve your goal of ranking well in search engine results, which will attract targeted traffic and increase your conversion rate.