Links are an important factor in determining the relevancy of web pages. Google comes up with link spam updates that aim at broadly identifying unnatural links and preventing them from affecting search quality. Google rolled out a December 2022 Link Spam Update recently on December 14 and this revised update will take about two weeks to roll out. It is a global update that affects all languages.
Google highlights that links that are obtained primarily for artificial manipulation of Search rankings are link spam. With this update, Google is using the power of SpamBrain to neutralize the impact of unnatural links on search results. SpamBrain is Google's AI-based spam-prevention system. Besides using it to detect spam directly, it can now detect both sites buying links, and sites used for the purpose of passing outgoing links. This is the first time that Google is using its AI-based spam detection system – SpamBrain, for link spam purposes.
Google said that,"Our launch today, which we refer to as the December 2022 link spam update, will take about two weeks to fully roll out. Ranking may change as spammy links are neutralized and any credit passed by these unnatural links is lost. This launch will affect all languages."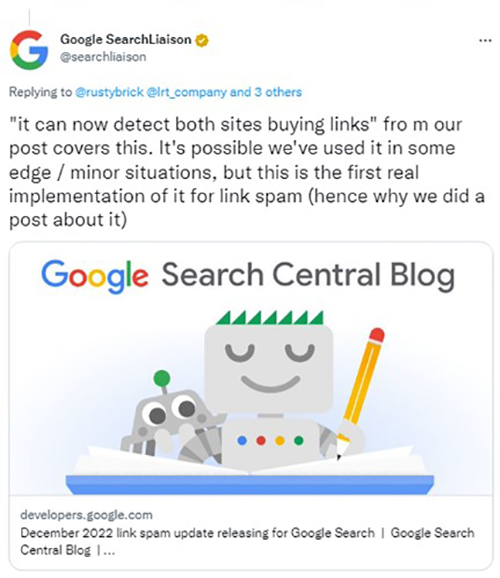 Image Source
What Is Link Spam?
Here's how Google defines link spam,"Any links that are intended to manipulate rankings in Google Search results may be considered link spam. This includes any behavior that manipulates links to your site or outgoing links from your site"
Some examples of link spam are –
Buying or selling links for ranking purposes (Exchanging money for links, or posts that contain links, Exchanging goods or services for links or Sending someone a product in exchange for them writing about it and including a link)
Excessive link exchanges or partner pages exclusively for the sake of cross-linking
Using automated programs or services to create links to your site
Requiring a link as part of a Terms of Service, contract, or similar arrangement without allowing a third-party content owner the choice of qualifying the outbound link
Text advertisements or text links that don't block ranking credit
Advertorials or native advertising where payment is received for articles that include links that pass ranking credit, or links with optimized anchor text in articles, guest posts, or press releases distributed on other sites
Low-quality directory or bookmark site links
Keyword-rich, hidden, or low-quality links embedded in widgets that are distributed across various sites
Widely distributed links in the footers or templates of various sites
Forum comments with optimized links in the post or signature
Google's algorithms and manual actions aim at nullifying these unnatural links at scale. In its 2021 Webspam report, Google said that it caught 200 times more spam sites in 2021, using their AI-based spam-prevention system called SpamBrain. This helped in a major reduction in hacked spam (70%), which was a spam type commonly observed in 2020, and gibberish spam on hosting platforms (75%). Another notable feature of SpamBrain is that it is built to be a robust and evolving platform to address all types of abuse. SpamBrain's ability to identify disruptive and malicious behaviors among billions of web pages has allowed Google to keep more than 99% of searches spam-free.
The December 2022 Link Spam Update will "neutralize" links that it detects as being spam. Detected links won't be counted and may show a decline in rankings. As this is not a manual action, there'll be no notifications. Big drops in Google visibility and traffic for a couple of days indicate that a website is hit by this update.
Preventing Link Spam Issues
To prevent link spam issues, it is important for site owners to –
make sure they are following the best practices on links, both incoming and outgoing
focus on producing high-quality content and improving user experience
promote awareness of their site using appropriately tagged links, and
monetize pages with properly tagged affiliate links
Other Worthy Updates
Google frequently launches spam updates to broadly identify unnatural links and prevent them from affecting search quality. The recent spam update was in October 2022. With this update, the company announced that it will penalize spam techniques that are against their spam policies.
Other spam updates are –
Along with the December 2022 Link Spam Update, the December 2022 helpful content update that was rolled out a week earlier is not yet completely done. Google recommends that marketers or readers coming across sites that engage in inorganic link building can report them. If you have specific feedback with regard to this update, feel free to post in our help community.
An experienced search engine optimization company in the U.S., MedResponsive is up-to-date with all the Google updates and guidelines. For professional SEO link building and content marketing support, marketers can rely on us. Talk to our team at (800) 941-5527!