On November 3, 2021 Google released a new search ranking algorithm update called the "November 2021 spam update" that targets spam fighting. The company notes that this update, which should take about a week to fully roll out and be noticed in the search results, is a part of their regular work to improve and maintain the quality of its search results. Reliable search engine optimization company will be keeping track of all search engine algorithmic updates or core updates and can help their clients prepare for them.
This year, Google launched three spam updates:
The June 2021 Spam Update on June 23, 2021 started and got completed on a single day
Spam Update Part 2 rolled out on June 28, 2021 and got completed on a single day.
The Google Link Spam Algorithm Update began rolling out on July 26, 2021 and was done on the August 24.
Unlike the June 2021 Spam Update and Spam Update Part 2 which didn't provide any exact details about the updates, the Google Link Spam Algorithm Update aimed at identifying and nullifying link spam.
This link spam update focused on links with sponsored, paid, and affiliate content, and Google warned that any site using links that are manipulative and unnatural would see ranking changes in search. The update got fully rolled out in four weeks and impacted multiple languages. Google's algorithmic and manual action gets to work when it detects sites engaging in either publishing or acquiring links with excessive sponsored and guest posting without proper link tags. To make things more transparent, Google clarified their guidelines on how to tag links that are paid.
After three months, Google rolled out the "November 2021 Spam Update".
November Spam Update 2021
This is the fourth Google algorithm update targeting spam this calendar year. Announcing the update, Google tweeted: "As part of our regular work to improve results, we've released a spam update to our systems. This November 2021 spam update should be fully rolled out within a week. We encourage sites to follow our best practices for Search."
Generally, spam updates target specific guideline violations, but Google did not give any clarification on this, such as whether it was links, content or other forms of spam. It is linked to its general spam prevention notices.
Google's Danny Sullivan confirmed that the November update is a spam-fighting algorithm update. A Twitter user asked Sullivan, "How does a spam update differ from a core update in terms of what a small business needs to keep an eye on to know if we are affected?" He replied that spam updates deal with content that doesn't follow Google's guidelines, whereas Core updates are simply an adjustment to how Google assess the content overall.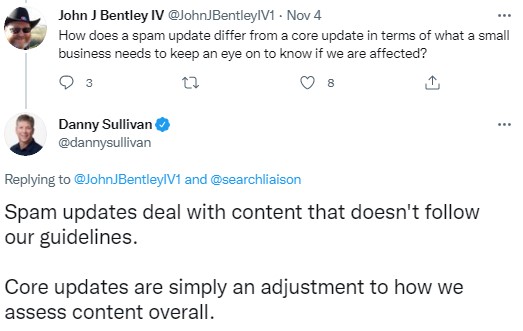 What does Google Consider Spam?
For Google, 'Spam' has a separate definition, which primarily includes:
Low quality sites that trap users into providing their personal information or installing malware.
Phishing scams.
Websites masquerading themselves as other reputable sites.
Sometimes, websites that follow Google's guidelines could also be guilty of spam and they might not even know it. For instance, a website that is not effectively secured is vulnerable to being hacked, which can result in the website serving spam and/or malware to users without the webmaster knowing about it. When it comes to spam updates, whether its hacked spam or intentional spam, it's all the same to Google. According to Google, hacked websites aren't treated any different because it's the responsibility of the site owner to keep it secure.
Websites following Google's webmaster guidelines may not need to worry about this spam updates. But still if your website shows large ranking or traffic changes in your organic Google search results, then you may have been hit by this spam update and you may have to check your site's security and look for signs of a possible attack.
Be it first or fourth spam update, all these updates help Google's automated systems to keep more than 99% of visits from search results spam-free. Last year alone, Google's automated systems blocked 25 billion spammy pages from being indexed in search results every day (searchenginejournal.com).
We may have to wait till next year that is when Google publishes its annual spam fighting report to learn more about the impact this November 2021 spam update had made.
When a new Google update rolls out, understanding the key ranking factors is important to maintain your position and stay ahead of the competition.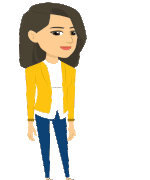 As a SEO outsourcing company, we keep track of all search engine algorithm updates and can help you prepare for them. We believe in getting you results through a full spectrum of services from SEO, content writing, to conversion rate optimization.A strong SEO strategy with a strong execution team is what we provide.