On December 5, 2022, Google officially announced the rolling out of its helpful content system update, the first big update to the August 2022 update. Helpful Content System is now one of the many signals that Google uses to evaluate and rank your content.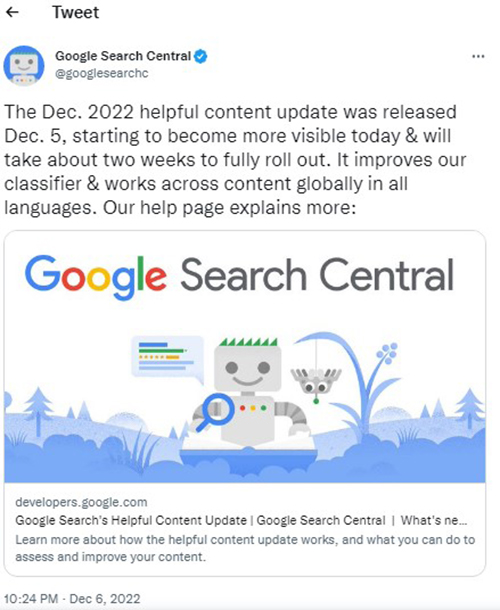 Image Source
Google Search's helpful content system generates a signal used by our automated ranking systems to better ensure people see original, helpful content written by people, for people, in search results.
Google has announced that it has "Released the December 2022 helpful content update, which improves our classifier and works across content globally in all languages. The rollout may take up to two weeks to complete."
Google's Danny Sullivan said that "The classifier tries to understand if content is unhelpful. We've improved from the original one when the helpful content system was first launched earlier this year."



Image Source
This update has added new signals and also brings the helpful content update globally for all languages. This is what Google says on how its helpful content system works –
With this helpful content system update, Google aims to better reward content that visitors find satisfying.
This system generates a site-wide signal to automatically identify content with little value, low-added value, or is not particularly helpful to those doing searches.
To rank better for informative content, it is ideal for businesses to remove unhelpful content.
Websites that are determined to have relatively high amounts of unhelpful content overall is less likely to perform well in Search.
Google's classifier process is not a manual or a spam action. Instead, the process is entirely automated, using a machine-learning model that works globally across all languages and not just English.
How This Helpful Content System Update Impacts Your Site
So, the main concern is how this update impacts your website. How long will it take for the affected site to do better, if it removes unhelpful content?
Though some people-first content on sites classified as having unhelpful content could still rank well, if there are other signals identifying that people-first content as helpful and relevant to a query, sites with lots of unhelpful content may notice a stronger effect.
Google's answer to this query is that, "Sites identified by this system may find the signal applied to them over a period of months. Our classifier runs continuously, allowing it to monitor newly-launched sites and existing ones. As it determines that the unhelpful content hasn't returned in the long-term, the classification will no longer apply. Periodically, we refine how the classifier detects unhelpful content. When we do this in a notable way, we share this as a "helpful content update" on our Google Search ranking updates page. After such an update finishes rolling out, and if the refined classifier sees that content has improved, then the unhelpful classification from our previous classifier may no longer apply."
It is important for marketers and businesses to create content that's successful with the helpful content system. Earlier in August 2022, Google had released a help page on how to create helpful, reliable, people-first content.
Google recommends creating people-first content to be successful with Google Search, rather than search engine-first content made primarily to gain search engine rankings. To avoid creating search engine-first content, make sure you're answering a "no" to questions such as –
Is the content primarily made to attract visits from search engines?
Are you producing lots of content on many different topics hoping that some of it might perform well in search results?
Are you using extensive automation to produce content on many topics?
Are you mainly summarizing what others have to say without adding much value?
Are you writing about things simply because they seem trending and not because you'd write about them otherwise for your existing audience?
Does your content leave readers feeling like they need to search again to get better information from other sources?
Are you writing to a particular word count because you've heard or read that Google has a preferred word count? (No, we don't).
Did you decide to enter some niche topic area without any real expertise, but instead mainly because you thought you'd get search traffic?
Does your content promise to answer a question that actually has no answer, such as suggesting there's a release date for a product, movie, or TV show when one isn't confirmed?
How Can You Keep Your Content Readable?
To help Google and users understand your content, websites can –
Create unique, accurate page titles
Influence your title links and snippets in search results
Accurately describe the page's content
Create unique <title> elements for each page
Use brief, but descriptive <title> elements
Write unique meta descriptions for each page
Use heading tags to emphasize important text
Add structured data markup
Post fresh, unique content
Optimize content for your users, not search engines
Consider relying on professional content writing services to get unique, informative content. MedResponsive is experienced in providing professional SEO and content writing support for businesses in diverse sectors. Discuss your content marketing requirements with us at (800) 941-5527.