The Google Ads Insights pages are designed to feature just-in-time trends and forward-looking insights. This page will provide you with the information you need to keep up with consumer trends and optimize campaigns to get your ads in front of more shoppers.
To support your holiday marketing campaigns, Google has added 4 new features to its Ads Insights page. These are – Search Terms Insights, Asset Insights, Audience Insights and Change History Insights. These features will make it even easier for you to understand your customers and drive performance. Businesses can easily identify the trends in the market and understand their performance.
4 New Features of Ads Insights Pages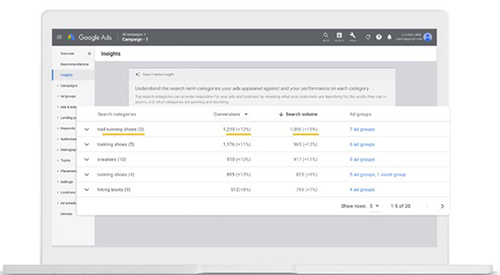 Image Source
Search Terms Insights
Search Terms Insights in the Ads Insights Pages help businesses understand how customers are searching and engaging with them on Google. This feature analyzes every individual search terms where ads have appeared in the past 56 days, grouping them into search categories and subcategories to provide you with key performance metrics for each. Search terms are grouped into broader, intent-based categories, making it easy to identify which themes are most popular with your customers along with metrics like conversion performance, search volume and search volume growth.
Search Terms Insights is currently available for search campaigns, shopping campaigns, and performance max campaigns.
With this Insights report, marketers can identify which campaigns and ad groups are capturing the most demand, based on the search categories and apply relevant recommendations on how to capture more audience attention.
Google has discussed an example of online sporting goods retailer. If this retailer is seeing a strong interest in the search category "trail running shoes", they can use this insight to update image assets to feature more outdoor locations, include more hiking content in the website and even make inventory decisions to stock more of that product line for a last-minute holiday sale.
Asset Insights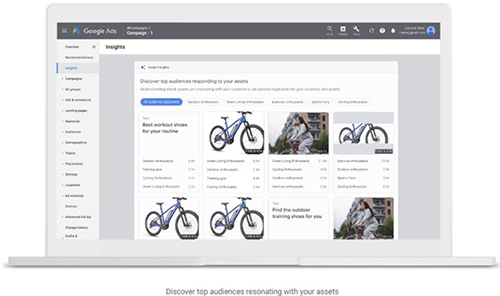 Image Source
Asset Audience Insights helps to learn more about the creative assets that resonate with potential customers. It will show data for asset-based campaigns when there are sufficient impressions, interactions, and unique converters to identify relevant audience segments for the campaign's assets. It can be used to generate more assets that resonate similarly well with your potential users.
These insights for a given asset will provide details such as –
Audience segments: Which groups of users the asset resonates most with, including details on how each segment is defined.
Affinity indexes: Interest in the asset for the given audience segment relative to all users.
Call to action: Guidance to add new assets that resonate with your audience. Clicking here takes you to your asset library.
Marketers can easily identify highly-engaged audiences with these insights and it can be used to inform the assets and landing pages you create for these groups, or even shift your entire marketing and product strategy.
Audience Insights
Using Audience Insights helps to – know your customers better, by surfacing the unique characteristics, interests, and behaviors of user groups who view your ads and convert.
Marketers can also understand how Google Automation is helping you, improve your creatives, and get better results.
Audience Insights is currently available for: Asset Audience Insights (Search, Performance Max, Discovery, Video), Persona Audience Insights (Search, Shopping, Performance Max, Discovery, Video Action campaigns (VAC), Display), and Data Segment Insights (Search, Shopping, Performance Max, Discovery, Video campaigns). To use audience insights, first view audience insight summaries, then get in-depth information about your top audience, and finally apply recommendations.
For marketers using Google's automation features like optimized targeting and automated bidding, these insights highlight the top Google audience segments which have been targeted and are performing well.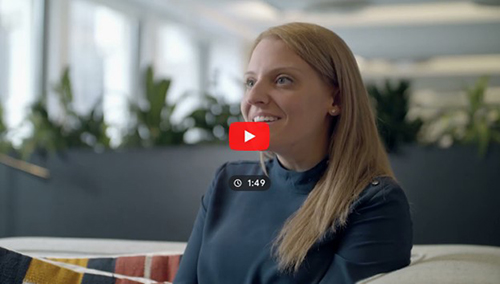 Image Source
Google has mentioned discovery+ as a great example of how to put this type of insight into action. After pairing this insight with Performance Max campaigns, the brand saw a 17% incremental lift in subscriber growth.
Change History Insights
Change History Insights will show how changes made in your account may impact performance. When there's a significant shift in the campaign's key metrics, this insight can help find out which changes you made that may have caused this shift in performance – and then figure out how to proceed. These insights are currently available for – Apps, Discovery, Display, Hotel, Local, Performance Max, Search, Shopping, and Video campaigns.
Marketers, business owners as well as digital marketing outsourcing companies need to be up to date with such trends and updates that are relevant for business growth.
At MedResponsive, our SEO strategies are created based on current standards and algorithms. Our innovative digital marketing solutions and custom on-page and off-page SEO strategies are designed to meet your online ranking goals. Contact us at (800) 941-5527!