Running an online store, an eCommerce business or a product review website?  July 2022 google product reviews update can impact your site. Know why and how.
July 2022 Google product reviews update that was first announced on July 27, 2022, has completed rolling out on August 2, 2022. Let us discuss the impact of the update. Product reviews are critical to eliminate shoppers' concerns regarding a product. Most customers look for product reviews before making a purchase. Relevant reviews play a crucial role in enhancing the credibility of your eCommerce business. Google's product reviews update focuses on rewarding high-quality product reviews which go in-sdepth and contain supporting files such as Images or videos.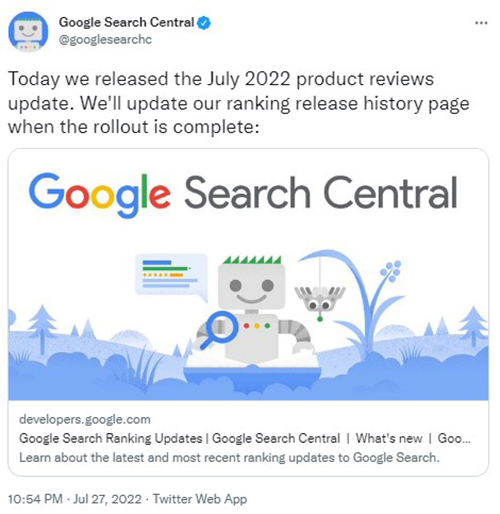 July 2022 Google product reviews update, is the fourth version of the product reviews update that target at ranking product review-related content on the web that is most helpful and useful to searchers. The search engine giant has said that this update is not a penalty, but promotes or rewards "insightful analysis and original research ".
The first product reviews update was launched on April 8, 2021, the second was launched on December 1, 2021, and the third was released on March 23, 2022.
July 2022 Google Product Reviews Update – 6 Days Roll Out

Though Google had announced that this rollout will take 2-3 weeks to complete, it took only six days, from July 27 to August 2, 2022. Marketers saw only very limited changes from the tracking tools and overall, this update had much lesser chatter from within the SEO community than all previous product reviews updates.
With this Google product reviews update, it has been reported that some review sites lost the rich snippet stars they previously earned with the most recent core update or earlier.
Google said that it will promote unique product review content in its search results rankings. According to Google, this is not a penalty against the content, but it is just rewarding sites with more insightful review content with rankings above others.
Technically, Google product reviews update applies only to all forms of product review content. Though the initial rollout will be only for "English-language product reviews," Google said that this update may in the future impact those who create product reviews in any other languages too.
Publishing high quality product reviews can assist shoppers learn more about a product before making a purchase. Websites that are hit by this update will need to look at their content and see if they can do better. To beat the competition online, it is important for businesses to make their product review content unique. To help online shoppers to discover their product reviews in Google Search and on other Google surfaces, Google has recommended following these best practices when creating reviews:
Assess the product from a user's perspective.
Demonstrate your knowledge and expertise about the products reviewed.
Include evidence such as visuals, audio, or other links of your own experience with the product, to reinforce the authenticity of the review.
Share quantitative measurements about how a product measures up in various categories of performance.
Explain what sets a product apart from its competitors.
Cover comparable products to consider, or explain which products might be best for certain uses or circumstances.
Discuss the benefits and drawbacks of a particular product, based on your own original research.
Describe how a product has evolved from previous models or releases to provide improvements, address issues, or otherwise help users in making a purchase decision.
Identify key decision-making factors for the product's category and how the product performs in those areas.
Describe key choices in how a product has been designed and their effect on the users beyond what the manufacturer says.
Include links to other useful resources to help a reader make a decision.
Include links to multiple sellers to give the reader the option to purchase from their merchant of choice.
When recommending a product as the best for a certain purpose, explain why you consider that product the best, with first-hand supporting evidence.
Ensure there is enough useful content in your ranked lists for them to stand on their own, even if you choose to write separate in-depth single product reviews for each recommended product.
Need professional content writing services to increase your eCommerce sales? At MedResponsive, our skilled SEO content writers can provide strong, impactful content to engage your target audience. Talk to us at (800) 941-5527!
Also Read