Product reviews can be a great resource for shoppers when deciding which product to purchase. Over the past year, Google has been working to improve the product reviews in Search, and the result is the latest update. Google recently announced the sixth release of their Product Reviews Update on February 21, 2023. Named as the February 2023 Product Reviews Update, this update will take approximately two weeks to fully roll out.



Image Source:
This update applies globally to eleven languages – English, Spanish, German, French, Italian, Vietnamese, Indonesian, Russian, Dutch, Portuguese, and Polish. This update will affect thin and low-quality reviews. However, this is not a penalty against poor content, Google is just rewarding sites with more insightful review content with rankings above others.
Google's product reviews system aims to better reward high-quality product reviews, which is content that provides insightful analysis and original research, and is written by experts or enthusiasts who know the topic well. It works to ensure that people see product reviews that share in-depth research, rather than thin content that simply summarizes a bunch of products.
The product reviews system largely assesses information at the page level. Any content on a site, however, can be subject to the upgrade if it contains a significant volume of product review content. An examination of your entire site is not likely to happen, if you have fewer product reviews.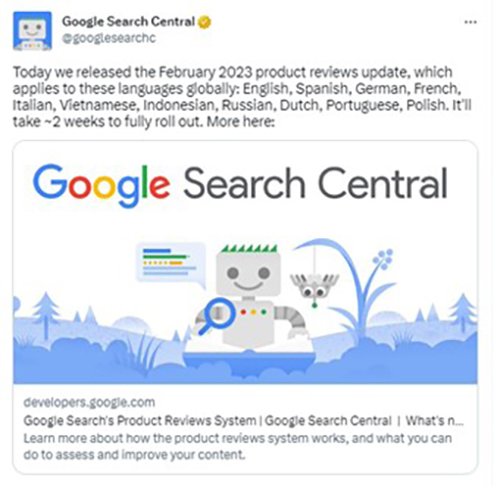 Image Source:
Along with the February 2023 Product Reviews update, Google has also made certain changes to the existing Product Reviews update guidance. The documentation was updated to better reflect that the document is about the product reviews system itself and what it does.
Search Engine Journal points out that the first notable change is to the title of the documentation. While the previous Product Reviews document is titled "Google Search's product reviews update and your website", the new Product Reviews document title is "Google Search's product reviews system and your website". Now the phrase "product reviews system" is used ten times and the phrase, "product reviews update" that appeared ten times in the original version now appears only three times.
The last product reviews update was released in September 2022 and this update was applied to all English-language product reviews. The rollout was completed on September 26, 2022.
How to Write High-quality Product Reviews
While writing reviews, it is important to focus on the quality and uniqueness of your reviews, not the length. Quality reviews can deliver the most value to shoppers reading the reviews. Google has explained that product reviews often use affiliate links to products listed on an ecommerce site, so that if a shopper finds a review useful and follows the provided link to purchase a product, the creator of the review is rewarded by the seller.
Google recommends following these best practices to create high-quality product reviews:
Assess the product from a user's viewpoint
Show that you are an expert and demonstrate your knowledge about the products reviewed
To support your expertise, add evidences such as visuals, audio, or other links of the product
Provide quantitative data on how a product performs across different performance categories
Explain why this product is unique, compared to its competitors
Explain which products might be best for a certain usage or condition, or discuss comparable products
Based on your research, include the benefits and drawbacks of a particular product
Explain how a product has changed from earlier models or releases to offer upgrades, resolve problems, or otherwise assist customers in making a purchasing choice
Determine the main deciding factors for the product's category and the performance of the product in those areas
Describe how a product has been designed and their impact on the users, beyond what the manufacturer says
Add links to other useful resources to help readers make the right decision
Provide links to multiple sellers so that readers can purchase from their merchant of choice
Include first-hand supporting evidence on why you consider that product as the best one
Make sure your ranked lists have enough insightful information to stand on their own, even if you decide to create individual, in-depth reviews for each recommended product
Ecommerce websites providing product review content as well as digital marketing outsourcing companies need to be up-to-date with such Google updates. At MedResponsive, our team provides professional content writing services that adhere to current standards and guidelines. Feel free to contact us at (800) 941-5527.