Having a strong social media presence is crucial for any business, as social media users are growing at a massive pace. These users tend to spend a significant amount of time on various social media platforms. Effective social media marketing strategies can help increase brand awareness and thus grow your business online.
Marketing via social media provides diverse benefits for a business such as – boost brand awareness and authority, acquire new clients, help clients acquire a business website, improve SEO efforts and much more. With increased competition, building a strong social media presence or effectively marketing a business has become quite challenging. Social media marketing services provided by experts in this field are a unique way to increase online engagement and optimize brand presence.
Social Media Marketing Mistakes to Avoid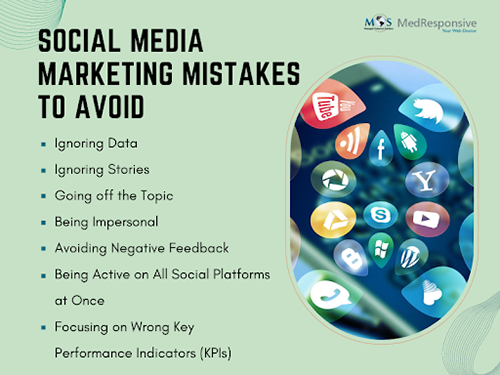 Ignoring Data
Analyze business data to understand specific actions to take
Search and find the right kind of tools
Ignoring Stories
Post something of value
Content should make a positive connection among the audiences
Going off the Topic
Never post outdated topics
Make posts that are interesting
Include a compelling call-to-action
Being Impersonal
Approach followers on a personal level
Reply to customer requests in a professional, yet personalized manner
Avoiding Negative Feedback
Never ignore negative comments
Respond carefully in a more professional manner
Being Active on All Social Platforms at Once
Focus on marketing efforts on one specific platform rather than on all platforms
Focus on the social accounts where valuable leads and clients are frequent
Focusing on Wrong Key Performance Indicators (KPIs)
Identify the KPIs that are relevant to your brand
Ignoring social media analytics is another important mistake to avoid. Taking advantage of analytics helps gain insights about the target audience and learn about the demographics of users interacting with the content. Never focus on quantity over quality, when it comes to getting followers. It is not the number of followers an account has that counts, but rather the engagement rate. To attract higher-quality followers, brands can use various social media tools, such as Facebook Insights, Buffer and customize their posts to maximize engagement. Avoid these common social media marketing mistakes to create a reliable strategy that will establish your business account as a solid brand.
Need professional support with social media marketing? Our services include posting unique blogs, images, videos, and other content that drives audience engagement, paid social media advertising, and more. Talk to us at (800)941-5527!