Websites face intense rivalry in their efforts to gain the top spots in the SERP (Search Engines Results Page), and their rivals may be skilled at influencing Google's algorithms to highlight their pages. Working on some important factors such as Page Authority, will therefore place your business prominently. When a website has a high Page Authority score, Google will give it a higher Domain Authority and more weight and credibility.
When a website has a good Page Authority score, Google will give it a higher Domain Authority and more weight and credibility. In order to rank higher in search engines like Google, Yahoo, and Bing, you can improve your website's Page Authority. With the help of a provider of digital marketing services New York, businesses can boost the functionality and overall condition of their websites, achieve a good page authority score, and generate more traffic and leads.
What Is a Good Page Authority Score And Why Is It Important for SEO?
Page Authority is a search engine ranking factor that predicts how well a website will do in the SERPs (SERPs). Higher PA scores indicate a better chance of ranking. Page Authority (or PA) was created by Moz and has a score range of 1 to 100. A score on the PA scale between 60 and 80 indicates a high Page Authority.
A website with a high Page Authority can rank for moderately competitive keywords in the SERPs. PA uses a 100-point logarithmic scale and measures more than 40 ranking parameters. For each page on your site, Moz calculates a Page Authority based on a variety of factors. The most crucial factors in this computation are the content and links.



Image Source:
Such examples are:
Quantity and quality of outbound and inbound links
Quality of anchors
Traffic linked to the page
Readers' behavior
Keyword density
Page Authority is significant for SEO because it accurately reflects a website's ability to rank in the SERPs. The stronger and more credible a web page is deemed to be by Google for ranking purposes, the higher the PA score. According to Moz, it's preferable to use the Page Authority score as a comparative SEO indicator rather than an absolute number when attempting to evaluate which web page may have a higher chance of ranking in the SERPs because of how Page Authority is computed.
Additionally, it's crucial to realize that Page Authority doesn't include aspects of on-page SEO like keyword usage or content optimization. Only off-page SEO elements, such as the quantity and grade of incoming links, can be used to calculate PA.
Different Ways to Achieve a Good Page Authority Score
Find Additional Linking Root Domains: A URL on your website appears more significant to search engine algorithms the more linked root domains it has. A website with numerous inbound connections from different domains demonstrates the URL's high link popularity. Having 10 backlinks from 10 separate connecting root domains is preferable to having 10 backlinks from a single domain, all else being equal.
Increase Your Dofollow Links: Dofollow links are the most valuable for PageRank in terms of SEO. Therefore, the target page's Page Authority score will increase as you gain more dofollow backlinks.
Gain Less Spam Links: If you obtain backlinks from spammy or dubious sources, it could lead to higher Spam Score and lower Page Authority metrics. Such harmful backlinks might potentially cause Google to penalize your website. In order to eliminate spammy connections from your website's backlink profile, you need to actively monitor the spam score of your website.
Increase the number of links with high authority: The quantity of high-authority backlinks each URL receives has a significant impact on your website's Page Authority ratings. Therefore, you want to increase the amount of high-quality pages connecting to your content in order to raise the Page Authority score.
Increase the Domain Authority: Domain Authority (DA) and Page Authority (PA) are strongly connected. So, you should make an effort to raise your website's DA score by obtaining high-quality backlinks from other reliable and trustworthy websites.
Factors That Affect Page Authority Score
Linking Pages: The quality of the external pages that send incoming links to your web page is also factored into the PA score. Linking pages that have high Page Authority of their own will help improve the target URLs PA score.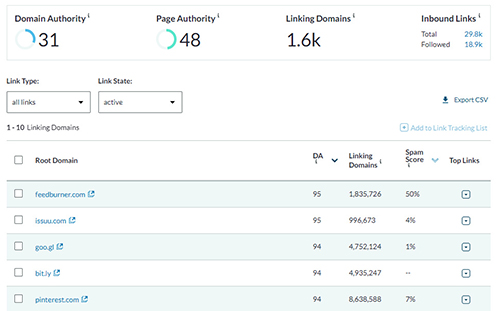 Dofollow Links: Dofollow links transfer the most PageRank authority from the originating website to the target site through the passing of link equity. The more dofollow links your web page acquires, the higher your Page Authority scores will be.
301s and 302s: A 301 redirect signifies a page's permanent relocation, whereas a 302 redirect indicates a page's interim relocation. Metrics for Page Authority are also impacted by the frequency and quality of these redirects.
Old vs. New Links: The Page Authority score of a website is influenced by the ratio of new to old links entering the page. A website with a consistent stream of fresh backlinks suggests that it is a higher-quality page that is still relevant to searchers, while a page with just older backlinks can suggest that it is no longer worth presenting to visitors on Google.
Spam Score: For evaluating spam-related characteristics of websites, Moz develops a comparative metric. A score between 61 and 100% is regarded as having a high spam score, which can affect your overall Page Authority rankings on the website. The likelihood that Google would penalize your website for using spammy SEO techniques is estimated using spam scores.


Page Authority rankings are helpful predictors of how well your site will perform in the SERPs, but they must be interpreted in the context of your specific company and sector. Businesses should make an effort to produce distinctive, intriguing, and creative content that draws readers.
A trustworthy SEO outsourcing company can assist you in getting good page authority score, offer insight into your progress toward achieving this objective, and the way a web page will perform in search engine results.