Over time, your content can become stagnant, losing its relevance and value. However, by incorporating content updates into your content marketing strategy, you can breathe new life into your material and reap various benefits. Refreshing your content regularly provides many benefits such as – more organic search results, fresh content, a competitive edge, high-quality lead generation, long-term visitors, improved user experience, allows fixing errors and broken links, and more social media shares. Updating your content not only helps to increase website traffic but also improves your SEO score.
Neglecting to update your old content can have negative consequences for your SEO efforts. Your Google ranking may suffer, resulting in reduced website traffic. Outdated content can also harm your brand's reputation and authority, particularly if the information is inaccurate or the formatting appears dated.
In 2011, Google introduced an algorithm update aimed at providing users with more up-to-date and relevant results. Staying informed about these content standards and Google updates is crucial, and partnering with an experienced search engine optimization company can ensure that you stay ahead of the curve. Their expertise will help you navigate the ever-changing landscape of content requirements and enhance your online presence.
Key Strategies to Refresh Old Content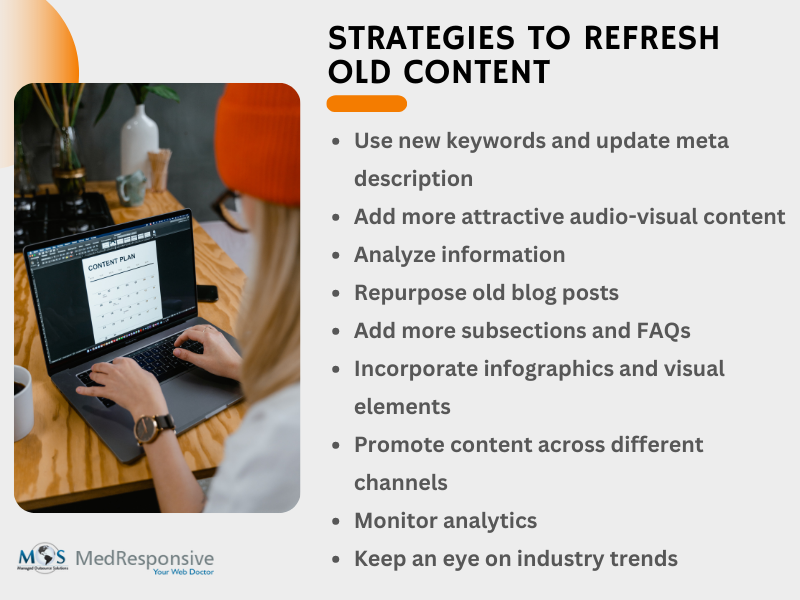 Old content can be easily updated with the assistance of professional content writing services. These services provide a range of benefits that can help boost your website's SEO performance, increase traffic, and ultimately enhance your revenue streams. By entrusting the task of content updating to experts, you can ensure that your older content receives the necessary improvements to align with current SEO best practices, captivate your audience, and drive tangible results for your business. With the support of professional content writing services, you can efficiently refresh and optimize your existing content, unlocking its full potential to achieve your digital marketing goals.