Are you looking for innovative strategies on how to rank your website on the top position in Google? While doing search engine optimization (SEO), there are several factors that may affect the ranking of a website and domain authority (DA) is one important factor. Domain Authority (DA) is a number (metric) that indicates the authority of a website.
In other words, the higher your domain authority, the greater will be the chances of ranking higher in search engine result pages (SERPs), attracting more quality referral traffic and boosting organic rankings. Even though it may be a time-intensive process, a solid and actionable strategy to increase domain authority is one of the best ways to achieve SEO success. Availing organic SEO services from a professional and experienced team can help increase domain authority.
What Is Domain Authority (DA)?
In simple terms, domain authority (DA) is a search engine ranking score that predicts how likely a website is to rank on search engine result pages (SERPs). A DA score ranges from 1 to 100, with higher scores corresponding to a greater ability to rank. DA score is calculated by analyzing multiple factors like linking root domains and the number of total links into a single domain authority score. However, it is important to note that domain authority predicts success, it doesn't necessarily represent success.
The metric is not used by Google and boosting DA won't automatically make a website rank higher in Google search results. In short, a website's domain authority score will help determine the competitiveness in their niche area. This in turn will help choose keywords strategically.
For instance, let's consider that a website's DA score is 56. If a website is competing for a specific keyword against other websites with domain authorities between 39 and 47, a well-written blog post or a web page has a good chance of ranking. However, if you are competing against websites with domain authorities in the 80s range, it is important to target a different keyword.
Another aspect of looking at domain authority is that it shows the relevance of a website with respect to a specific industry or topic. In fact, the strength or authority of a domain can be witnessed in terms of rankings. However, there is a slight difference between domain authority and page authority. Domain authority tells your entire domains' (and subdomains') ranking strength, while page authority looks at the ranking ability of individual pages.
What Is a Good Domain Authority Score?
As mentioned above, domain authority scores range from 1 to 100. Generally, every website starts with the score one and slowly begins to climb the score ladder as it gains quality back links and popularity. In fact, a good domain score depends on the domain authority scores of your direct competitors.
There are several factors that go into calculating domain authority. But to give a clear idea, websites like Google, Apple or Microsoft will have a high DA (between 95 and 100). On the other hand, if it is a new website, then the DA will be low (between 10 to 20). In order to categorize what a good domain authority is, it is important to consider the below mentioned ranges –
Below 30 – Poor
Between 30 to 40 – Below average
Between 40 to 50 – Average
Between 50 to 60 – Good
Between 60 to 70 – Very good
Above 80 – Excellent
As DA helps predict a website's performance in search results, it is important to use it for comparison with other websites in SERPs and then try to increase DA to rank higher.
How Is DA Score Calculated?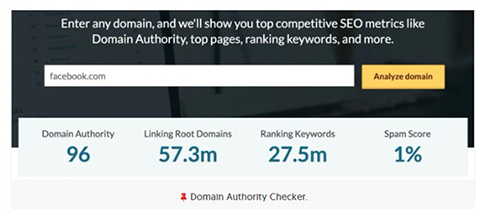 Image Source:
When it comes to calculating domain authority, there are several factors that need to be considered. According to Moz, they calculate Domain Authority by taking into account a number of signals (40 in total) including –
MozRank – This involves counting the number of websites linking to a web page. It also looks at the quality of these websites that provide a website an inbound link.
Link Profile – This includes the number of internal and external links from the web page including its quality and relevancy. For instance, if your post links to high authority websites and also gets linked back by other reputable sites, then you would get a good score.
Root Domains – The number of unique backlinks is another important factor to consider. For instance, a website has 100 links but from a single website. This will be considered as 1 root domain. So, it's important to get backlinks from different websites.
Trustworthiness of Websites – Another factor is trustworthiness of websites linking to a webpage. For instance, if you get a link from a university webpage, governmental site, or a large organization site then chances are that you will get a high score.
Site Structure and User-friendliness – For achieving a high DA, it is important to make sure that website structure is easy for search engines like Google for crawling through pages. In addition, it is important to provide a great user experience to website visitors.
Social Signals – This involves considering the popularity of your domain in social media networks or platforms.
Increasing a Website's Domain Authority – Top Factors to Consider
When it comes to boosting a website's domain authority, it is always a long-term strategy that tends to work practically. Here discussed are some important steps or strategies on how to practically increase a website's domain authority (DA) –
Get the Basics Right – One of the basic steps is to make sure whether a website is set up properly. This means, optimizing on-page content, making sure whether the website loads quickly, and building a mobile-friendly site that is quite easy to surf on a phone or tablet. Here are a few tips to get the basics right –

Never neglect internal links as they help search engines like Google crawl and index content. Just make sure that the anchor text matches the page to which they are linked.
Test whether a website is mobile-friendly. Mobile-optimized sites offer better user experiences and increase the chances that the content will secure backlinks.
Ensure the loading speed of a website with PageSpeed Insights. Slow sites have high bounce rates, which is a big red flag to Google and the other search engines.
Build High-quality Backlinks – When it comes to calculating domain authority, high-quality backlinks are one of the important factors. The greater number of backlinks a website has, the higher will be the DA score. A study by Ahrefs reported that 55.24 percent of websites don't get any organic traffic since they don't have any backlinks. Therefore, it is important that a website needs high-quality back links from authority websites. It is important to keep the following things in mind when building high quality back links –
Create great content – Authoritative websites will only link to your content if it's extraordinary. So, take considerable amount of time and create in-depth and top-quality blogs, videos, etc. Create multiple content types such as articles, lengthy guides, videos, infographics, podcasts, slides, and more.
Promote content – Simply building great content is not enough. It is equally important to boost the content by promoting it to your email list and social media followings.
Implement a link building strategy – Take a more proactive approach to link building. To do this, contact authoritative sites and ask them to link to your website.
Guest blogging – Guest blogging for reputable sites is a great way to build backlinks. Firstly, it is important to link to your own website in the content written. Secondly, there are possibilities that people who read the guest post may like it and check out your website for similar content, and then link to some of your posts.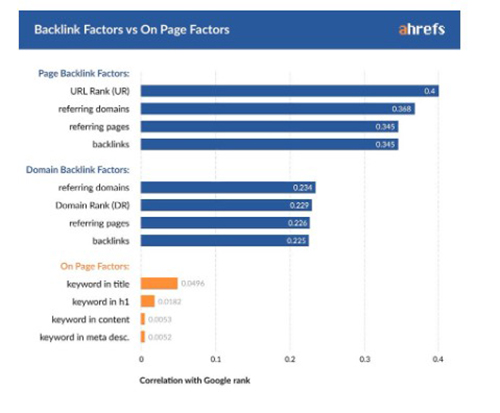 Image Source :
Remove Low-quality Backlinks – In order to boost the domain authority score, it is crucial to secure high-quality links and eliminate low-quality ones. A quality link is one that comes from a reputable site. For instance, a link from the New York Times would be considered high-quality because the publisher is known and respected. Links from unknown, spammy websites, on the other hand, would be considered low quality. And, in some cases, it can even lead to a penalty from Google.
One of the easiest ways to eliminate low-quality links is to use a tool like SEMrush, which will help identify backlinks that harm your domain authority score. Audit the website site for toxic links and remove them as quickly as possible. This can be done by using different SEO tools that help identify harmful links by going through a complete link profile of a website. On the other hand, if it's not possible to remove those links, Google Search Console can be used to disavow or ignore those links. As a result, Google's crawlers won't take into account any unnatural or spammy backlinks when indexing.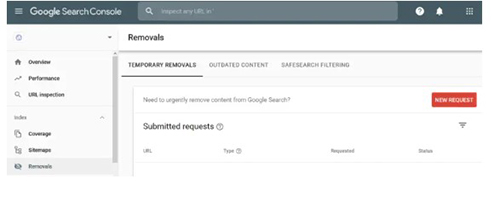 Image Source:
Optimize Website Structure and User Experience – The structure of a website and its user -friendliness are important factors that help determine DA. A properly structured website can make it possible for search engines to easily crawl web pages and index them on search results. To help search engine crawlers, create a sitemap in WordPress – that contains all the important pages and assists search engines to navigate easily through the website.
When it comes to improving a website's user experience, it is important to optimize it for mobile. Also, make sure whether your website is safe. This can be done by getting SSL certificates and moving your site to HTTPS. Using the best WordPress security plugins like Sucuri, that offers many features like a web application firewall is also important factor that determine the safety of a website.
Build a Mobile-friendly Website – Building a mobile-friendly website is no longer optional but mandatory. Reports suggest that mobile searches are now more than desktop (about 60 percent). In fact, most users start their search on mobile and then continue on Desktop.
Therefore, not having a mobile-friendly version of website (or responsive website), can negatively impact the overall Domain Authority Score. For instance, if your website is not mobile-friendly yet, the best way to start is to go to Google's Mobile-Friendly Test and run the test for your domain. Google will give a clear and precise report with recommendations on how to make a website mobile-ready.
Improve Website Loading Speed – Improving the loading speed of a webpage will not only improve the overall rankings and domain authority but it will make the user experience better resulting in more sales, leads, and signups. As per reports, about 40 percent of shoppers will wait no more than three seconds before abandoning a retail or travel website. However, it is always not easy to tackle the page speed issue as there are several technical elements involved. In order to increase the loading speed of a website, it is important to consider the following elements –

Remove unnecessary plugins
Upgrade WordPress (and plugins) to their latest versions
Use a streaming service (like YouTube) for videos
Use a CDN (content delivery network) in case of big CSS files and many images
Use a caching plugin (such as wp-rocket)
Optimize the file size of images
Increase Social Signals – There is a clear correlation between pages that rank high on Google and social signals. Pages that are popular in Google tend to have many likes, shares, and tweets. In order to increase social signals and domain authority focus on certain aspects like –

Work on Facebook business page and try to increase the number of followers
Make sure to have an active social media presence in some of the social networks so that the content shared will get some traction (likes, tweets, etc.)
Check whether the content looks good when shared using the social sharing buttons
Focus on Technical SEO – If the technical SEO aspect of a website is not correct, then this can create a huge impact on the Domain authority and rankings. Here listed are some of the top SEO settings that need to be checked –

Register the website with Google Search Console and Bing Webmaster tools
Create and optimize XML sitemap and submit it to Google
Have a properly defined breadcrumb menu on all pages
Consider migrating website to HTTPS
Check robots.txt settings and use Fetch as Google to ensure that Google and other search engine spiders can crawl through the website without problems.
Add structured data (schema) information to help search engines understand the context of the content published
Use hreflang (in case you have a multilingual website)
Domain authority is an important marketing metric as it can help build a strong SEO strategy that propels a website forward. However, never ever be too much obsessed about the domain authority score as it is just a number that shows how strong the domain is. A low DA score does not mean that a website won't perform well on Google. On the other hand, a high DA score signifies that a website is on the right path, but it does not guarantee that it will get higher rankings or traffic; rather it's just a prediction.
In short, increasing the domain authority of a website is not something that can be done overnight. Working systematically on improving Google rankings will also have a positive effect on the website domain authority score. As earning high DA score can improve a website's ranking, it is important to partner with a search engine optimization company that follows an ethical approach and has competency in the relevant field. Reputable SEO service providers provide customized DA building strategies that help provide high-value SEO results in the long run.