Talented storytellers have created the most captivating videos on TikTok to express their creativity with every cut, clip, and transition. Here's happy news for creators. The good news is, TikTok releases Photo Mode and advanced editing tools.
TikTok, a short-form video platform for real people to create real videos, has added new editing tools to its platform that will enable users to adjust the clips, text, sounds and images, in the new editing environment. The platform has also released the new Photo Mode which makes it easy to share pictures with followers. Now available in the U.S. and most regions globally, those editing tools allow users to enjoy more creative freedom, share richer stories, and bring their content ideas to life across formats. Social media marketing services involve optimizing your brand's profile on popular social platforms to build your organic presence and engage with your target audience.
TikTok's blog post highlighted that -"To expand what's possible with content on TikTok, we've introduced a range of enhanced creation and editing tools" It also added, "We are excited to see how an enhanced editing experience powers storytelling and makes video creation intuitive and more accessible, making it easier than ever to create great content."
Enhanced Editing Tools
TikTok has added some new editing tools to make it easier to refine any clips before posting them. Users can now easily adjust clips, sounds, images, and text within TikTok's creation flow.



Imge Source
You can use these new editing tools to:
Edit clips: Stack, trim, and split video clips.
Edit sounds: Cut, trim, and set the duration for sounds.
Edit and position text: More easily edit, position, and set the duration for text.
Add overlays: Add photo and video overlays for picture-in-picture (or video-in-video) stacking.
Adjust video speed: Speed or slow the pace of video clips.
Frame content: Rotate or zoom in and out of frame of individual clips.
Add sound effects.
Another Great Feature – Photo Mode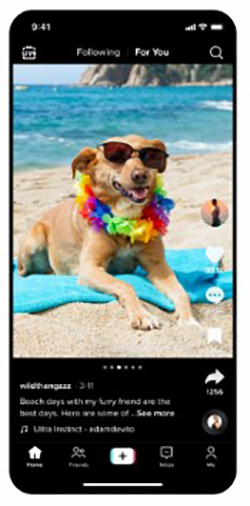 Image Source
TikTok has also released Photo Mode, a new carousel format available on mobile for photo content that's ideal for sharing high-quality images on TikTok.
When users prefer to express themselves in formats other than video, Photo Mode can help. Users can –
share carousel posts of still images that automatically display one after another
add music to soundtrack the images, which viewers can swipe through at their own pace
This update not only allows TikTok users to share multiple still photos in a post, users can also add captions of up to 2,200 characters. With this new character limit, users can express more details about their content, generate more engagement, and make their videos more searchable.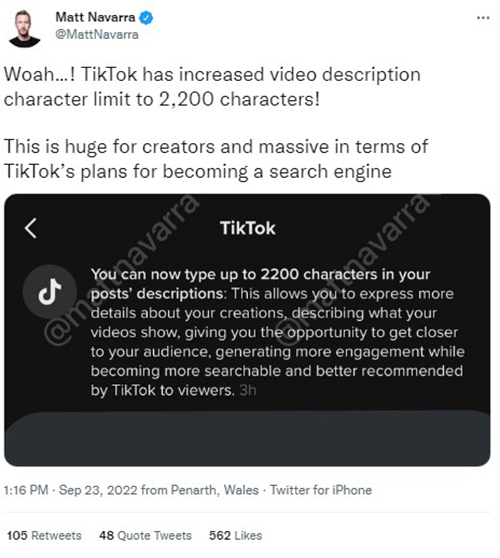 Image Source
TikTok added that, "With the extra space, we're hopeful creators will have some extra room to build on the stories they've shared in videos or Photo Mode, giving them another space to express themselves and more deeply connect with others" Users can now combine videos and content made in Photo Mode with longer descriptions.
TikTok has assured that, "We know that there are all kinds of formats people use to express themselves on TikTok, and we'll continue building experiences that empower them to create in all kinds of ways – from videos to LIVEs, photos, text, and more"
Longer captions provide more opportunities to optimize the content for SEO. Social media marketers and businesses can take advantage of the new tools and features, and utilize any preferred platforms to reach their target audience. Consider taking support from a reliable digital marketing services company that can provide value-added social media optimization services such as posting text and image updates, videos, and other content that drives audience engagement, as well as paid social media advertising.
Need support with TikTok SEO? Talk to us at (800) 941-5527!