MedResponsive, a leader in internet marketing and website design services recently redesigned the website of its loyal client – Outsource Strategies International. The website https://www.outsourcestrategies.com/now has a new look and is more appealing. Along with its advanced user interface and design, the site features improved readability as well.
Outsource Strategies International (OSI) is one of the leading medical billing and coding companies in the U.S. that focuses on all aspects of revenue cycle management which includes medical billing, medical coding, and insurance verification and authorization, among other solutions.

We used Divi WordPress theme, a visual page builder to redesign the website. Divi is the new website building platform that replaces the standard WordPress post editor with a vastly superior visual editor. With this theme, websites get great looks with a wealth of impressive features.
This completely responsive site features modernized design layouts integrated with best practices for a site redesign. The redesigned website offers easy navigation, enhanced content on OSI's services, and a rewarding browsing experience for viewers.

The site's Home page showcases the Latest Blog sessions, easy to access Call Action buttons, Client Testimonials, Contact Form, Social Media buttons, Instagram feed and more.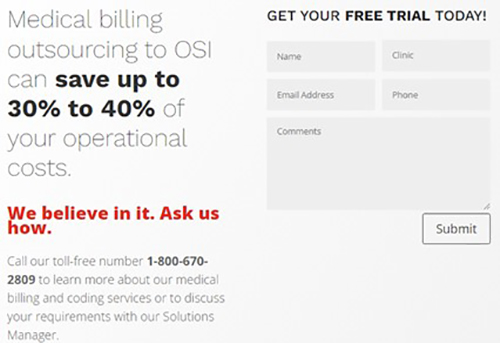 Our team has checked site navigation, which helps the site visitors to easily find the information they need. reCAPTCHA v3 is also enabled and customized on web pages.
"MedResponsive has done a great job in redesigning our website. All the design updates made support our brand mission and allow us to build a strong relationship with customers. They work as an extension of our business. This newly redesigned website enables us to fully convey all of our services, to our clients as well as future prospects," says Rajeev Rajagopal, the founder of OSI.
Being a web design company with extensive experience in creating quality websites for diverse businesses, we're clear about the fact that poor web design can hurt conversions and sales. Our website design services are focused on developing a strategy that will improve your online positioning and ensure a robust presence.
We focus on continuous improvement of our client's website and ensure that the site meets all the current design standards. We work to keep visitors from bouncing off web pages.
Let's Work on a Project Together
Looking for services from an experienced website design company? Feel free to contact us at (800) 941-5527!