Branding is frequently seen as something that only huge companies should do. However, this is untrue. Branding strategies for small businesses are crucial because they enable you to interact with potential clients and inform them of all the services you provide. It increases brand recognition, encourages healthy rivalry among firms, and aids in the development of a steady clientele. To increase brand recognition among consumers, small businesses should concentrate on developing solid branding strategies with the aid of affordable digital marketing services.
Importance of Branding Strategies for Small Business
An effective brand strategy must be well-designed, implemented across all corporate areas, and capable of enhancing customer satisfaction, competitive advantage, and financial results. Building a brand is a thorough process that balances strategy and aesthetics to appeal to both the heart and the mind. If your design isn't working for your company, your target market might not be a good fit for it.
How much research has been done on the target audience? Does the design make your company stand out from those of your rivals? Does it effectively convey your message? If not, your company's reputation has stumbled here and it shows that your small business lacks strategical focus on the target market you want. This will affect how you generate leads, which will also affect your revenue.
Include the following elements in your brand strategy:
Mission, values, and guiding principles that impact corporate culture
Brand rules for visuals and text to achieve consistency
Policies and procedures within departments that support brand values
Investment strategies for potential growth and acquisition
Creative Brand Strategies for Small Business
Understand every aspect of the product you sell: The first step in building a brand is to be fully aware of all you have to offer. You should sell the same things that you stand for. It involves determining your brand's mission and vision. In a crowded market, establishing your brand correctly is essential. It comprises a variety of elements, such as how you want potential customers to view you, the objectives of your business, and the gaps you fill in order to stand out significantly from other brands. For example, if you work in the fitness industry, health and fitness are a big part of your lifestyle.Your brand must bravely address the issues for which your customers need solutions. It is crucial to correctly position or style your services so that they make the most sense to both you and your customers because the impression your business makes on them offers you the power to influence their decisions.


Image Source:
Know your target audience: Understanding a specialized group or individuals inside diverse groups necessitates a thorough investigation of the many target group types. To design your services and understand your target demographics, you can create your own original user and buyer personas. Financial, sociological, physiological, psychological, and environmental elements are typically used to construct these categories. Buyer personas based on these categories are fictitious but accurate representations of a target user can aid any company in understanding the mindset of their potential clientele. It's crucial to determine why someone used your services in the first place and offer that as a solution. Setting the correct tone and developing your strategy begin with identifying your target audience.
Adapt to the competition: It's important to be aware of your rivals within a given business. In the beginning, it offers you a sense of what is ideal and what is not. Second, not knowing what your rival is giving could either mislead you or compromise your services and brand positioning. You definitely wouldn't want to get lost among the market's plethora of well-known brands. Thirdly, by analyzing your available business options, you may learn from their advantages and disadvantages, strengthen your brand position, and skillfully fill in any gaps that rivals might have overlooked. Addressing your "point of distinction" is essential since it distinguishes you from your competitors and encourages clients to support your business.
Establish a brand's visual identity: Visualizing elements like the name, logo, slogans, typefaces, visuals, voice, delivery, and product feel is a good place to start if a brand is more than just something that makes you stand out. Once the design specifics are completely nailed down, your brand starts to take shape. This covers everything that is editable, such as the company name, logo, taglines, colours, fonts, and website layout. It must be carefully considered because it establishes your company's identity and must be compatible with your brand. Color selection should be carefully considered as they might have various meanings. To help customers remember your brand name, small firms should start with a wordmark or a combination of an icon and a wordmark. Your logo becomes instantly recognizable as your company and reputation expand. Another crucial component of your branding strategy is your company's motto. Keep your lines concise, memorable, and something that explains what you do and relates to your intended audience. In the view of the audience they interact with, the perfect brand becomes stronger. Therefore, visual characteristics may greatly influence first impressions.


Image Source:
Inspire emotions and feelings in your viewers: The way we recall things might be impacted by emotional triggers. Your ability to arouse emotion in your target market can affect whether and how they view your brand, which can support your attempts to establish a strong brand. Consider developing a voice, a message, and an identity that will inspire emotional investment in your brand among your audience. Depending on the company, one brand might be more nostalgic while another might focus more on entertainment.
Tell your brand's story: Every company begins with a narrative. It doesn't need to be dramatic, but it should talk about challenges, victories, etc. This is so that a story may deal with emotions, identity, and most importantly, how to deal with problems. If your tale tackles a particular problem, it indicates that your brand or company is working toward certain objectives. Goals also include identifying issues and committing to resolving them, which is exactly what your target audience expects of you. Brand stories discuss the company's ethics, dedication to the arts, aspirations for the community, and, most importantly, how they help you connect with your customers. Sometimes the brand story will also address your charitable efforts or environmental issues. However, the emotional impact of the story matters because it shows how much value it adds to the characters' lives.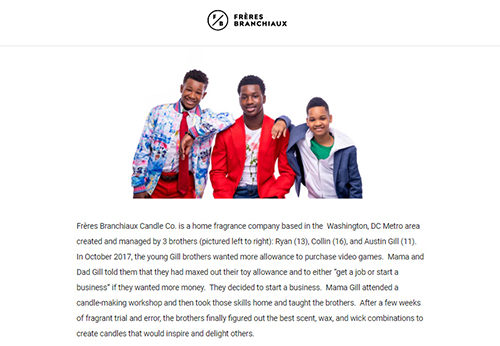 Image Source:
Create an Effective Content Strategy: Creating a pertinent content strategy for content marketing in general. It helps organizations of all sizes and types reach their potential clients. Setting the tone to increase the value of your brand is an effective content approach. It is crucial for content producers to stay on top of the context, comprehend customer inquiries about competing brands, spread brand awareness, discuss the advantages of doing business, conduct keyword research to make the brand visible via search engines, establish a strong online presence with impactful social media posts, and utilize social media channels in addition to the general requirements.
Align your promotions with the voice of your brand: In my experience, many new businesses need to launch their brands through paid advertising. Choose the promotion and channel that are most likely to help you reach your target audience to ensure that these campaigns accurately represent your brand. Start by learning about the preferences and behavior of the target audience, such as where they tend to consume information most frequently. You can then use this information to generate ideas for the promotions you ought to run. For instance, working with a social media influencer that is relevant to your audience and shares your beliefs could be more effective than running advertisements if you're trying to reach young millennials and teenagers. Pay-per-click advertisements may, however, become a standard practice for many companies as a whole. Run them on the most popular platforms for your target audience.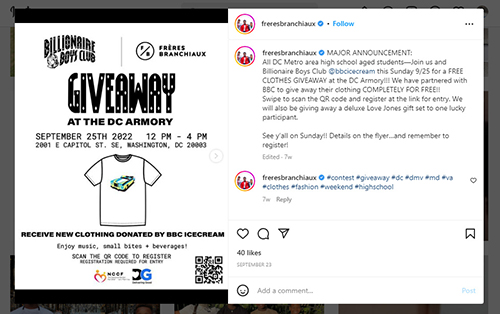 Image Source:
Check for affiliates or partner platforms: Building trust in your company or brand has been underlined numerous times in this text. Being constantly on the lookout for auxiliary partners who won't compete with your company and instead improve your brand value is the best method to speed up this process. Find joint venture options with other affiliates that already have engagement from your consumers or prospective customers. Such alliances are crucial for growing your market share or communicating with clients more successfully. It helps to gain the customer's confidence.
Create an easy payment platform: Since your brand is ultimately the result of all of your daily encounters, it is crucial to measure every aspect of these interactions. It is crucial to offer your clients a transactional system that is dependable, user-friendly, secure, and a handy way to check out or, a straightforward, relevant payment choice. Consider streamlining your payments with PayPal or Stripe, two well-known e-commerce payment providers, to help create the ideal toolset of flexible payment options. Actually, these actions have a significant impact on your branding as well. It amply demonstrates the trustworthiness of your business, enables you flexibility in your paying process, and provides the greatest booking or purchasing experience for your customers.
These small business branding techniques are some of the best. Although creating your brand and maintaining consistency across all channels may seem like a job for the big boys, doing so may be quite beneficial for your small business as well. Spend some time creating your brand so that when the time comes for your audience to make a purchase, they will instantly recognize and remember your company.
Even while it might seem impossible to develop a brand on a shoestring budget, as an entrepreneur or small business owner, you have the power to select how to allocate your funds to ensure that nothing is wasted. To build strong branding strategies for small businesses that will increase leads and revenue, get in touch with affordable digital marketing services.