Though not a new concept, location-based marketing is getting more relevant, mainly for local businesses of any type, to reach the right customers. Location-based advertising is tailored to consumers in a specific place. Most businesses benefit from reaching the audiences that visit their own locations, as well as competitive locations. Google search Ads play a key role in digital marketing for healthcare. Reaching local healthcare consumers is now easier with such targeted healthcare campaigns.
According to the survey report from Factual, with location ads –
83% businesses saw higher customer engagement
91% increased their understanding of audiences
87% created positive customer experience
Properly targeted ads based on the consumer's location are almost certain to be more relevant and therefore much less likely to be blocked or ignored.
Location-based ads can
Help to know your target audience
Complement your other marketing strategies
Help marketers to personalize experiences for customers
Deepen your connection with customers
Help to measure offline effects of digital ads
Increase your brand visibility
Showcase positive reviews and ratings
Increase your return on investment (ROI)
Personalized ads present an opportunity for advertisers to personalize their messages for people based on their current location, in real time. For instance, if someone is walking through NYC and if they see a mobile ad specific to NYC, they are much more likely to pay attention.
Let us check how location-based marketing services impact the healthcare sector.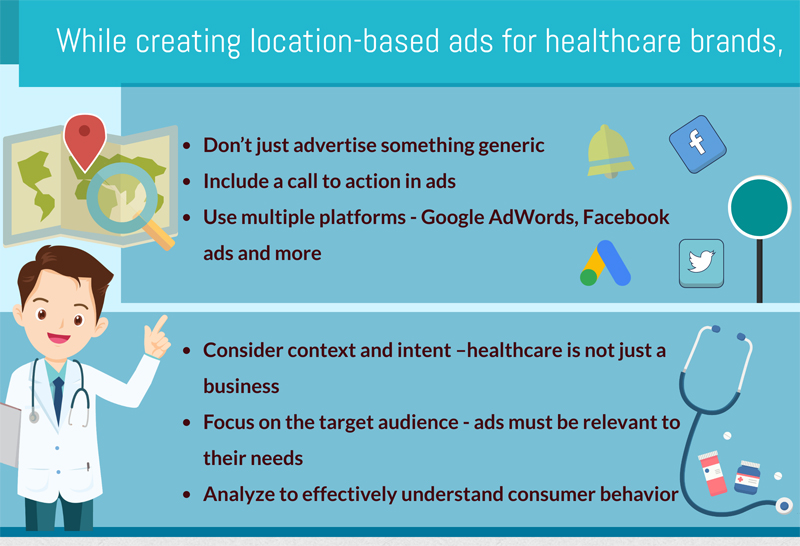 Location-based Marketing Types
Key types of location-based marketing/advertising include the following.
Behavioral targeting
In this marketing method, advertisers can display relevant ads and marketing messages to users based on their web-browsing behavior. Marketers can check the data connected to a user's behavior, such as previous search terms, pages viewed, last date of website visit, ads and buttons clicked and the amount of time spent on a website. These data can be collected from diverse sources including user login information, IP address and geo-location, number of visits, clicks, websites visited, previous purchases or content read. Onsite behavioral targeting allows advertisers and publishers to display relevant content, recommended products, and promotions to users who are visiting the site.
To track user behavior online, healthcare marketers can use segmented, data-driven healthcare databases that provide insights about prospects and then interpret data based on their online and offline behavior. This helps to create customized marketing messages relevant to each group.
For instance, medical e-commerce sites can send ads to people who have added products to their cart but didn't check out. If a consumer has repeatedly visited a web page of first aid kits for home use and then visited a manufacturer's website for the same, it is quite clear that he or she is interested in buying a first aid kit. By targeting advertising about this exact product or similar products, you can increase the consumer's chance of purchasing.
Geofencing
When it comes to geofencing, marketers refer to a location or certain locations, where an audience visits, so that they can serve them with real-time ads and content. This method uses GPS or RFID technology to create a virtual geographic boundary and the software will be enabled to trigger a response when a mobile device enters or leaves a particular area. This can be done by either creating a radius around a large location or by drawing a polygon around a specific building or store footprint.
In healthcare businesses, you can brainstorm consumers or patients by targeting any particular healthcare consumer types within your location, like parents with kids for pediatric services, and creating short videos of the latest offer on your treatment.
Radius targeting
Almost like geofencing, radius targeting is putting a radius around a certain address, city or state to specify the location that your ads will be triggered. With this marketing method, your ads will be shown only to users within that radius. For instance, to promote an event, radius targeting can be helpful, if you have a target audience that is clustered in a certain location. Marketers could setup display ads, and people in those areas would see the ads while browsing the web where ad space is available.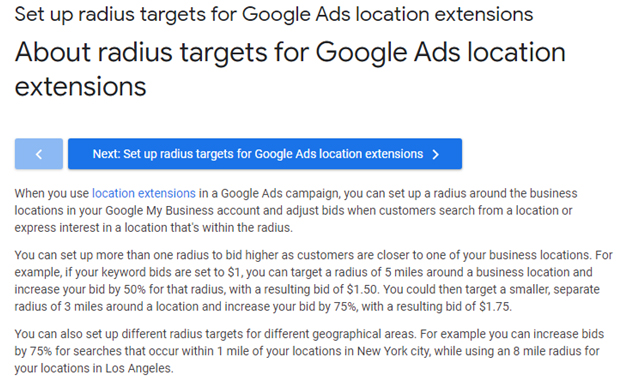 Google recommends that while setting up radius targets for Google Ads location extensions, marketers can set up a radius around the business locations in their Google My Business account. They can also adjust bids when customers search from a location or express interest in a location that's within the radius. Users can also set up more than one radius to bid higher as customers are closer to one of your business locations. Marketers can set up different radius targets for different geographical areas
Geo targeting
In general, geo targeting refers to creating audiences based upon matched historical visits to real-world locations and points of interest. This location-based service enables marketers to send ads to smartphone users when they enter a designated location. Healthcare marketers can now target specific patient populations with personalized ads based on location. They can target ads at people who walk into a community gym, a nearby medical facility, or visit one of your locations.
When a user is looking for a specific service near their location, they may see advertisements that show your location, phone number, hours, and reviews.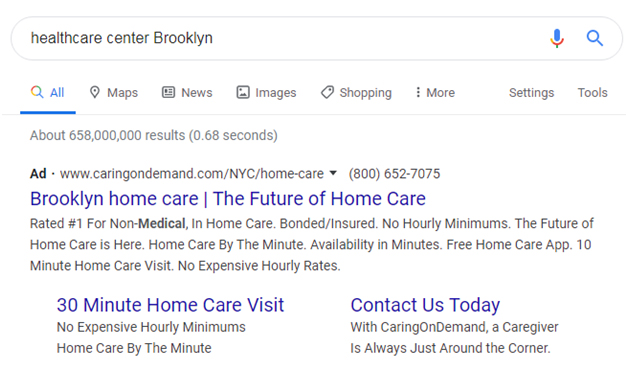 For instance, a patient waiting for hours to meet the doctor in a hospital will often be killing time on his/her smartphone. In such a scenario, if you could feed that patient an advertisement about your practice's short wait times and dedicated care capabilities, it will most probably work, right?
Geoconquesting
Geoconquesting is a variation of geofencing, where marketers convert audiences from visitors around a competitor's location into their own, by creating ads for mobile users in that area. This is one of the most important methods of location-based marketing, which works out.
Here's a clear example of geoconquesting.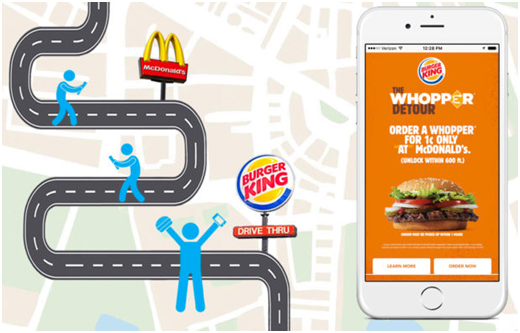 In December 2018, Burger King rolled out a "Whopper Detour" stunt to steer customers away from their rival McDonald's, which is a part of their geo-conquesting campaign. In this campaign, smartphone users who go within 600 feet of most McDonald's locations can order a Burger King Whopper sandwich for a penny from the burger chain's revamped BK App.
Geoconquesting refers to advertising to people who were previously in a competitor's location with the intention of winning them away from that competitor.
Google Ads also allow targeting multiple locations in bulk, rather than adding each location one-by-one. Marketers can add a bulk list of up to 1000 location targets at a time. SEO for hospitals and healthcare involves the implementation of all such on-page and off-page strategies. An experienced digital marketing agency can assist healthcare clients in meeting their SEO goals.