An update to the blog, " Google Core Algorithm Update May 2022 Has Finished Rolling Out"
May 25 witnessed broad changes to Google's algorithm and systems and caused notable fluctuations in search results. Google launched its long-awaited May 2022 Core Update on May 25, and the update officially finished rolling out on June 9, 2022.
But, how has it impacted the industries, search queries, and the search result page?
How did the Google Core Algorithm Update May 2022 impact your site's visibility?
Let Us Check Out the Impact of Google Core Algorithm Update May 2022
Visibility and volatility are the key factors that can be used to analyze the impact of a Google core algorithm update on organic search results. Core updates will affect a website because the visibility metric drastically increases or decreases during a defined period that aligns with Google's announcement.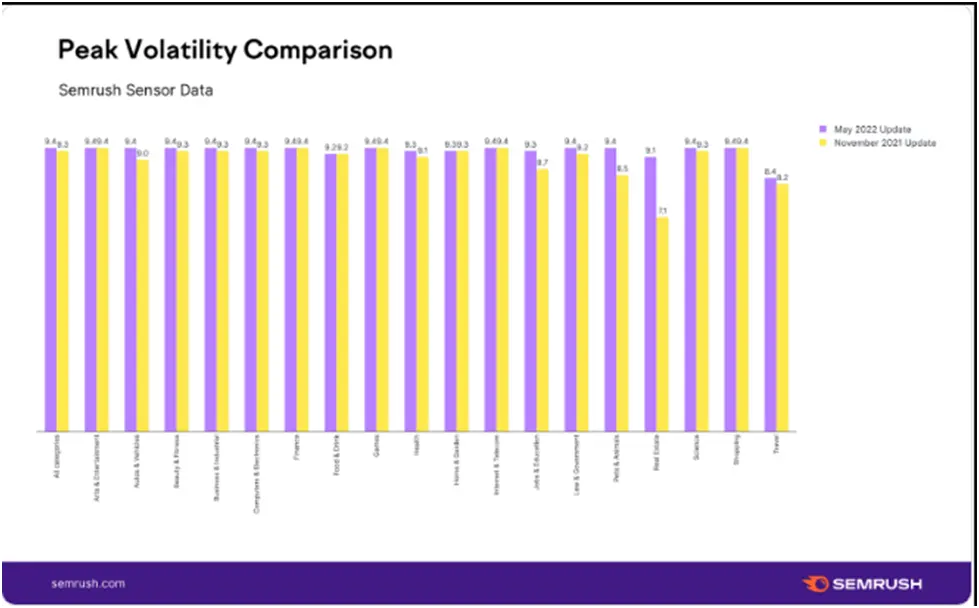 Image Source
Semrush sensor data and the SISTRIX Visibility Index have measured the success and losses of websites in Google search results. SISTRIX Visibility Index analyzes many millions of Google search results on a daily basis and prepares easy-to-understand data. Search Engine Journal has analyzed the impact of this Google core algorithm update and their blog highlights these facts –
SISTRIX domains clearly highlighted the impact of this Google update in their visibility data from May 26th. Many reports including that of the Semrush sensor data highlighted that the Google May core update was mild
compared to the last core update in November 2021.
Winners and Losers
Based on the visibility change, Sistrix visibility index provided a list of 30 winners and losers. Winners are those among the top 20 websites by absolute visibility change and losers are groups that experienced a significant decrease in Sistrix's visibility index.
Videos
3 major trends that were noted by Malte Landwehr, Head of SEO at German company Idealo were-
Video instead of text

Video sites like YouTube, TikTok, Disney Plus, Hulu, and Twitch grew significantly.
TikTok had the most impressive growth, with an overall gain of 133%.

Specialists instead of generalists

The loss primarily affected generalists that write about everything (celebrity news, sports results, weather, economy, and career advice).

Better search intent matching
Rank volatility has been broken down by keyword intent using Semrush sensor data.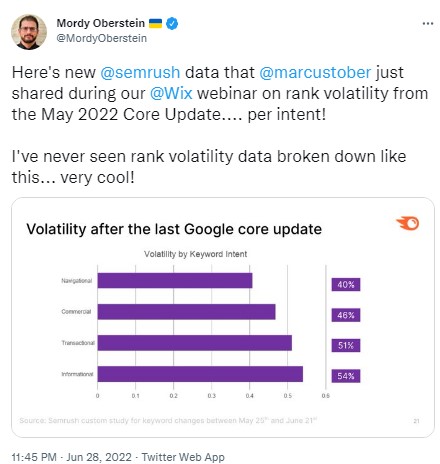 Image Source:
Informational and transactional search queries experienced over 50% volatility during the google core algorithm update.
eCommerce
Branded retail websites like Amazon, eBay, and Etsy are seen in the table above as having the greatest absolute visibility change.
These ecommerce websites are outpacing smaller sites in implementing full product schema.
Google May Core Update loss analysis

SISTRIX also highlighted certain steps in analyzing the causes of core update losses –
In the first stage, it should be clear whether the changes in the visibility index are really due to the algorithm update from Google or whether major (technical) changes were made to the site at the same time by chance.
If the changes are the result of the Google update, then identify similarities: what does content that has lost or won have in common, and how to transfer this to other content in the future?
Even though individual directories highlight the losses or gains, ranking changes in the core updates are usually distributed across all URLs and rankings.
Look at the keywords and rankings that have lost the most since the start of the core update.
Interesting, and important losses can be found in page 1 movements.
In the SERP comparison, get a view of how other URLs have changed during this period.
In the final step, assess the mobile content from the perspective and intent of a user.
Owners and developers of websites that have been negatively impacted can consider reading Google's advice on how to assess your content after a core update, which involves checking whether your content offers –
original information
reporting, research or analysis
a substantial or comprehensive description of the topic
To provide great content to our clients, the MedResponsive team always reviews our search quality rater guidelines and E-A-T (Expertise, Authoritativeness and Trustworthiness). Our affordable digital marketing services also include providing quality content that can engage your target audience. We're up to date with the changing algorithms and updates, and work on your behalf to improve your online presence.