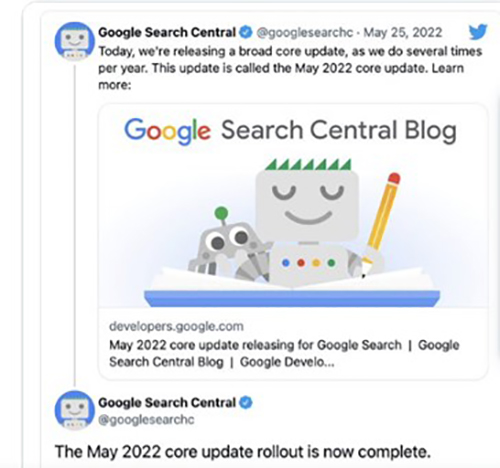 It's about Google May Core Update 2022.
Google has confirmed that their May 2022 core update is now finished rolling out. The update took 15 days to roll out, starting on May 25, 2022 and ending on June 9, 2022. Google core updates aim at making search results more relevant for users. Earlier it was announced that these updates may produce some noticeable changes to how sites perform. An experienced SEO outsourcing company will be up to date with all such updates and they implement the marketing strategies accordingly.
As the update has now completely rolled out, it is time for marketers and web owners to see how their site was impacted and what actions to take next to improve user experience and SERP ranking positions.
Google May 2022 Core Update – Its Impact
Google core updates aim at delivering relevant and authoritative content to searchers and expect some noticeable changes such as drops or gains on how sites perform. Compared to the November 2021 core update that we discussed earlier, the May 2022 core update is more significant. It impacts Google Discover and other features, also features snippets and more. Some big tremors were reported to be felt in the Google Search results on May 26th, June 5th, and June 7th.
Websites affected by this update must improve their content quality based on Google's core update advice. It is expected that Google may do periodic refreshes to this algorithm but may not communicate those updates in the future.
This core update does not have anything to target on specific pages or sites. Instead, it aims at improving how Google'ssystems assess content overall. Broad core updates happen every few months. Sites might not recover from one update until the next one rolls out.
Google tracking tools that can be used to monitor the changes and any drop in volatility include Semrush, Mozcast, RankRanger, SERPmetrics, Algoroo, Advanced Web Rankings, Cognitive SEO, SERPstat, and Accuranker.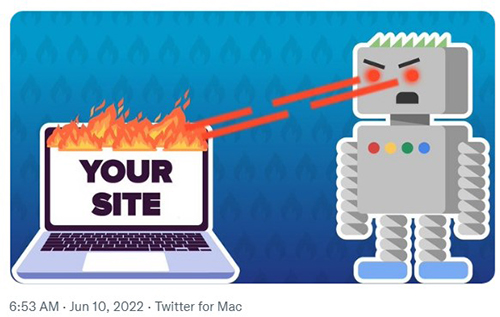 Image Source:
The forum discussion in Twitter and WebmasterWorld shows that the recent Google core updates have been pretty brutal for many site owners. Though recovery takes time, it will prevent sites from being hit in the next update. Keep an eye on any pages that lost the most traffic, impressions or average rankings.
Pages that drop after a core update don't have anything wrong to fix. Just focus on offering the best content you can. This update looked at all types of content and might have promoted or rewarded great web pages. As there is nothing new with this Google May core update, the search engine giant has highlighted general advice regarding core updates in its Google Search Central Blog.
Check whether your content offers
original information, reporting, research or analysis
a substantial, complete or comprehensive description of the topic
insightful analysis or interesting information that is beyond obvious
While this core update is not specific to any particular site, it produced some noticeable changes to how sites perform.
So, how to improve your content quality? Check out these tips to take your content to the next level –
Avoid keyword stuffing
Offer content based on customer insights
Repurpose your best old content
Use low competition keywords
Focus on user intent
Use attractive, but related headlines
Include infographics and images in content
Mix up your content with text, videos and images
Optimize your content for Google and users
Need professional content writing services? Talk to our MedResponsive team at (800) 941-5527! Our copywriters and editors are experienced in creating unique, interactive content for many industries.