Knowing the right keywords is important so that the businesses can provide what users are looking for. Google Trends is an excellent keyword research tool that displays the frequency of a specific search phrase in relation to the overall volume of searches made on the website over a specified time period. Google Trends can be used to find event-driven increases in keyword search volume and do comparative keyword research. Reach out to a reputable organic SEO company to learn how to use Google Trends to uncover hidden layers of keyword research data to boost your SEO strategy.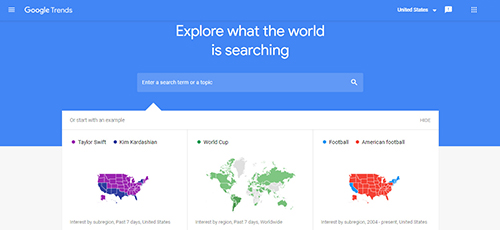 Significance of Google Trends
Google Trends extracts information from Google searches and enables users to examine the frequency of search phrases in comparison to other keywords, other geographic locations, or different languages. Data from Google Trends can be sorted by a specific range or for recent emphasis (the last seven days). Google Trends was created as a tool to examine and compile user interest in various subjects or industries. It has evolved into a big data storytelling tool that can tell tales on a much larger scale and predict how the audience will react to current events or other news topics in the near future.
The tool has also changed the way that different research projects are carried out and is set to continue influencing how users organise search data for their benefit. Users can follow trends in social attitudes, politics, sports, entertainment, and any other topics that are interesting to them, using Google Trends.
Analyze the trends in keyword volume: You can view a keyword's trending volume over the past 12 months using Google Trends. It helps you focus on your content creation on the relevant industry-specific keywords that people are actually using to search online. For example, if you use a keyword research tool like Soovle or Jaaxy, you will only see the amount of searches; however, with Google Trends, you will also be able to forecast how a phrase will perform in the future. In the same spirit, you can steer clear of terms by using Google Trends. Simply changing the trending timeline will allow you to distinguish between trends and blips, allowing you to determine whether a keyword is indeed trending or merely a passing fad. Identifying seasonal keywords, those that increase in quarterly patterns, is also made possible by doing this. Even though you could be interested in those specific keywords, it's always a good idea to distinguish them from the true trend-setters.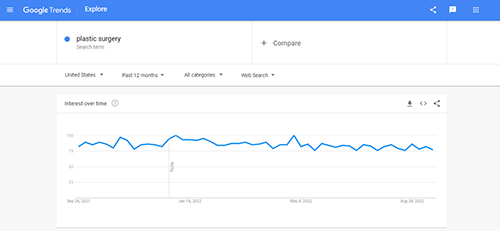 Look for associated terms: The ability of Google Trends to suggest related terms that are also becoming more popular is yet another potent aspect of the tool. If you already know your key phrase, search for it, then scroll down to the table of "Related Queries." You'll discover that Google Trends lists the phrases in order of percentage popularity and suggests others it thinks are closely connected to the one you looked for. Both actions carry out a significant amount of market research work.

Keep in mind the term "Breakout": Sometimes the term "Breakout" appears in place of the percentage (%) search volume in Google Trends. It indicates a keyword rise of more than 5,000%. But don't misinterpret the quantity, it doesn't imply that the keyword is overused or difficult to rank for, it is quite the contrary. Since it might not yet be highly competitive, you should seize the opportunity to rank for that term as soon as you can. If you're quick enough, you can relax on top of the Google Search page.These "Breakouts" frequently become passing trends. It's not advised to create your entire business strategy around them because they will probably (and frequently rapidly) lose their popularity. But if done at the proper time, it can be a wise move for a few months' worth of traffic and a desired position at the top of Google Search results.
Recognize seasonal trends: The majority of content marketers prefer to schedule their posts months in advance and monitor changes in keyword popularity. In order to do this, tracking seasonal trends using Google Trends can assist you in determining when to create content that is likely to receive a lot of search traffic around specific periods of the year, such as the holidays. These search trends assist your business in launching promotions at the ideal time.Google Trends may provide graphic representations of when and how frequently a certain keyword was searched in relation to other times of the year. Fewer marketing errors result from being able to prioritise the cyclical trends with the most traffic.
Discover Relevant Trending Topics: Strong content producers must constantly plan for future content. This is where Google Trends comes in handy because a simple analysis of Google term trends will also reveal similar topics. Any term you search for will have a table with the top five related searches next to it. These subjects can be used to inform your content and develop links.
Utilize trend forecasts: A quick and easy technique to assist with your keyword research is to use Google Trend forecasts. In recent years, Google has updated the Google Trends tool with forecasting and trend information for popular phrases. Take advantage of the opportunity by focusing on a keyword that is associated with your company and is predicted to see an increase in search volume over the following several months to a year.
To outperform the competition, find related questions: Any Google Trends search will reveal related queries in addition to related topics. These help you compare a popular search to the overall searches for your subject of interest and let you see what kinds of search phrases people used in conjunction with the ones you entered. When seeding keywords or making content calendars for marketing or social media campaigns, this kind of information can be incredibly helpful.
Improve Your Video SEO Approach: You might want to discover what people search for when your business wants to publish a video lesson explaining how to use one of your goods or services. Using Google Trends to identify popular or growing video subjects will help you develop titles and descriptions for your video postings that are more in line with what viewers would type into the search bar. By moving your keyword search from the standard online search button to the YouTube search button, you may achieve this. You will have immediate access to search terms related to the subject of your video, which you can use to successfully personalize your content and tags.
Improve Your Local SEO Approach: You may use Google Trends to find local trends to improve your local SEO strategy because it can be customized to filter for particular locales and subregions. One crucial fact is that almost all rival marketers use the same term breadcrumbs from Google Trends that you do, thus using local searches in novel ways frequently requires getting inventive with long-tail phrases.
Google Trends is a helpful tool for conducting keyword research and gives you a plethora of data to help you improve your marketing plan. Other keyword research tools are available if you need additional assistance with keyword analysis and research.
You can also reach out to a professional organic SEO company, to obtain the service of SEO professionals. This to understand the user intent and also find the right keywords. This helps to improve your brand's visibility and awareness and attract more people.