Healthcare SEO is a highly competitive domain with hospitals, healthcare providers and other healthcare businesses looking out for novel and effective strategies to help build brand credibility and trust. With the increase in digitally connected patients, building a strong brand reputation and attracting client reviews have become crucial for the success of any healthcare business. A solid reputation and a steady flow of referrals are vital for physicians to build and sustain a successful medical practice. Online reviews are one of the most reliable and affective ways to drive potential patients to your healthcare practice. Generally, when people search for a new healthcare practice online, they mostly look for reviews made by other patients about a specific medical practice/provider. According to reports, a whopping 82 percent of people use online reviews to evaluate physicians. It is estimated that about 72 percent of patients use online reviews as their first step in locating a healthcare practice or physician. Just like any other type of consumer, patients now check online review sites such as Yelp, Google, and other social media platforms to see what their peers say about a practice before booking an appointment.
Leveraging Online Patient Reviews
It is important to understand the impact of positive reviews on your healthcare practice's growth. It is equally essential to understand how leveraging these reviews can positively impact your reputation management efforts in the long run. Here discussed are some ways to leverage online reviews to your benefit –
Identify keywords related to your services – Track the most common keywords that are used to describe your services and implement those keywords into your brand positioning.
Improve brand exposure – Positive brand reviews not only reflect well on healthcare services, but also help improve search engine optimization (SEO) ranking of your medical practice by creating unique and fresh content on a regular basis.
Engage with patients – Make sure to build brand loyalty by replying to a patient's review. By giving constructive feedback or responding to a review, you can establish a patient-doctor relationship that boosts your patients' loyalty. On the other hand, if someone posts a negative review, you can connect with them to enquire about their experience and analyze how their problem can be fixed to restore their trust in your brand.
Impact of SEO on Online Reviews
Online reviews play a prominent role in a medical practice's success. The better the reviews, the better will the SEO ranking and higher will be the chance to attract patients. Positive reviews help in ensuring improved brand recognition, enhanced physician reputation management and an overall increase in revenue. Always make sure to take adequate time to respond to online reviews as this will create an impression that your practice is grateful for the review and also shows how committed you are to create a good experience for each patient.
Now, how to ask for a patient review online? Generally, most healthcare practices have a review strategy in place which may help identify what is the best and the most effective ways to generate reviews. Having a solid review strategy in place can help improve your healthcare practice in different ways. Here discussed are some important ways on how to improve physician online reviews –
Focus on What Patients Need – The healthcare field is witnessing drastic changes. Currently, patients no longer choose a physician or healthcare practice based on their location – they expect a visit to the healthcare practice to be more like a customer service experience. Each patient expects certain things from their local healthcare provider and they assume that the practice they choose will meet their specific requirements. Online physician reviews offer a deep insight into what requirements or areas patients prioritize the most. It is important to keep a list of things potential patients require the most, and start planning to audit processes and improve upon patient complaints. Never ever do the mistake of dismissing negative reviews as a one-off, instead start working towards a better patient experience.
Actively Respond to Reviews – The healthcare practice's response rates to online reviews is an important factor in review strategy. Healthcare practices that respond to reviews more often witness higher conversion rates than those that don't. Healthcare organizations with active customer review engagement witness improved rates of conversion for paid search. Not only do reviews influence the local rankings of medical practices, they also affect patient behavior by motivating them to sign up for your services, or discouraging them from it. And, responding to reviews gives patients the impression that you are serious about how patients feel about your services.
Build Patient – Physician Relationship through Positive Responses – Responding to patient reviews in a HIPAA-compliant way (without referencing any patient details online) can help strengthen the patient-physician relationship. While responding to patient reviews, consider factors like – express gratitude or thank the patients for their feedback, respond personally wherever possible, respond with a pre-approved message. When you give the right type of responses, people will appreciate that you took the effort and time to provide the response.
Source link – https://www.zocdoc.com/
Boost your Rankings in Search – Online reviews are one of the top local search engine factors that can literally make or break the ranking of your practice in local search results. Adding reviews can boost your presence in Google and other search engine results in the following ways –

Adding reviews can generate fresh content to your website
Reviews promote patient interaction with your site
People are more likely to click through to sites with high ratings

Create a Great First Impression – Studies suggest that 84 percent of patients trust online reviews as much as recommendations from friends. It means patients are willing to believe the positive (or the negative) reviews on your site, and that they enter your practice with a set of expectations. When your website features more number of positive reviews, patients normally come into your practice with a positive attitude and outlook. This helps strengthen the patient-physician relationship before you even interact face-to-face.
Respond to Negative Reviews – Before responding to negative reviews, check the records to see whether the review is posted authentically by one of your patients or customers. Whatever be the negativity conveyed in the review, make sure your responses are all positive. Your responses must address the following specific points –

Thank the reviewer for his/her genuine opinion
Point out your specific concern
Apologize for the trouble caused
Be honest about the mistakes made by your practice
Provide a contact number to the concerned individual for the complaint to be fully redressed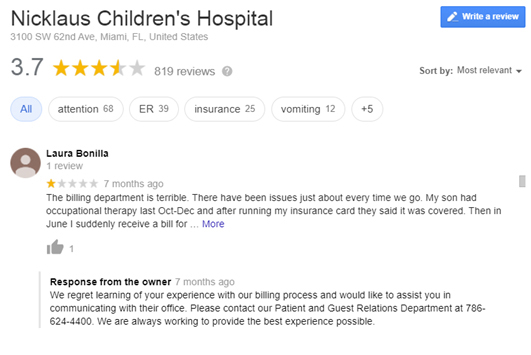 Source-https://www.google.com/search?q=nicklaus+children%E2%80%99s+hospital&rlz=1C1GIWA_enIN868IN868&oq=&aqs=chrome.0.69i59l8.1176652j0j7&sourceid=chrome&ie=UTF-8#lrd=0x88d9b83e1752a3d1:0xb330b6a398f9af10,1
Never Incentivize Online Reviews – Another important strategy is – never ever try to incentivize online reviews. Offering an incentive in exchange for a favorable and positive review may lead to a biased review that may not accurately convey the individual patient's experience. Most healthcare practices may do anything that may help increase revenue. Choosing an online review management platform (that works best for the patients and the healthcare practice) is an excellent alternative to incentivizing reviews. Even though there are many platforms out there, choosing one that works for both your brand and your patients will give the expected results.
With so many patients turning to search engines and social networks to find healthcare practices, it has become very important to monitor your online presence. Physician online reputation management offers better control over how potential and existing patients look upon a medical practice. Patient reviews are only one component of a doctor's online reputation management which helps build your brand. When it comes to healthcare digital marketing, obtaining positive reviews and reducing negative reviews can help increase patient volume and strengthen online reputation. One of the best ways to reach the right people at the right time for a positive review is to send out requests for reviews through an automated system. With an automated review system, patients first fill out a questionnaire in the office about their experience, which includes a scoring system with a scale of 1-10. Patients who rate your services between 7 and 10 receive a follow-up email requesting a review on your site (and encouraging reviews on sites like Yelp).