This is an update to the blog July 2022 Google Product Reviews Update Finished Rolling Out
Google has announced on Twitter that it has released the September 2022 product reviews update. This update applies to English-language product reviews. The rollout could take 2 weeks to complete. This fifth version of the Google product reviews update comes soon after releasing its September 2022 core update and before completing it.
In August 2022, Google had said that it would soon roll out an update on fetching high-quality product reviews and this update was finally released on the 20th of September 2022.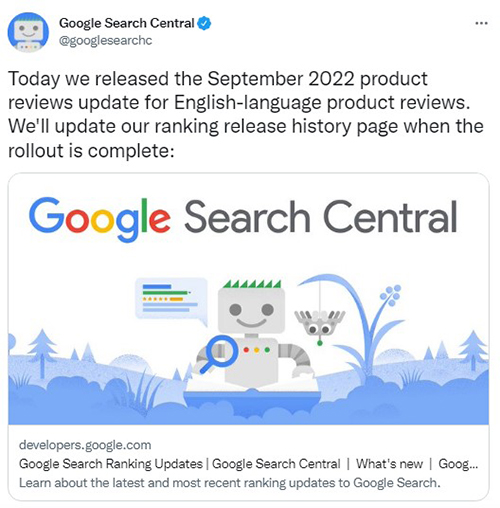 Image Source
The previous update on product reviews was in July 2022. The first product reviews update was released on April 8, 2021, the second on December 1, 2021, and the third on March 23, 2022.
In tweets, Google has added that
If you see a change and wonder if it's related to the core update or the product reviews update:
– If you produce product reviews, then it's probably related to that.
– If not, then it might be related to the core update.
This update can impact your performance in Google Discover and aims to promote high-quality product review pages that share in-depth research. However, it's not a core update that impacts all search results. Ecommerce sites and product review websites can consider writing reviews with details such as photos and videos, benefits and drawbacks, comparisons with competing products, and other first-hand observations. Google has stated that though the initial rollout will only affect English-language product reviews, this modification may affect people who create product reviews in any language in the future.
Among all these updates, the helpful content update is also taken into consideration. Google's Danny Sullivan said earlier that the helpful content update will likely get stronger as other types of updates roll out.
Customer Reviews vs. Product Reviews
Feedback and product reviews can add value to businesses, but both are not the same. While customer reviews are feedback from customers regarding the buying experience, a product review is a review of the item purchased, not the seller or the purchasing experience.
September 2022 Core Update Impacts
The September 2022 core update has not fully completed but it's mostly done. Reports now highlight that though this core update hit fast, it was not as impactful as the earlier May 2022 core update.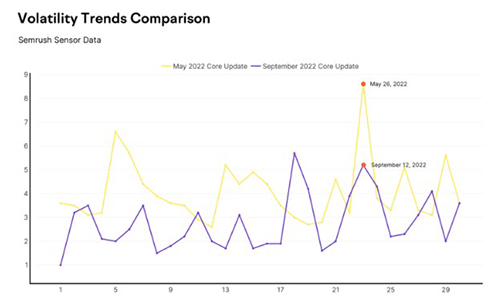 Image Source
Search Engine Land reports that the Semrush sensor data noticed increase in rank volatility with the September 2022 core update, relative to pre-update volatility fall off 53% as compared to the May 2022 Core Update.
Google updates make sure that websites create quality content for people and enhance user experience. Professional content writing services can support businesses in creating unique and informative content that can increase web traffic.
An experienced search engine optimization company in the U.S., MedResponsive stays up-to-date with all such Google updates and we provide services accordingly. Discuss your content and digital marketing requirements with us at (800) 941-5527.