Following the helpful content update that finished rolling out on September 9, the search engine giant released the September 2022 broad core update on September 12. This rollout could take 2 weeks to complete. The official Google list of announced updates has stated that it will take up to two weeks to finish rolling out.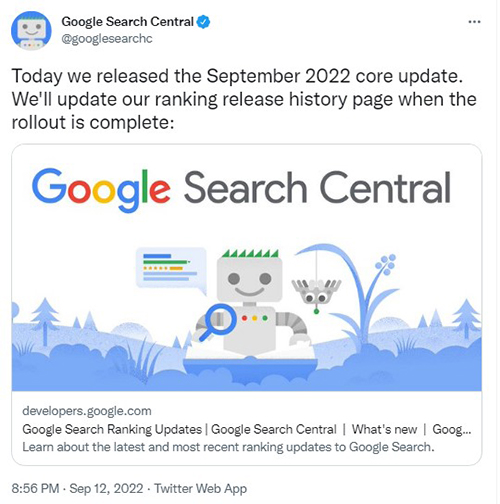 Image Source
This is the second broad core update for this year, following the May core update. After the May core update, websites witnessed high volatility and bigger swings. Expect the changes to the algorithm to be seen within the next few days as the changes are rolled out to data centers. Core updates impact Google Discover, feature snippets and more.
Does this core update strengthen helpful content update?
Google has not specified anywhere that the Helpful Content Update is a major part of this September core update. However, many marketers believe that this broad core update picks up the changes and trends after the helpful content update.
In his tweet, Danny Sullivan, public liaison for Search, said that the effects of the helpful content update might become more observable during a core algorithm update.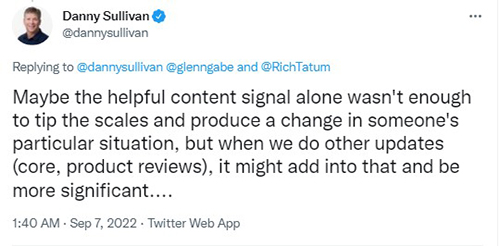 Image Source
The Search Community response generates hope that this update will make the search results better. It is expected that the update will get rid of all the really crappy results that rose to the surface.
Search results may bounce around for the next few weeks. The recommended approach is to be vigilant of any changes in search console but don't react.
Google has not confirmed how the September 2022 core update impacts the search results (SERPs) around the world and in different languages. Most probably, it will affect search results across most languages, as such updates are more general.
Core updates are a few broad and significant changes to Google's search algorithms and systems. During these updates, websites may notice gains or drops. These updates are designed to ensure that Google is presenting relevant and authoritative content to searchers. Google has said that the sites that experience drops need not try to fix the wrong things. Moreover, there might not be anything to fix at all. Often, there's nothing in a core update that targets specific pages or sites. Instead, the changes are about improving how Google's systems assess content overall. These changes may cause some web pages that were previously under-rewarded to do better.
What marketers can better do is to check whether their site content provides complete and original information, and insightful analysis. They should also ensure that the headline and/or page title provides a descriptive, helpful summary of the content and that the headline and/or page title is not exaggerated or shocking in nature. While presenting, check for any spelling issues and check whether there is an excessive number of ads, and how it appears on mobile devices. Also, review Google's search quality rater guidelines. Above all, benefit from professional content writing services, if you're outsourcing the task. Experienced digital marketing companies will stay up-to-date with Google algorithm updates and make sure that your websites also meet such standards.