Have you heard about Google Discovery Ads? Google, the giant search engine has become a part of everyone's day-to-day life. They leave no stone unturned and remain a powerhouse of information. This ensures that they retain their users, providing the right answers to their users' queries.
"Google worries – and rightly so – about how hard it is for a big company to come up with the next hot thing" says Bethany McLean, an American journalist and contributing editor for Vanity Fair magazine.
Google is always in search of innovative ways to maintain its position more firmly in users' lives. This has resulted in the introduction of Google maps, Google Play Store, Google Wallet, Google Play Books, Google Movies, Google Voice, Google AdSense, and the list goes on. The latest addition to the Google family is Google Discovery Ads.
These are personalized and visually engaging ads that appear in Google's feed on YouTube, Google search engine, Gmail and so on. They mainly target the audience at the moment when they are ready to discover new products and services. Providers of digital marketing services in New York would utilize Google discovery ads for creating visually engaging ads that grab audience attention.
Let's discuss Google discovery ads in detail.
What Are Google Discovery Ads?
These days, when you open social media platforms, you might notice that the ads that appear on the homepage are mostly based on your search history on Google. The new member Google discovery ads leverages AI for appropriate prediction based on what their users need at the moment. In other words, Google Discovery Ads are one step ahead of their customers.
Google introduced Google Discovery Ads at the end of November 2019. Today, Discovery Ads are available in beta versions as well. They are visually engaging native format ads that are intended to grab the attention of targeted audiences. It may appear as a single image ad or as carousels where the story of the ad is conveyed through multiple images and the audience swipes through the images to know more about the ads. As they are assisted by AI, they are fully automated and available on electronic devices like mobile, tablet and so on.
The main aim of Discovery Ads is to instantly exhibit to your customers something they are looking for at the moment. In other terms, it is developed to drive audiences' interest as well as to drive action.
Now you might think, where are Google Discovery Ads shown? Well, these ads mainly run on three major properties such as Discover, YouTube and Gmail. However, for promoting your ads Google Discover would set up a campaign. Let's discuss the Google Discovery Ads campaign in detail.
What Is Google Discovery Ads Campaign?
Now, let's take a slight deviation to Google Discovery Ad campaigns. Creating visually engaging Ads doesn't mean that it would reach the right audience. For that, a campaign is necessary. Google discovery ads campaigns help your ads to reach around 3 billion target audience across Google feeds to achieve your performance goal in Google Ads.
The main benefit of Google Discovery Campaign is that you can make your ads reach your ideal customers through a single campaign. The other benefits of Google discovery campaign include:
Helps to find new customers with a single campaign through YouTube Home, Google Discover, Gmail and social media platforms.
Would support Google's Customer intent algorithm to target specific audience that show interest in a particular product.
Generate visually engaging ads in a native format to grab the attention of targeted audience.
Machine Learning builds appropriate layouts for the ads that help to generate customer interest and action without much effort and time.
Can set frequency goals using automated bidding option for effective ad placement.
Discovery Ads have the ability to reach 800 million global users through various online platforms.
Google Discovery Ads is considered a game changer, and you can use Google Discovery campaigns, if you want to:
Invite or attract the attention of new customers towards your product
Reconnect with your valuable customers
Google Ads Discovery Campaign is not limited to above-mentioned facts. It is more than that. However, while creating Google Discovery Ads, you should take care of certain factors. There are certain Dos and Don'ts with regard to Google Discovery Ads.
Dos and Don'ts of Google Discovery Ads Campaign
Always use high-quality images
As ads narrate their story through images, it is important for Discovery Ads. Thus, it is mandatory to use high-quality and relevant images for the ads.
The headline should drag the targeted audience to your product. So, the headlines should be simple, concise and attractive. In addition, they should also have the ability to draw the attention of the audience.
Google Discovery Ads help you to target a specific audience group who show interest in exploring your product through their previous search history. Make use of this facility the most. As a result, it would help you to reach your products or services to the interested group of people.
As the name suggests, keywords help your ad reach the right hands. In other words, these are a set of words used by the audience to find their targeted product. If you include such words, it would help your product to reach the people who are searching for it. In other words, keywords help you to drag the attention of the targeted audience very fast.
Test different versions of your ad
The process of testing is important for the success of any Discovery Ad Campaign. Thus, try the same advertisement with different images, headline and description and check which version works best for your ads.
Don'ts
It is better to avoid using generic stock photos as it could affect the credibility of the ads. Creating an image appropriate to your ad would increase the reliability of your ads.
Avoid misleading headlines
Using misleading headlines or clickbait would damage the credibility of your product and would lead to banning of your ads. In this scenario, give catchy and attractive headlines to attract the proper audience.
Don't try to attract everyone
If you are trying to appeal to everyone, you might not achieve your goal. It is better to target a particular audience group that is interested in or searching for the specific product or service, and craft your ad accordingly.
Avoid stuffing too many keywords
Stuffing too many keywords would make your ad look spammy. In addition, it could lead to a ban. Thus, always keep in mind to limit the use keywords in discovery ads, i.e. use only what the content demands.
If you analyze the growth of the most successful discovery ad campaign, you might notice that the same ad might have a story of failure. So, don't get discouraged if you couldn't achieve your goal on your initial or multiple tries. You should keep trying different formulas until you land on a successful version of your ads.
Google Discovery Ad campaigns- Dos and don'ts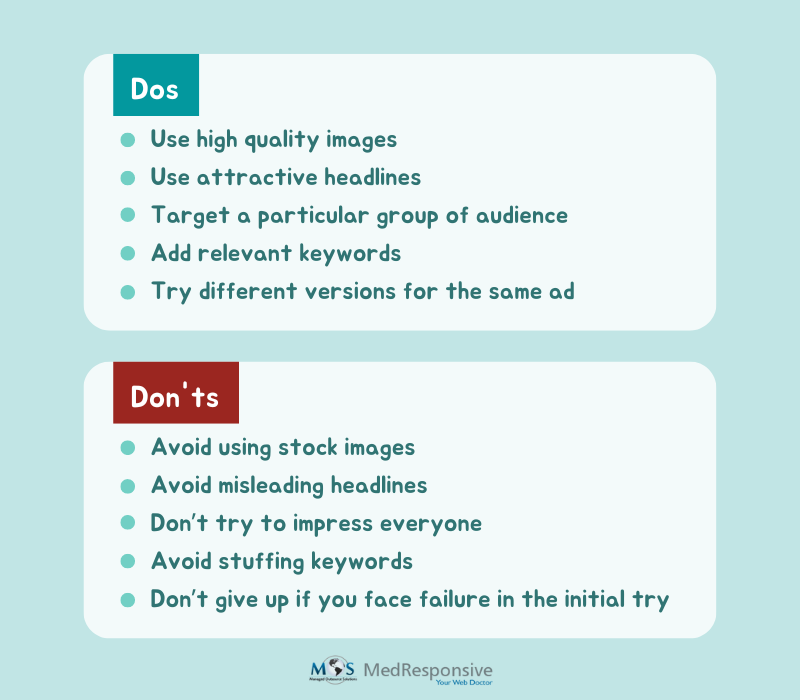 Google Discovery Ads is an innovative initiative from Google. Experts say that it would bring a revolutionary change in the world of online advertising. Even though they would charge a certain amount, the demand for Discovery Ads is growing due to its reachability. Google Ads Discovery Campaign would take discovery ads to the next level. Organic search engine optimization services as well as content writing services would work together to make an effective ad for Google Discovery Campaign.
As Google is coming up with new and innovative ideas to retain their users, we can expect a lot more like Google Discovery Ads from them in future.