In the past few years, the marketing industry has seen a significant transformation, and one platform that has been crucial in this change is Google Ads. Formerly known as Google AdWords, Google Ads is a Pay Per Click (PPC) tool that enables entrepreneurs or marketing experts to promote their brands online. There is no debating that Google Ads can help you achieve your goals with the aid of a digital marketing services company, advertising on a website with over 259 million unique visitors, 4.8 billion daily interactions, and over 5 billion search queries each day.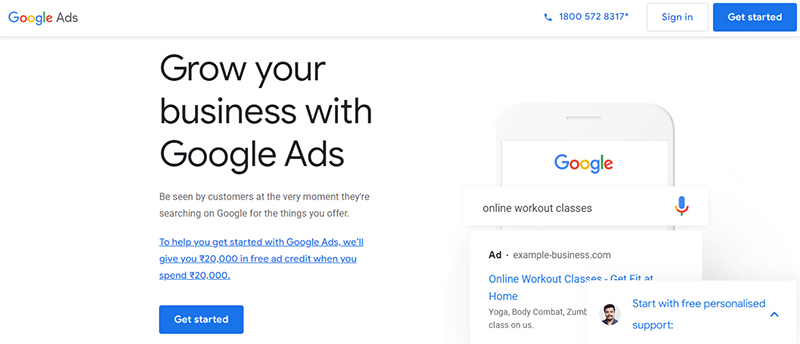 Image Source:
Google Ads and How They Work
A Google Ads campaign is most likely responsible when you see an ad for a company's landing page or product appear as the first, second, or third search result on Google. A business can pay Google Ads to have an advertisement shown to users who conduct relevant searches on Google Search and Maps. The business can choose either a local or worldwide target audience once they have established a monthly ad campaign, as well as an ad-spend cap that Google will adhere by. This digital marketing tool is a fantastic approach for any company to reach their target clients with relevant messaging. You are given measurable outcomes, such as website clicks, as the campaign is running.
When you start a Google ad campaign, you must first inform Google which of the following three objectives you are working towards:
Make more calls to your company
Bring more customers to your shop
Direct visitors to your company's landing page or website
The next step is to choose whether your advertisement will be seen by a local or international audience. Then, you'll inform Google, using graphics or three brief phrases, what makes your company unique. Google will apply this information to assist you in writing your ad copy. Then Google will take your ad live after you've chosen your budget, which it will use to forecast the performance of your Google Ads campaign. As more people click on your Pay Per Click advertising and your business gets closer to reaching its planned budget, your target audience will see that your ad is highly ranked and shows up as the first search result.
Types of Google Ads
Responsive Search Ads (RSAs): The most recent version of "standard text ads", expanded text ads, allows up to three headlines and two descriptions. On June 30, 2022, Google began to phase them out in favor of RSAs, which can customize ad content to certain search queries. In order to increase reach and enable A/B testing without having to generate separate advertisements, RSAs include more possibilities for headlines (15) and descriptions (4). Google will experiment with different combinations of your headlines and descriptions until it finds the most successful one, and tailors the text to reach the potential buyers. The disadvantage of these ad formats is that each headline must complement the others and provide a clear message regardless of the order in which they appear. You can "pin" some headlines, such as the one where you usually want to put the brand name, but doing so isn't advised because it can make it harder to optimize your ad copy.
Dynamic Search Ads (DSAs): Search advertising is automatically filled with content from your website using dynamic search ads (DSAs). These advertisements are intended to be utilized with well-designed websites that have a wide range of products and defined content categories because they run within search campaigns. DSAs target your advertising to users looking for related goods or services by using the content on your website. This allows you to set up much faster and assures that you are using keywords you might otherwise have overlooked. However, because of the automation, you have limited control over the exact wording of your advertisement. Google makes an effort to maintain the content's relevance to the pages you choose. You can provide a page feed to Google in order for them to produce these ad types if you sell various product lines or even just one range of products.
Image Ads: When you want to grab the customer's attention, you employ image ads. An image can communicate a lot more information than writing can. On the Google Display Network, these advertisements can be shown. Additionally, Google partner websites display Image Ads. This kind of ad format allows for the usage of images and animations. Therefore, if you want to include a graphic in the advertisement to highlight your product or the business logo. Given that image ads are less descriptive than text ads, the conversion rate may be lower.
App Promotion Ads: Companies that operate on a wide scale and have created an app for their business can benefit from these advertisements. Ads for app promotion are specifically intended to advertise the app that a company has created and to connect with the audience for app installs or in-app actions for existing users. These advertisements contain links to the App Store and Play Store, respectively, where users of Android and iPhone handsets can download the desired apps. These advertisements can be viewed on both the networks for search and display. The only method of targeting is based on location. Text, pictures, or videos can all be used. Therefore, businesses employ this Ad form to grow their consumer base. Nowadays, everyone owns a smartphone, thus more companies are developing their own applications.
Video Ads: Videos that are played for brand promotion on video platforms such as YouTube or other Google Partner websites are known as video ads. Several companies create video advertisements to promote their products. If done well, videos may create a lasting impact and convey a deeper message. In-Stream Ads, Bumper Ads, and Video Discovery Ads are the three categories of video ads. It could be expensive and time-consuming to create these advertisements. You could think about the costs associated with hiring a professional videographer, which makes it more expensive. However, video ads have a higher CPC.


Image Source:
Shopping Ads: Shopping ads are more appropriate for a company with an internet presence. With the product title, price, and a brief description, this ad type will showcase the product or service in the search results. These advertisements may appear on Google Shopping in particular nations, Google search, YouTube, and search partner websites. They work well to boost sales. Google search will show you the example. Look up "smartphones" in the Google search bar. E-commerce businesses like Amazon, Flipkart, and others are in direct competition with the laptop ads on the right. Most of the time, the cost per click is more than text ads. Only when someone clicks on the advertisement will the advertiser be charged. For retail ads, a greater click-through rate is anticipated. You must have a Google Merchant Center account in order to run shopping ads.
Call Ads: This may be the right Ad form for you if you own a local business and want to attract more clients. These resemble text advertisements with an extension of call more. Customers can save the hassle and call you with a single click. You must correctly configure the extension and provide your phone number. This promotes consumer interaction. Since there is human to human interaction, increased conversion chances might be seen. Customers are more inclined to make a purchase as a result of increased trust.
Local Search Ads: This ad type is optimal if you are aiming to increase store visits or phone calls to specific business locations. You can provide text, images or videos with which Google will automatically create an advertisement for you. Ads can be shown on Google Search, Google Maps, YouTube, and Google Display Network. With a single campaign and one product stream, you can successfully increase both in-store traffic and online sales.
Discovery ads: With the new Discovery advertisements from Google, you can use a single campaign to reach up to 3 billion users across the Discover, YouTube Home, and Watch Next feeds, as well as the Gmail promotions and Social tabs. Since you can target those who are probably interested in your goods or services and visually tell the story of your business, these advertisements are somewhat similar to Display ads. To promote awareness about your brand, use Discovery advertisements.
Through Google Ads, businesses can connect with anyone who uses Google to do online searches for data, goods, and services. Google Ads can potentially send you a lot of visitors who are interested in what your businesses have to offer. You should definitely consider utilizing Google Ads to its fullest extent with the help of a digital marketing service company, if you don't already have a Google Ads account for your company or if you aren't already using your Google Ads account to its fullest extent.
Are you looking to grow your business and reach more customers?
Call (800) 941-5527 to schedule a FREE consultation with our senior solutions manager.