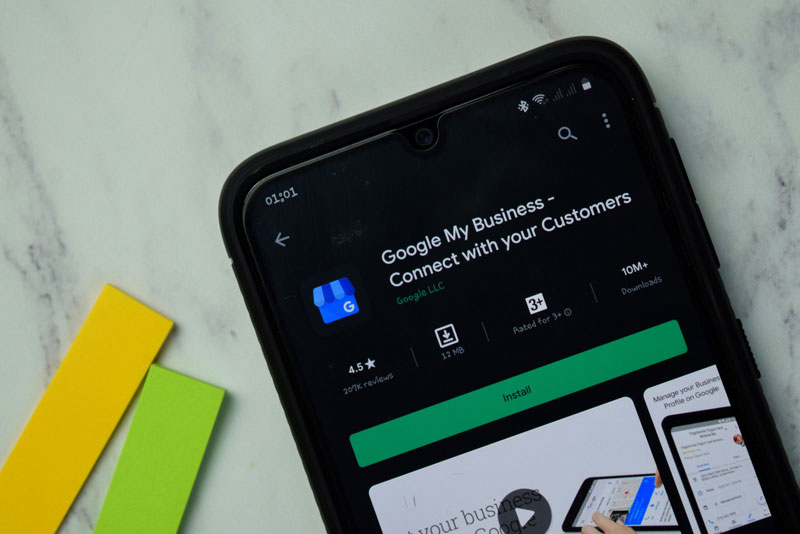 Great Google My Business (GMB) profiles can attract your customers and make your business unique. You can easily get connected with customers across Google Search and Maps. Experienced digital marketing agencies can help manage your Business Profile on Google.
With this free tool, you can
promote your business
see and connect with your customers
post business profile updates
check how customers are interacting with your business on Google
Businesses can also keep their profile updated with current photos, special discounts and promotions, increasing the chances for customers to choose you. Anyone can use Google My Business free of charge. GMB's mobile app is also free. Its improved features make it easier for companies to create a standout Business Profile on-the-go.
Dame Colquhoun says, "
A well-set Google My Business profile allows businesses to easily connect with customers across Google search and Maps and thus enhance business growth".
Listen to this podcast to learn more.
Here's How to Use Your Google My Business Listing
Create a Free Google My Business Listing
An optimized Google My Business listing can get more visits for your business, boost local ranking and you can engage with customers for free.
So, let's do a quick setup in order to get a lot more visitors starting from today.
Sign in to Google My Business by signing into your Google Account
Enter your business' or chain's address
Choose the way in which your business will display on Google Maps
Search for and select a business category
Complete every section of your profile
Enter a phone number or website URL, then click "Finish"
Select a verification option.
Business Verification
It is crucial to verify your business to avoid any misrepresentation of the rightful owner of the business. With verification, Google ensures the accuracy of your business information. Most businesses are verified by mail with a verification postcard from Google.
To get your business verified,
Sign up in Google My Business and continue to verification
Choose "Mail" at the top of the page, if your business details are accurate
Enter the name of the person the verification postcard should be mailed to
Click Send Postcard.
The postcard comes with a unique verification code that business owners have to enter in GMB which confirms that your business is located at the listed address.
Build a Website
Earlier known as Google Places for Business, Google Listings and Google+ Business Pages, Google My Business' Business Profile allows creating a business website. Even if your business has a dedicated website, you can still use this free Google Business Profile website to increase visibility of your current business website.
To create a business website,
Sign up for your free Google My Business account
Now the free website builder pulls in your Business Profile details and auto-generates a simple professional website
You can also add photos or choose from different template designs for free and customize the website for your business
Other Important Pieces to the Puzzle
COVID Concerns
With COVID-19 being a major problem all around the world, I'm sure it could trouble your customers. Google My Business provides guidance for businesses affected by COVID-19.
Businesses affected by COVID-19 can update their Google My Business profile and provide the most accurate information to customers. Such updates will be highlighted on your Business Profile on Google Search and Maps.
To keep customers from worrying when they check online, you can add updates to customers that may include
Adjusted hours of operation
Addition of "More hours" or other business operations – delivery, takeout, and drive-through
Selection of an attribute to highlight your online services – classes, appointments, or estimates
Management of delivery options
Delays on any specific business services
Extra services offered for the community
Mark your store as "Temporarily closed"
You can also add healthy and safety attributes such as masks as well as temperature checks required for customers or staff and appointments or reservations required.
Enter Complete Data for Your Listing and Stay Up-to-date
Give all information that would let your local visitors know that you are open and that you have multiple ways to be reached. Also, regularly updating your listing helps to ensure that accurate information is displayed. Sometimes, Google might not agree to approve your changes if things don't match up with your business info and what is shown online.
To make changes to your business details –
Edit the information by
Logging in to Google My Business
Choosing the page you'd like to make changes to
Selecting "Info" from the menu
Choosing the section you want to change and entering the new information
Selecting "Done editing"
Businesses with multiple locations can open the location they want to manage. Removing the previously added details may take 60 days and you cannot edit business descriptions or keywords that appear next to your business.
To share the responsibility of updating your business pages, Google provides an option to add owners and managers. To assign owners and managers –
Log in to Google My Business
Choose "Users" from the menu
Select "Invite new managers" at the top right on the "Managers of [your business]" box
Choose Owner, Manager, or Communications manager below their name
Click "Invite"
The profile owners will receive an email notification once the invitation is accepted. Pending invitations can be cancelled or removed.
Keyword Usage
Focusing on the search phrases that are important to your business listing helps to be seen more often than none.
Google determines local ranking based on relevance, distance, and prominence, as these factors help to find the best match search.
To meet these factors, make sure to –
add detailed business information to help Google better understand your business and match your profile to relevant searches
include your business location in description and keywords so that Google can match it to the user's search
follow search engine optimization (SEO) best practices apply for better position in web results.
Let Customers Message You
GMB Messaging feature provides options for customers to get in touch with you in real-time from your Business Profile. This helps to improve engagement between you and your customers; even the potential ones. With improved conversation, you can attract more customers to your business.
To set it up
Download the GMB (Google My Business) app
Go to "Customers", then "Messages", then "Turn on through the app"
Key messaging guidelines that businesses should follow to ensure the best experience for customers include the following.
Avoid providing or requesting sensitive information during a chat with customers
Respond to messages within 24 hours as it could impact the user experience
Avoid spreading inaccurate business information or impersonation of an organization or individual
Make sure to focus on business- or service-related conversations
Prohibit any sort of content related to terrorism or any that incites violence
Businesses that cannot optimize GMB listings amid their busy schedule can outsource the work to experienced digital marketing companies.