Digital marketing strategies have changed over the years and it is an essential component for any business to connect with their potential customers. Digital marketing is not only used by large or medium sized companies, but also small businesses. Effective digital marketing strategies allow small businesses to create brand awareness, drive more customers, generate leads, improve sales and expand their business.
According to Fundera 2021, 81 percent of shoppers research online before purchasing and 60 percent of consumers begin their product research with a search engine before heading to a particular website. These figures show the significance of having a strong digital marketing strategy to grow small businesses.
However, not all small businesses are investing in digital marketing services. The same report by Funders states that there are 10% of small businesses out there that not only steer clear of digital marketing, but also avoid all other forms of non-digital marketing, as well.
These small businesses rely on word-of-mouth and referrals to reach customers. But these traditional marketing tactics are of little use in this current digital business world. So, if your business has still not embraced digital marketing strategies then associate with a reliable SEO company that offers digital marketing for small business.
Digital marketing refers to the marketing activities of a business to connect with potential customers using the Internet and other forms of digital devices. The following statistics show the impact of digital marketing on people's interaction, habits and lifestyle.
Search engines have the ability to drive 93 percent of website traffic.
The number of people going online is increasing every day due to the rising accessibility of the internet. As of 2018, around 3.03 billion people (which is half of the world population) are on some type of social media.
82 percent of people use their phones to conduct any online search before they make any purchase decisions.
50 percent of consumers lean towards a particular brand if the name appears more than once during their search.
Keeping all these figures in mind, we can understand the significance of digital marketing strategies. However, it is important to keep up with the latest trends in digital marketing to gain a competitive edge. Here are five key emerging digital marketing strategies for 2022.
Optimize for Voice Search: Alexa, Google Assistant, and Siri are some popular voice assistants that people are increasingly using since 2019. So, to provide better user experience, businesses should optimize their websites for voice search. Brands are now aiming at developing consumer-friendly and valuable content that responds to what consumers use in voice search.To optimize for voice search, businesses are focusing on using conversational keywords and creating persona-based content that will answer people's questions. If you want to do this, reach out to an expert digital marketing services company who has good SEO experience and can optimize your website for voice search.
Include Videos: Video has remained a popular marketing tool for many years now. But some businesses are still reluctant to incorporate video into their marketing mix. Today, with the rising popularity of TikTok videos and Instagram reels, businesses are now investing in video marketing as it is more engaging.According to wyzowl.com, around 85 percent of consumers would like to see more videos from brands, and over 67 percent of brands are looking to increase their spending on video in 2022. Today, short videos and long-form video content are highly popular in social media and brands are using it to build brand awareness. Live streaming is also a great strategy to build followers and give more information about the brand to potential customers.

Concentrate on Local SEO: Even though online stores have become popular due to the outbreak of COVID 19, consumers still want local stores to meet their needs. With local SEO, businesses can reach out to local customers via text, email, social media, or in-app notifications. Businesses should optimize their maps business listings, create Google My Business account, and post content about local events for local SEO.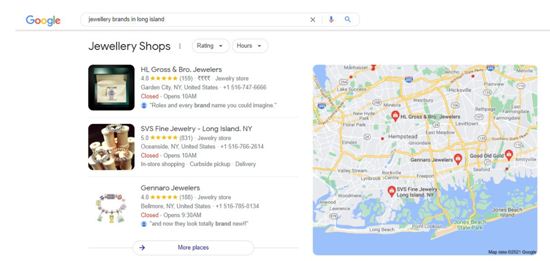 Focus on Building a Good Brand Image: Building a strong brand image is essential to retain customers and motivate them to keep coming back for more. In 2022, building a good brand image requires a hybrid marketing approach. The first step is getting your brand out there. Small businesses should realize that digital advertising can get pricey with time and with rising competition can lead to increased Google bidding wars. But this investment is worth it if businesses choose to work with professional digital marketers.The second approach to grow organically is by raising your brand awareness using organic content via videos, weekly podcasts, newsletters, and other forms of organic contact. These two approaches will help in improving brand awareness.

Source
Never Ignore B2B Marketing: Businesses often ignore B2B marketing but it is a profitable strategy for most companies. When a business provides educational content on specific solutions, it instills trust among consumers about the business. Including educational blogs, white papers, quizzes, and long-form content that address a specific problem can help nurture leads and build audience trust. Around 68 percent of B2B marketers use content marketing to build trust.
Small businesses can attract a large audience with digital marketing and it is a cost-effective way to transform your business. So, if you wish to improve visibility and improve customer engagement with the brand, reach out to organic SEO companies. They help small businesses to use the latest digital marketing strategies and get ahead in their business.