Are you looking for innovative ways to generate more leads to your healthcare practice or business? Then, rely on social media marketing services provided by reputable and experienced digital marketing firms that are well-versed in handling all the nuances of social media marketing. Nowadays, social media plays a crucial role in any comprehensive healthcare marketing campaign. Whether you are running a physician's office, health clinic, med spa, or another healthcare business, marketing via social media platforms is a unique and cost-effective way to capture attention and leads from potential patients.
Even if your practice is the best of the best, it is difficult to be successful if potential patients aren't aware of your practice or decide to visit competitors instead. This is where Facebook advertising comes into play. Facebook advertising is an effective way to reach target patient demographics while simultaneously improving their overall ROI. It is a great platform for healthcare providers as it introduces your services to your target audience when they aren't actively searching, but are still receptive to engaging with your content on the Facebook website or app.
Why Facebook?
The sole reason for Facebook advertising is primarily Facebook's absolutely massive user base. A recent PwC Health Research Institute survey suggests that approximately 90 percent of respondents in the age group of 18- 24 said they would trust medical information found on social media networks. Moreover, a Demi & Cooper Advertising and DC Interactive Group study suggests that up to 41 percent of patients' decisions to go with a specific physician, hospital, or medical facility are influenced by their social media experiences.
Facebook advertising can be considered one of the best ways to reach out, nurture and connect with potential patients and increase brand recognition. Facebook has a unique capability to target users based on highly relevant patient demographic information, such as age, sex, location, ethnicity, and language. Facebook Ads give healthcare practices a one-stop solution for developing marketing content that will reach the target market and produce real-time results that help them stand out from competitors and convert clicks into patients.
Tips for Creating Effective Facebook Advertising
Here discussed are some important tips for creating effective Facebook advertising for your healthcare marketing strategy –
Segment Your Audience – With so many healthcare practices advertising on Facebook, it can seem difficult to stand out in this oversaturated marketspace. One of the best features about Facebook advertising is that it allows you to reach the exact people in your target market. Targeting Facebook ads to specific segments is crucial as it helps your content find the right audience and reduces your pay-per-click ratios.

With Facebook's targeting capabilities, it is quite easy to narrow down target audience based on location, gender, deeper demographic data, interests, and more, ensuring that the ads only reach people well within your target audience group. FB ads can be set up to reach more specific users, such as people who have already visited your website or those in your email database.

During the initial phase of FB advertising, finding the best segments to target can be challenging. With so many segments, such as user types, location, age groups, etc, and numerous ways to combine these demographics, the best strategy for a healthcare practice is to take sufficient time to monitor and determine. It is important to note that different campaigns require different tactics. Once you figure out which segments perform the best, it becomes easy to allocate more spending to the successful ones thereby improving the return on investment.
Pay Attention to User Behavior – When it comes to digital advertising, it is important to avoid generalizing the target audience group. Instead of showing the same ad to every user, try to utilize different segments and target specific demographics based on their behavior. For instance, if a user was looking at eczema treatment content, it is more likely that your content will attract them if the ad focuses on eczema treatment and ways on how to help their condition instead of a generic link to the website. This targeted approach will help a healthcare practice stand out to potential clients and patients.

Be Specific – Running Facebook ads for a healthcare practice can be challenging as this social platform is very strict when it comes to the types of medical ads they will permit. In fact, it is even more difficult for physicians due to the restrictions Facebook may place on them. This can lead to practices running generic ads instead of diving deeper into their specific services and practice personality. In order to combat this, it is important to be well-versed in Facebook's ad policies and to create ads that still focus on specifics without violating Facebook's rules.

Use Emotionally Positive Images – When it comes to healthcare ads, it is important to ensure the FB ad images convey a positive experience and outcome for potential patients. For instance, you can choose an image that shows a smiling person enjoying their teeth cleaning, a friendly and welcoming staff, or state-of-the-art facilities. Also, never forget to refresh images regularly to test which ones work best for the target audience group.

Depending on the specific type of campaign, here are some suggestions for developing images –
Make use of bold font and color.
Verify that no copyrighted materials are being used.
Use pictures that relate to services.
Use a carousel (that can also feature client testimonials)
Make sure your videos are brief but powerful.
Make sure that the graphic image is neat and not overly complicated.
Make a call to action that includes phrases like "call us" or "visit the link in my bio for more."
Create a carousel with a variety of images that the customer may navigate through.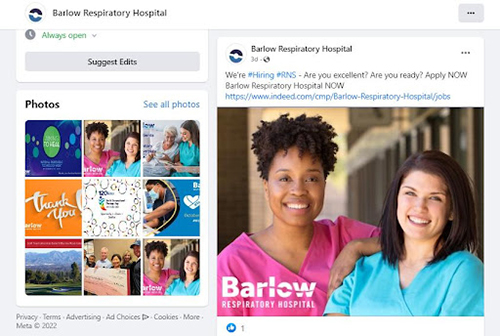 Image Source:
Take Advantage of Video – Video ads bring in great results as it allows you to highlight additional aspects of your business that can win over prospects when they're on Facebook. For example, a video ad could be used to provide a tour of your healthcare practice, introduce potential patients to the providers, explain a complex procedure, or showcase patient success stories. Keep your videos brief, and if they include a voice over, add a caption overlay to help engage users who prefer to watch on mute.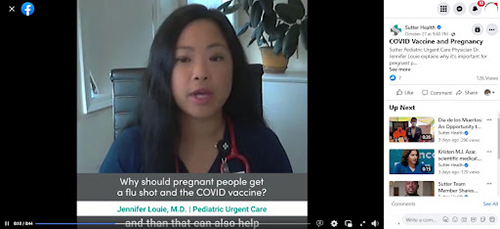 Image Source:
Use Lead Ads to Get Inquiries – Lead Ads is a unique Facebook advertising option that encourages users to sign up right on Facebook to get news, price quotes, and appointments related to your healthcare practice. The user's data is pre-populated in the Lead Ads form, making it easier than ever for users to respond, and for the practice to start collecting contact information of interested prospects.

Keep Patient Privacy in Mind – Keeping a potential patient's information private and secure is an important and necessary aspect for a healthcare provider. In order to keep the healthcare business compliant with HIPAA or other regulations, make sure the processes and systems used help protect any new lead information received from your Facebook advertising, whether it's through a lead form or phone call.
Digital marketing for healthcare can be quite challenging. If used effectively, Facebook advertising is an amazing way to find new patients. Facebook ads should reflect a healthcare practice's distinctive qualities. The content, graphics, messaging, and any other methods chosen to build campaigns should relate to the services offered. Hiring expert services from a reputable search engine optimization company can help healthcare practices gain ROI from their digital marketing investment.