The importance of best SEO audit tools for your website is that they help you identify the potential problems with your site and its performance. You can do an audit on your entire website, or on specific pages or posts with the help of a digital marketing service company.
Importance of SEO Audit and How an Organic SEO Company Can Help
An SEO audit is essentially a health check that enables website owners to assess how well their websites will rank on search engine result pages (SERPs). It involves viewing your website through Google and other search engines' eyes. An SEO audit enables you to identify areas for improvement and unethical behaviors that could harm the ranking of your website. There are various SEO auditing tools available. A manual SEO audit is free, but it will take much longer and you're more likely to overlook crucial information.
SEO audits are performed by professionals who analyze your website's content, page load times, and also provide recommendations on how you can improve them. These professionals from a reliable SEO company will also look at other aspects of your website including your backlinks and anchor text. They will provide recommendations on how you can improve these areas as well, and suggest other changes that can be made to ensure that your site is optimized for SEO purposes.
Best SEO Audit Tools to Choose From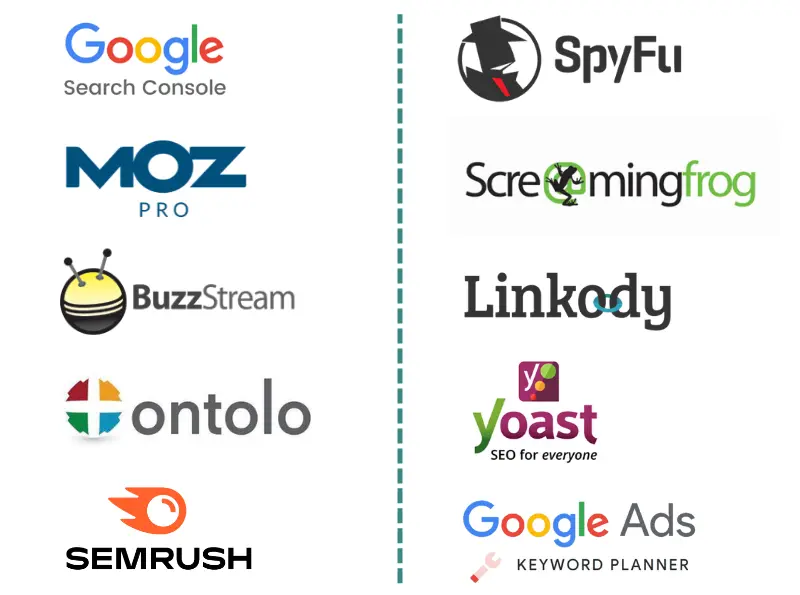 Google Search Console: You can utilize Google Search Console's set of services to learn how Google sees your website. This service gives you access to a wide range of free SEO reports that cover many different aspects of on-page and off-page SEO, such as checking for crawl errors on your website so you can fix them immediately, alerting you when malware has infected your site, showing you the keyword phrases people use to find your site, showing you the backlinks you've received, and more. Given all the capabilities it provides, this service is required if you care about your organic presence.
Moz Pro: The Moz Pro toolkit was developed to assist you in optimizing your website using a data-driven strategy. In a nutshell, Moz Pro is comparable to SEMrush in that you can use it to look up both specific long-tail keywords and other domains. With this knowledge, you may avoid low-potential terms and outperform your rivals. When you use Moz Pro to research a keyword, it will display a difficulty score that indicates how difficult it will probably be to rank for that term.Additionally, you are given a general idea of how popular that term is, and you may even compile lists of keywords for simple comparison. All of these functions are ones you would anticipate from a trustworthy keyword research tool, but Moz Pro stands out because of its extremely user-friendly layout. What makes Moz Pro special is that it provides a Chrome extension that you can use to find out information about each URL you visit. Like Google Search Console, it can also make recommendations for on-page SEO and notify you of crawling errors.
BuzzStream: You can use the tools BuzzStream provides to assist with domain research, email marketing, and project management. It's an all-encompassing platform, and the array of choices it offers might be overwhelming. BuzzStream can assist you in your study by compiling lists of outcomes for the terms you look into. It then gives you details about each of those websites, such as their overall rankings, any associated social media profiles, their domain age and authority, and more. You can make use of these characteristics to aid you in doing a full SEO audit while learning more about your rivals and the material they are producing.
Ontolo: You can utilize the research tool Ontolo to look for SEO and marketing chances. You can also use it to locate opportunities for guest writing and backlinking, which is something you wouldn't anticipate an automated programme to be very good at. The aim behind Ontolo is to assist you in identifying strategies for increasing your traffic outside of keyword research. Backlinks are crucial for increasing the authority of your website, but finding the proper possibilities can be challenging. All that's left to do is pitch those opportunities, which can't be automated but Ontolo helps you find them. No matter what keywords you're trying to rank for, you'll probably find endless possibilities because it can pull prospects from over 80 sources.
SEMrush: With the help of the keyword research tool SEMrush, you may learn how many people are searching for a given term. Additionally, it gives you data on connected advertising, product listings, and other things like similar keywords. SEMrush is a fantastic tool for finding keywords, and it can also reveal the tactics of your rivals. For instance, it can reveal how much traffic they receive, how much of it originates from sponsored advertisements, and how many backlinks they have.You should have a tool like SEMrush in your toolbox if you enjoy conducting keyword research. With its help, you'll be able to identify the keywords that will yield the best returns on your efforts and find out which ones your rivals are ranking for. With this service, you may also sneak a glance at the text and media ads of your rivals, which can help you save a lot of money on testing. But bear in mind that with so much information available, this service's learning curve could be a little challenging.
SpyFU: Another well-known name in the SEO research community is SpyFU. Similar to SEMrush, it offers a full suite of digital marketing tools for keyword research, backlink analysis, competitor analysis, PPC analysis, rank tracking, and more. However, it's important to note that there isn't a specific site audit tool available. SpyFu, on the other hand, combines a number of technologies to offer insights into your SEO efforts. For instance, its SEO Keyword Research tool exposes the poor terms you should avoid, and Competitor Research reveals any potential weaknesses in other websites that are similar to yours.
Screaming Frog: The SEO Spider Tool from Screaming Frog is a powerful crawler that can carry out a variety of optimization activities. Finding and correcting broken links and redirects are included in this. Screaming Frog offers some very useful choices if you run an online store. For instance, you can utilize CSS Path to have the crawler collect data from HTML pages on your website. This implies that you may gather information about prices, SKUs, and more using XPath or regex. This application also allows you to create XML sitemaps and link them to Google Analytics. Additionally, Screaming Frog offers a rather complete free version, allowing you to test out the key features before making a commitment.
Linkody: You can discover who is linking to your website, and find the terms they are using, and even "disavow" links you don't like using the Linkody tool. Since you don't want search engines to believe you're trying to manipulate the system, that last function can be useful if you believe someone is connecting to your website as spam. Although the backlink reports are the main draw here, Linkody also provides a few noteworthy extras. For instance, it gives you the choice to create reports that you can email to clients, keep track of the social media shares for your website, and link to Google Analytics. Linkody is a niche tool, but it can be very helpful if you need assistance with link development. More importantly, it's significantly less expensive than the extensive do-it-all services we've already discussed.
Yoast SEO: Yoast SEO is frequently referred to be the best WordPress SEO plugin. When it comes to SEO, its functions are really comprehensive. To avoid misleading Google with duplicate material, you can take measures like conducting readability tests and setting canonical URL. Additionally available features include the option to preview pages on Google, Facebook, and Twitter, as well as keyword optimization. You will also receive some content assistance with the upgraded plugin because Yoast will propose internal links as you develop pages and posts. Yoast SEO includes a comprehensive knowledge base to assist you in getting started. In addition, the premium edition gives you access to a year of experienced support staff assistance available round-the-clock.
Google AdWords Keywords Planner: One of the most thorough keyword research tools available is Google AdWords Keyword Planner. It allows you to look for keywords and estimate their traffic. More significantly, based on their AdWords cost, it might assist you in determining how competitive keywords are. This tool allows you to exclude terms based on Cost-per-Click (CPC) or search volume to prevent information overload. By doing this, you can obtain reports that are entirely based on your desired estimates. In general, the Keyword Planner provides a lot of the same features as other SEO tools on this list. The distinction is that this one is a component of the Google ecosystem, and you can obtain quite thorough reports without cost.
Utilize these above-mentioned best SEO audit tools to evaluate and enhance the functionality of your website. Auditing can help you maintain your pages' good rankings and increase traffic to underperforming pages because SEO is a constantly evolving discipline. SEO audit tools can be used for more than just monitoring your rankings or doing keyword research. You can learn a lot about your competitors, the effectiveness of your SEO strategy, and whether or not your clients are seeing a positive return on their investment. You can get in touch with digital marketing services in New York, and benefit from the solutions provided by skilled professionals that would raise the rating of your website on search engines.