Creating and marketing a valuable piece of content helps to build trust and engagement among customers, which leads to improved sales and conversions. Content marketing is an essential element of any digital marketing campaign that lets you connect with the company's audience and establish brand reputation. Today companies are giving great emphasis to content marketing as a means to increase customer base and establish a positive brand profile. Earlier, content marketing was done mainly through blog posting, but now valuable content is spreading across the globe through diversified channels to reach out to a vast number of people.
According to a HubSpot 2020 study, 70 percent of marketers are investing hugely in content marketing and as per SEMrush 2019 study, 78 percent of companies have a team of one to three content specialists. 63 percent of businesses don't have a proper content marketing strategy, according to the latest research by Content Marketing Institute and MarketingProfs. These companies may find success for a very short period of time but remember that not having a good content marketing strategy means your company is missing out on the opportunity to attract more customers and compromising the reputation of the brand. Therefore, investing sufficient resources to implement a strong content marketing strategy is important for any business. But before going into the strategies, let us understand what content marketing strategy is.
What Do You Mean by Content Marketing Strategy?
Content marketing refers to the process of marketing your brand using informative content to retain existing customers, attract prospective ones and build a relationship with the target market. Content marketing strategy is the frame work that allows the business to create effective content that your audience will respond to and thereby helps you to achieve your marketing goals. Several aspects go into constructing a content marketing strategy that helps to drive sales and boost the growth of the company. For example, Canvas 1839, a CBD brand is using content marketing strategy to educate the customers. This is because CBD is a new industry and with content marketing strategies they are teaching the consumers about their products and its benefits to make informed purchases. They engage with the customers through an information-rich blog that has educational content and lifestyle and wellness content, FAQs etc. They also have a dedicated page that explains about all the ingredients, their origins, test results etc that makes the consumers more aware of the products and their goodness.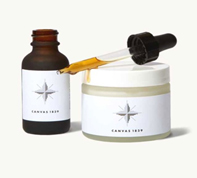 Source: Leafly
Apart from improving brand awareness and improving sales, an effective content marketing strategy also helps to generate leads, build credibility and trustworthiness with the target audience, and boost SEO rankings i.e. content with target keywords, high-quality back links etc improves your visibility on search engines.
Earlier, blog posts were the sole method of posting content. But today there are many types of content writing services:
Different Types of Content in Content Marketing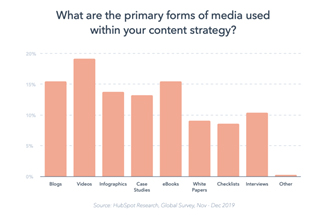 Source: https://www.hubspot.com/marketing-statistics
Blogs: Blogs are content published on websites and on blogging sites to attract customers. Blogs can be on any topic related to your business and it can be used to answer any of your customer's queries or create content that tells a story about your brand and the customers. For example, Buffer is a software application for the web and mobile. They first used guest blogging by writing content on high visibility sites. Later they concentrated on writing content for those people who influenced their customers by developing, shareable high-quality content. According to HubSpot, blogs are one of the top three forms of media used in content strategies today.(Source: https://www.hubspot.com/marketing-statistics)
Infographics: Infographics are a powerful way to convey your messages to your customers. An infographic is a condensed, visual, stand-alone piece of content that can be easily shared among consumers. It includes essential information along with appealing graphics that attract potential users. Here is an example of an Infographic by Listerine, that includes vital information about Canadians and their perception of oral care.
Source:https://www.infographicdesignteam.com/blog/7-famous-brands-that-are-using-infographics-successfully/
Buying guides: Businesses can use buying guides to educate consumers about their product categories and help them make informed decisions about what to buy.
Videos: This is one of the most popular forms of content that is widely used by almost all businesses. It is a visually appealing form of content that informs as well as entertains your customers, and also gives them a better view of your product. According to HubSpot, out of all types of video content, promotional videos and brand story telling videos are the popular ones. Let us see an example of video marketing. Blendtec is a commercial company that sells commercial and residential blenders. They have a video series called "The Will It Blend" that led to 700 percent increase in sales and in just about three years' time.
Social media: Content marketing through social media is one of the best ways to connect with your customers, improve leads and build brand awareness. Social media channels also serve as method of distributing other types of content like videos, Infographics and blogs. For example, GE or General Electric, the American company is using Instagram content marketing campaign to attract customers. Their campaign with influencer marketing, six Instagram influencers and some super fans started a new hashtag #GEInstaWalk for touring their manufacturing facilities and uploaded picture with hashtags. This gained them new 3000 followers, 3 million reaches per tour and 8 million views of GE's Instagram account.
Source : https://optinmonster.com/content-marketing-examples/#other
Podcasts: Podcasts are digital audio files that are an asset to your marketing mix if you have something unique to offer your customers. They help increase your brand authority and reach out to more people. According to Edison Research, podcasts reach over 100 million Americans every month. This shows that creating powerful podcast content lets you reach millions of people.
eBooks: This is an effective way of publishing content, especially to create a niche piece of content to attract leads. For instance, LinkedIn's eBook on their own approach to marketing with LinkedIn is a great example. It gives you a clear idea of how to use LinkedIn effectively. The landing page sharpens the interest of customers providing tips and statistics, which will encourage most users to opt-in at once. LinkedIn continues to use this strategy by making more marketing guides.
Once we have a clear picture of what content marketing strategy is and about various types content, we can move on to the various content marketing strategies.
Nine Content Marketing Strategies
Set up your goals: Knowing your content marketing goals and bringing it in line with your larger marketing and business goals, and finding out the metrics to measure success will help you to set up your subsequent effort to achieve those goals. Similarly, it is also important to have content marketing missions like knowing your target audience, understanding the content to use to reach out to them etc are important to get more traffic, customer retention, brand awareness and sales. Make sure that your strategy is focused and document it to ensure long-term benefits.
Understand Your Audience: Knowing what your consumers want is essential to reach out to them. This will help you build content that your customers are looking for, and this will eventually generate more sales. Setting up a buyer persona lets you get information about your target audience like demographic data, their hobbies or communities that they like, things that they look for before making any purchase, and how they make buying decision. You can also collect data by running simple online surveys or by monitoring the conversations on the social media channels. Gathering data from these channels will help you develop relevant content that attracts potential users.
Identify your customer's journey: To provide the right content at the right time, it is vital to understand the buying behaviour of potential customers. Expensive products have a longer buyer's journey as it includes more research whereas the purchase decisions regarding inexpensive products are often made quickly as it does not require any research. Having a clear understanding of how your customer arrives at a purchasing decision will allow you to tailor your content in such a way that answers their questions before they raise the questions.
Find out how you are different from your competitors: To stand out among your competitors, make sure that you are different from them. Perform a competitive analysis to find out what your competitors are doing. This will help you create a unique valuable and focused content.
Know your current position: You must review what type of content marketing you have done. Find out if there has been well-performing earlier content, which can be repurposed to better effect. Also consider whether you have left some good content midway due to some contingency or other. If any such content exists, complete it and publish it because it could prove beneficial.To find out the current position of your content:

Use an overview spreadsheet: You can get a better understanding of whatever is on your website that is considered as content using an overview spreadsheet. Using tools like Screaming Frog, crawl your website to extract all URLs.
Run an analysis: Once you have all the URLs with you then the next step is to take a note of all the content, the topics, word count etc.
Know the performance metrics: The final step is to tie the URLs with metrics like clicks, visits etc. By gathering data from Google Analytics and Google Search Console you can see what pages are getting the most traffic. Take note of popular topics, content length etc to set up your own content marketing strategy.

Develop your brand narrative: Everyone loves listening to stories and stories leave a lasting impression in the minds of people. So, use story telling strategy in your content to connect with your customers which will lead to brand loyalty.
Conduct content audit: If you already have a set of good content with you, then make sure to conduct audit and review it for knowing its relevance and quality. Tools like Google analytics can be used to find out successful content.
Find the right content mix: Determine the content that best suits your audience and the content that your team can work with. If you find any overlaps, then those are the content you should focus on. You need to identify a set of relevant categories to write about and build other supporting content around it. Content such as buyer's guide for your products could be very useful for customers. The idea is to develop rich and relevant content rather than thin and unwieldy or irrelevant content.
Publish and maintain the content: The process of content marketing does not end with posting the content. Many marketers believe that the audience will see the content easily. But the truth is, after content publishing, content distribution is important and it requires equal focus just like creating the content. To make your content visible, make sure that it is SEO optimized and shared on social media channels to reach out to the target audience.
The Future of Content Marketing
According to a report in The Drum, the global content marketing industry value will rise by $217,3 billion with a 16 percent growth rate during the period 2016 to 2021. The following are some of the reasons for rise in content marketing.
Businesses understand the value of a reliable content marketing strategy: Digital content marketing has always been experimental. This is because the search engine algorithm keeps changing that way it optimizes content. However, now businesses have started understanding the need for a good content strategy, measuring and tracking the effectiveness of the content and knowing the resulting ROI. Keeping up with the changes of SEO and social media is always a challenge for businesses. But creating quality content that builds trust and using technology to streamline and improve content marketing will help you drive valuable traffic.
Businesses understand the ins and outs of content marketing and are investing in it: The content you publish doesn't gain visibility soon after it is published. It may take months to climb up the search engine ranking. Understanding this, businesses are willing to wait it out to see the actual results that good content brings. Today, businesses have realized the advantages of measuring the effects of content marketing and investing more in it. As per GlobalNewswire, the content marketing software market is expected to grow at the rate of 18.4 percent to $9.59 billion in 2023 from $4.12 billion in 2018.
Content marketing aligns with customer needs and preferences: The exponential growth in content marketing is because today people are using the Internet for finding any information. The purchase decisions of consumers are now greatly influenced by the Internet. Consumers now research thoroughly about a product or service before making any purchase.
The future of content marketing is bright. A strong content marketing strategy can transform your business and help to achieve business goals. An effective content marketing strategy improves your online visibility, adds value to your company and thereby improves sales and revenue.