When it comes to SEO, link building is a significant player. The process involves getting links from external websites that point to your website. One of the main ways search engine algorithms assess the importance of a page is through links. Having a lot of links pointing to a website suggests that the material is worthwhile. Both internal and external linking can boost your website's visibility by making it easier for search engines to crawl your website. SEO link building services can help you implement effective link building strategies to increase organic traffic, ranking, and trust.
Importance of Link Building Strategies
Obtaining backlinks is essential for SEO success because they are one of the key elements for ranking in the search engines. This is one of the core components that search engines consider when determining rankings, or who appears on the top page of search results. The pages that rank first in the Google SERPs typically have 3.8 times more backlinks than those that rank second through tenth. Google, Bing, Yahoo, and other search engines consider the number of links that point to your website when determining how to rank it (and the quality of those links). Your blog posts and sales pages will rank higher in search results if there are more credible, trustworthy, and authoritative websites linked to you. After all, consumers are more likely to believe you if other websites believe you are knowledgeable in your field. Links to your website also aid in user navigation.
Link Building Strategies For 2023
Use Guest Blogging to Promote Your Best Content: SEOs use the guest post link-building strategy to create links to their own website or that of their clients. The process of guest posting involves contacting a reputable webmaster with a piece of material that includes a link to your website and requesting that it be published. Once published, the backlink will be part of your backlink profile and be accessible online. Keep looking for possibilities to guest blog because it is one of the finest ways to build backlinks. Find websites that are relevant to your sector and that allow guest posting to take advantage of the opportunity. But keep in mind that asking for a link is about presenting the person with something really valuable that can help their website.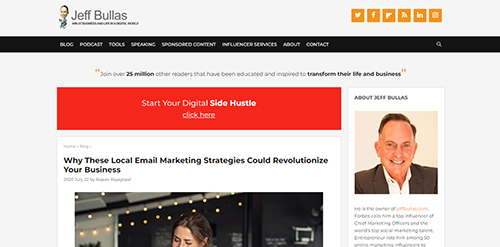 Image Source:
Link Reclamation: You should be aware that links you obtain through guest posting or another strategy don't remain active forever. When you delete pages from your website or make other changes that render the link ineffective, all the effort you put into obtaining even a single link may be rendered (temporarily) useless. One aspect of link reclamation is going out and reclaiming those links by providing webmasters with revised URLs. Finding unlinked mentions of your brand on the Internet and securing links to them is the other aspect of link reclamation. Use a tool like Ahrefs to discover broken backlinks and unlinked mentions. Enter a URL to see a list of URLs with broken backlinks in the "Broken backlinks" section on the left.
Building Broken Links: The broken link building technique in addition to the resource page link development strategy. It can happen that some links on resource pages aren't functioning properly, indicating that the page is broken (404). Seize this chance. The first thing you need to do is add notes about any broken links you discover on the links page to your spreadsheet (or to your outreach platform). When you get in touch with the curator (or webmaster), let them know about these broken links. Give them alternatives to those broken links, with your resource guide serving as a example. With the broken link building technique, you can expect an increase in response and link placement rates because you're also helping curators or webmasters fix technical issues on their websites.
Develop Excellent Content That Users Will Want To Share: An effective SEO plan will include link building. Although there are many strategies available, the greatest approach to build links is to produce incredible content that people truly want to share. Instead of attempting to trick Google, concentrate on creating useful, educational, and entertaining content. Your website's rating will appreciate in the long run. Additionally, producing informative material for readers is plain smart business practice. It's a win-win situation because both your website and your readers benefit from the informative content. The real key to raising your search engine rank is providing excellent content, not using sleazy link-building strategies.
Local Linkbait Technique: Local link building is essential for small business owners to rank for industry keywords inside their area or location. Local links are easy to find but challenging to duplicate. Writing content listing the top non-competing brands in your city is one scalable local link-building strategy. This is a type of linkbait because it promotes local brands and brings in new clients for their companies. While doing so, you give them permission to share your content piece on their networks, which increases the number of followers you have and the number of people who visit your website. You can be more particular with your link bait article if you're more into specialized targeting. It is advisable to first gain support from the neighborhood companies you plan to highlight in your article. Get in touch with them and inquire about their interest in contributing to your material. Most of the time, they'll agree to your request because it helps their branding. If you can persuade them to respond to your participation request first, you can assume that they will promote your local content. Share the local linkbait content with your featured neighborhood businesses.
Promotional Infographic: For more than a decade, infographics have been a content format that businesses and publishers have invested in to drive traffic, links, and social shares to their websites. Despite the fact that many visual assets have been successful, some have also failed. Having a ready list of persons who will handle the early promotion is one technique to overcome failures in infographic promotion. You should first decide which publishers will be your partners and have the exclusive right to republish your infographics. This is a wonderful strategy to make sure that people see your content and to gain some first backlinks to help you promote it. To find industry blogs that have recently produced infographics on related subjects, utilize Buzzsumo or a fast Google search. Adding exclusivity to your email pitch is the secret to a successful infographic promotion. Publishers are likely to accept your offer once they realize they will be the ones to publish an article with quality content.
Participate in Relevant Online Forums and Communities: Participating in relevant online forums and groups is one of the best ways to attract high-quality links. For example, take Quora. By sharing your knowledge on a particular subject on Quora, you can not only generate high-quality backlinks but also establish yourself as a credible expert in your field. Engaging in forums relevant to your expertise can give your company more exposure to a certain demographic. Participating in online communities and forums can benefit your link-building efforts as well as support the development of your personal or business's brand. Before including a link, make sure you contribute something worthwhile to the discussion.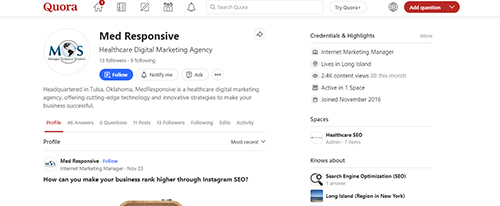 Image Source:
Strategic Partnerships for Content: Co-marketing is a reliable marketing strategy to increase your brand authority fast, as well as your reach and visitor numbers. Since you'll be relying on other people's influence and loyalty, you can easily acquire the power you need to meet your company's financial goals like leads and sales. By reciprocally trading hyperlinks with bloggers in the same business, you can use co-marketing. Link exchange is frequently seen as a poor link-building tactic. Leading industry blogs exchange backlinks from each other's posts naturally and without any manipulation. Given that they are aware that it would be better for their readers to discover more references through links on their articles, they externally link to one another. List all the blogs in your field with a similar domain authority. To determine the overall authority of the website, use Moz or Ahrefs. If your site has a Domain Rating of 63, find industry blogs with a Domain Rating of 60 or 70. When you start trading links to each other's posts, you will both benefit from having this standard for prospecting. Finding a topical article to link from and offering to link back to any of their pertinent articles is the ideal strategy.
Referential Content Asset Strategy: One method of obtaining backlinks to your website is by manual outreach to promote a piece of content. However, there is a different technique to gain fresh connections, and that is by ranking for referential keywords passively. Referential keywords are essentially the expressions people use to find sources to cite in their own material. The advantages of passive link development are yours if you produce content that is cited by other publishers and writers. This indicates that you will gain fresh links from other websites when you rank for these keywords and when they decide to use your content to supplement their own.
Linkbait Image Library: Using picture libraries as linkbait is another option. These are collections of pictures that couldn't be conveniently taken from the best stock photos on the internet. Non-stock image libraries are in high demand since content writers want to include original photographs to their blog entries to make them stand out. Create an image library on your blog if you enjoy taking photos or if your company's employees have recently shot a lot of pictures. Publishers in your sector are the only ones eligible for the deal. This will allow them to create content with fresh visuals for their audience.
Implementing link-building strategies is a time-consuming procedure that needs a lot of attention and dedication. Dedicated providers of SEO link building services will invest time and effort to provide the best outcomes. They will use cutting-edge SEO and link-building technologies to develop a successful strategy that corresponds with your particular sector and specialized products/services by staying up to date on current digital trends and understanding what will drive customers to your website.
Medresponsive is an established digital marketing agency in the USA. They have the knowledge and experience to help businesses implement link building strategies to produce successful and long-lasting SEO improvements.