LinkedIn is unique among the popular social networks, and that makes it not quite the preferred means for marketing. But it does have its benefits. Experienced healthcare content writing services focus on content in web pages, blogs and also social media posts for healthcare practices, physician clinics, medical equipment manufacturers and others in the field. They also help in crafting marketing strategies for various social platforms, including unlikely ones such as LinkedIn. 
The Professional Network
LinkedIn is one of the most popular professional networks. People sign up to the network to keep in touch with other professionals from their field or the other fields out there, ranging from business and management to arts and culture. Employers are also onboard to find out about the talent force available. Keeping in touch with LinkedIn serves the needs of both job seekers and job providers. It also serves as the ideal platform to forge professional relationships and industrial collaboration.So you can see how ads placed in LinkedIn can help businesses get to target the right people.
More Focused Browsing on LinkedIn
People visiting Facebook usually do a great deal of casual browsing. But on LinkedIn, it's a lot more focused. They usually visit LinkedIn if they want to put out a job ad or find out the response to it, or if they want to find job opportunities. On other occasions, they'd visit LinkedIn when they get an email notification when someone has messaged them or sent them a connection request. They may also go through profile suggestions that come up as they browse the network.
Need to Keep Ads Highly Focused on LinkedIn
Because of the focused nature of browsing on LinkedIn, ads in the network need to be heavily focused too. Unlike ads on Facebook or other social networks, you don't need much creativity here, but you certainly need to get to the point right away. Long posts aren't exactly ideal. The other point to remember is that LinkedIn isn't something that is as frequently visited as Instagram, Snapchat or Facebook. So you can place an ad for nearly a month without having to update or change it. People won't get tired of seeing it in just a few days since they don't visit the network often.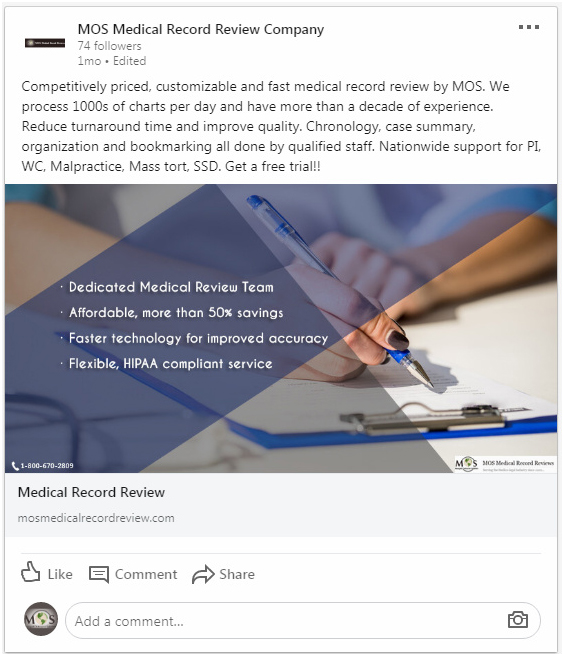 But as you'd have already guessed based on the points we've mentioned, marketing on LinkedIn is quite different. There isn't much user activity data that LinkedIn offers but the content you post will get seen and shared, at least that is the assurance LinkedIn gives. In fact, on average, LinkedIn reports that people spent 30% to 40% more of their time on its news feed in 2018 than the years before.
LinkedIn Advertising Costs Quite a Lot
However, LinkedIn advertising is expensive, and can range from $6 all the way to $20 per click. So unless you have a very focused ad that efficiently puts you in touch with potential customers and conversions, you wouldn't be able to justify spending so much on LinkedIn advertising. So you need to figure out if LinkedIn is appropriate for your business.
B2B businesses primarily stand to benefit from LinkedIn ads since there are a lot of businesses on the network that look for recruitment or forging professional relationships. They can be attracted by ads. What's advantageous is that businesses generating leads with significant lifetime value can find LinkedIn ads quite beneficial. This refers to deals exceeding $15,000. Such deals usually involve B2B brands.  
How to target ads on LinkedIn?

When it comes to targeting ads on LinkedIn, you find that lots of people active on LinkedIn are also active on Facebook. But what makes LinkedIn different is that you can find quality prospects in an easier way on LinkedIn than on Facebook. It just takes a bit more precision.
While the usual targeting factors of demographics, interests and location can be applied here, LinkedIn also helps you target ads through other parameters, as you can see from the example above.
Job Title
The most popular parameter for targeting ads on LinkedIn is on the basis of Job Title. That's why this is also the most competitive parameter, and the one that is the most costly per click. Targeting on the basis of job function can also come with the Job Function and Seniority parameter.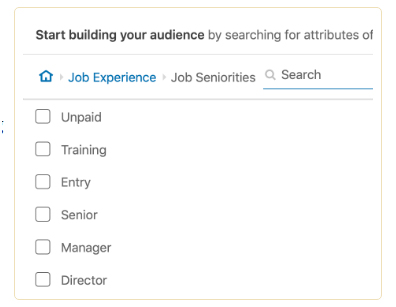 (Img URL: https://www.socialmediaexaminer.com/how-to-succeed-with-linkedin-ads-aj-wilcox/)
Size of the Organization
You can also target ads to people on the basis of the size of the organization they're involved in. By size, LinkedIn refers to the number of employees listed by a company on its page.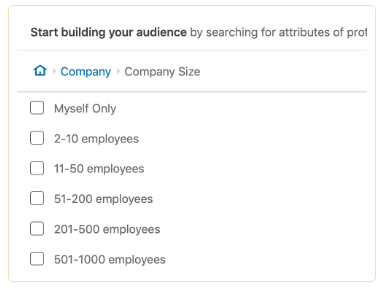 (Img link: https://www.socialmediaexaminer.com/how-to-succeed-with-linkedin-ads-aj-wilcox/)
Skillsets
LinkedIn also offers targeting on the basis of skills. It has more than 35,000 skills listed on its API. Each of these skills can also be broken down into various subcategories. Up to 50 skills can be added by members to their profile. Targeting by interests wouldn't exactly deliver because they are limited and vague. You do have a list of highly generic titles which perhaps might help you to narrow down the audience.           
Industry Categories and Subcategories
You can also target a general industry and zero down to subcategories within that industry. Among the industry options offered are arts, tech, education, etc. Subcategories include non-profit, for-profit, etc. Depending on the industry, you also have unique sub-categories.  
Geographic Targeting
Geographic targeting isn't exactly comprehensive or precise on LinkedIn. Geo-targeting is usually based on broad metro areas rather than zip code or country.
Company Name
Targeting can also be on the basis of company name. In fact, you can upload up to 300,000 companies into the Campaign Manager in the industry you're targeting. These can then be used to target ads.
LinkedIn Groups
Targeting LinkedIn groups is also worth trying, depending on what your business objective is. You have groups on Facebook too. But in LinkedIn, a group is usually the result of people quite focused on the particular area of interest or industry joining a group. That helps you target a dedicated group. The audience may be smaller and narrowed down, but the click-through rates (CTRs) are usually higher this way. All you need to do is head to Groupsand enter the name of the industry you're interested in. LinkedIn will give you a list featuring the top 20 having that particular industry in their name.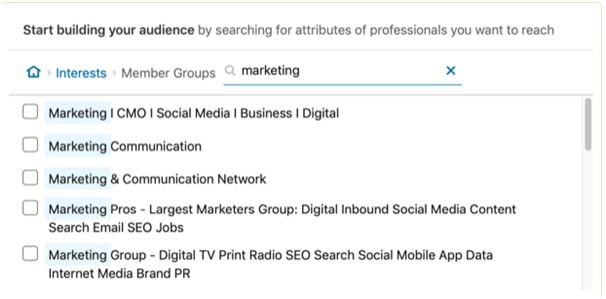 (Img link: https://www.socialmediaexaminer.com/how-to-succeed-with-linkedin-ads-aj-wilcox/)
How to Place LinkedIn Ads
There are many options with LinkedIn to place ads. You need to choose them based on what the needs of your business are. The most common among the ad formats is sponsored content. These just appear as regular posts. You could add images or video. It could also be a carousel. You could also generate leads with an attached form. The user will only realize that this is an ad with the "Sponsored" or "Promoted" caption beneath the ad.
Text ads are another option for advertising on LinkedIn. In LinkedIn's desktop version, you find the ads on the right side. Since these ads are restricted to the desktop version, they're ideal for creating landing page experiences that may not quite work on the mobile. These are also the cheapest LinkedIn ads, in the region of $3 to $5 for a click. But there's a good reason for that. Their click-through rate is quite low. These text ads can incorporate a tiny image, which would only usually be good for your logo since the image size is only 50 x 50 pixels. 
LinkedIn also offers the sponsored InMail ad option. It works like email marketing campaigns and, as you'd have guessed, are suitable for personal invitations and other such specialized outreach. These ads appear somewhat like the ads on Facebook's Messenger chat service.There isn't much room for personalization and creativity since the ad can only include information such as the company name, the industry, the first name and last name. But this format is ideal if you want to send sneak peeks, VIP invitations, etc.It is expensive though, since you have to pay for the ad when you send it whether anyone clicks it or not. And users can only get these ads once in 45 days. So these ads only have a very limited scope.
Another category of not so high performing ads is the recently introduced dynamic ad. The only notable feature in these ads is that they allow the profile image of the user to be added. This is expected to capture attention, but these ads have pretty low click-through rate.
Experienced healthcare digital marketing companies can figure out the most appropriate social networks for your marketing objectives. And if LinkedIn is one of those networks, they can engineer the right strategy as well if your practice or company is large enough to justify the extra spending.